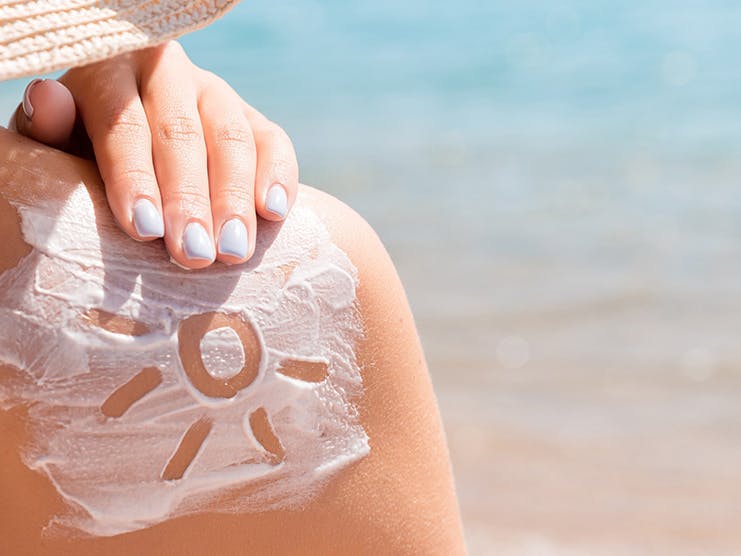 With a little bit of planning, you can keep your skin healthy all summer long!
The sun may be light-years away, but boy, is it powerful. Not only can the sun's rays leave behind painful burns on your skin, but the long-term effects of sun exposure can be even more harmful.
Skin cancer, of course, is the biggest concern. An astonishing one in five Americans will develop skin cancer in their lifetime. And more than a million Americans are living with melanoma, the deadliest form of skin cancer.
What's more, UV rays cause 90% of skin aging, including sagging and uneven pigmentation.
In an interview with Mayo Clinic's News Network, dermatologist Dawn Marie Davis emphasized the importance of being protected from UV rays.
"Any tan from the sun is unhealthy. The tan is a sign of skin damage. It causes you to be at risk for skin cancer. It also causes premature aging of the skin."
While you could just stay indoors, nothing beats a great day outside, especially in the warmer months. If you're itching to get outdoors but don't know how to stay safe in the sun, here's a few tips to protect yourself.
1. Time it right
The sun is closest when it's directly overhead. That's when you're at the highest risk of harm from UV rays. If you can, schedule your outdoor fun before 10 a.m. or after 3 p.m. (The longer your shadow, the safer it is for your skin!) Of course, the sun isn't at its zenith at the same time everywhere. In places like Arizona and Texas, the hottest time of day is after 3 p.m. Plan your outdoor time according to your local climate.
2. Know your sunscreens
Sunscreen is one of the most essential tools for protecting your skin - but only if you're using it right.
Look for broad spectrum sunscreens to protect you from UVA and UVB rays with an SPF of at least 30.
Don't just settle for arms, legs and face - show some love to often overlooked areas like the ears, back of the neck, and feet.
Apply 15 minutes before you go outside.
Reapply every 2 hours (set a timer for good measure), especially after swimming or sweating excessively.
Spray-on sunscreen may be easy, but it doesn't apply evenly on its own! You should still rub it in to get full coverage on your skin.
If you think you used enough… apply a little more! One ounce of sunscreen–about what would fill a shot-glass– is enough for your entire body and half a teaspoon for your face.
Don't rely on moisturizer and makeup for protection. While some contain sunscreen, you probably won't use enough product to give you full protection.
3. Wear protective clothing
No time to reapply? Then cover up! A long-sleeve shirt and pants will do the trick. It might be second nature to reach for lighter weight clothes in the warmer months, but thinner fabrics are no match for UV rays. A rule of thumb? Hold the garment up to a light. The more easily you can see through it, the more easily UV rays will pass through. For maximum protection, look for more densely woven fabrics.
For extra defense, you can find some stylish cover-ups with built-in ultraviolet protection. And don't forget a hat - better yet, a wide-brimmed hat - to shield your face from the sun. (Bonus: You may even feel cooler under the hat's shade!)
4. Don't forget your eyes!
Sure, you know not to stare at the sun. But regardless of where you're looking, UV rays can increase your risk for eye damage. Grab a few pairs of sunglasses to have handy year-round. Not all tinted lenses are safe and effective in reducing sun exposure, so look for sunglasses labeled with "100% UV Protection." Level up the protection with a wrap-around frame style.
Related reading: 6 Things to Pack in Your Beach Bag for Healthy Eyes
5. Watch your reflection
Seek out the shade, but know that it doesn't always offer complete protection. UV rays are reflected off a variety of surfaces like water, sand, concrete, and snow. That's right - even when you're not directly in the sun, you can still be exposed to UV rays. If you're sitting under an umbrella on the beach or by the pool, apply a little sunscreen for extra protection.
6. Do a weather check
Take a peek at the forecast before heading out. You can determine how much sun protection you need using the UV Index. The higher the index, the stronger the UV rays and the more quickly skin damage will occur.
And don't be fooled by a cloudy day. Up to 80% of UV rays can get through clouds, so take the extra minute to protect your skin no matter how the sky looks.
What does Medicare cover?
Prevention is key when it comes to sun safety, and regular full-body skin checks with a dermatologist is an important factor to keeping your skin healthy. Original Medicare doesn't cover full-body preventive skin checks, though some Medicare Advantage plans may cover routine checks. You may also find some discounts on sunscreen through certain Medicare Advantage plans.
Do you have Medicare questions? We have answers.
When it comes to Medicare, one plan definitely does not fit all. At ClearMatch, it's our mission to match you to the policy that best serves your unique needs. It's all we do, and we do it better than anyone. Check out our extensive library of articles for answers to your Medicare questions. Or, use our Find a Plan tool to compare plans in your area.
Find a Medicare Plan in your area
It's FREE with no obligation
Speak with a Licensed Insurance Agent
M-F 9:00am-9:00pm | Sat 9:00am-3:00pm EST