Many older adults do not get adequate amounts of protein, but there are some easy ways to add more to your daily intake.
Did you know that protein is a critical nutrient for your health – especially as an older adult? To maintain and avoid losing muscle mass, you should not only be doing regular strength-building exercises but also eating adequate amounts of protein.
But many adults aren't getting the recommended amount. One study found that up to 30% of adults aged 55 and older were falling short.
What's more, older people may need even more protein than what's currently recommended!
Are you sure you're getting enough?
Why protein matters
We all know protein helps build muscle. Protein deficiency can lead to the exacerbation of sarcopenia, or the natural age-related loss of muscle mass and strength. Sarcopenia puts you at greater risk of bone fractures, falls, and mobility issues.
But your body uses protein for many other functions as well. Protein helps strengthen your bones, reducing the risk of osteoporosis and fractures. It boosts your immune system and helps wounds heal faster. It keeps your hair and nails healthy and strong.
In short, protein packs a punch!
How much protein you need
Everyone's protein requirements are a little different. Your age, sex, height, weight, and activity level all play a part in determining how much you need.
But here's a rough guide: Multiply your weight by 0.36. So, if you weigh 140 pounds, you need to eat 50 grams of protein every day to get the recommended minimum.
How to measure your protein intake
There are two ways to figure out if you're meeting the minimum protein requirements: You can count grams, or you can follow the MyPlate program.
Counting grams
For packaged foods, this is easy: Just read the nutrition label. Every can of soup, box of cereal, carton of milk – anything that comes from a manufacturer – is required to list its nutrients, including protein.
But what about foods like meat, fish, and produce? These don't come with a standardized nutrition label. A simple Google search will tell you how much protein is in a typical serving. For example, a search for "protein in three ounces of salmon" gives an instant answer: 17 grams.
Add up all those grams over the course of the day. Aim to meet or exceed the minimum (your weight multiplied by 0.36).
Using MyPlate
Not into gram counting?
The US government uses the MyPlate model to simplify nutrition. With the MyPlate model, as long as you're eating the right amount of food from each of the five food categories (protein, dairy, grain, fruit, and vegetable), you can be reasonably sure you're meeting the minimum requirements for all nutrition.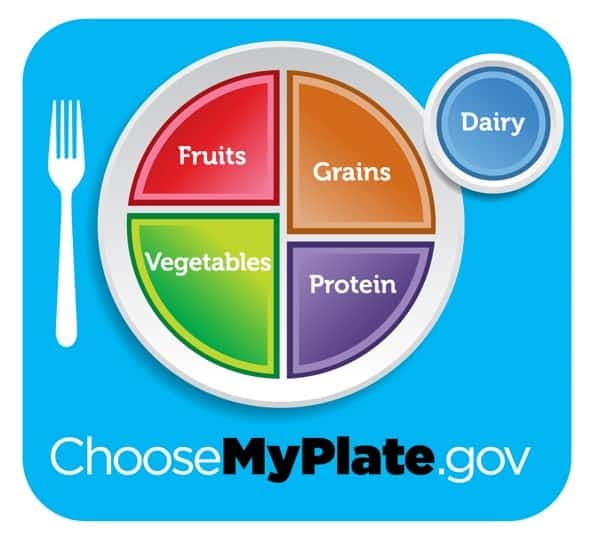 If you use MyPlate, you don't need to count grams. But you do need to be sure to eat the right amount of food across all the categories, not just the protein category. That's because the nutrient protein is found not only in the category protein, but also in foods in other categories, like dairy and grains.
You can find the MyPlate program in the resources section below.
Do older people need more than the minimum?
With up to a third of adults falling short of the daily minimum protein requirements, just being sure you're meeting that minimum is a good goal.
But some experts are questioning whether older people should be aiming even higher – up to 50% more than what's currently recommended. That's because as your body ages, it doesn't process protein as well as it used to.
"If we give a teenager 4 ounces of protein, they'll be more efficient at building muscle with that protein than someone who's 50, 60 and older," Dr. Michael Garcia, a clinical nutritionist, told UCLA Health. "The recommended amount is really the absolute minimum we need to not fall into a deficient state."
What would 50% more protein look like? Instead of multiplying your weight by .36, you would multiply by 0.54.
So, a 140-pound person would be consuming 75 grams of protein, 25 grams more than before.
How to get more protein in your diet
Need some ideas on how to get more protein in your diet? Here are a few tips!
Plan your meals around protein
Planning your meals for the week helps to avoid eating impulsively. It also helps to ensure your meal is centered around protein, whether that's a cut of meat, a piece of fish, or, if you're a vegetarian, tofu or eggs.
Snack on nuts
They're a great source of protein and they're also very filling. Just don't eat too many since they're high in fat. Many dietitians suggest eating an ounce of nuts per day, which is about the amount that will fit in the palm of your hand.
If you like yogurt, go Greek
Greek yogurt is chock full of protein, with about 13 grams of protein in one cup.
Add beans
From soups to pasta, beans can be added to all sorts of dishes, instantly upping the protein value of the meal.
Sprinkle your food with protein
Topping your meal with high-protein foods like almonds, walnuts, sunflower seeds, and cheese will give a tasty boost of the nutrient.
Use protein powder
While it's better to get your nutrients from whole foods, protein powder can be a great way to add a quick hit of the nutrient, in things like smoothies, coffee, pancakes, and more.
Talk to your doctor
Everyone's body is different, so if you're wondering if you need more protein, it's a good idea to talk with your doctor. If you have kidney disease, your doctor may not want you to increase your intake. And many sources of protein, like meat, also come with saturated fat and cholesterol, making plant proteins like whole grains a safer choice. Your doctor will be able to advise you on how much protein to eat and the best way for you to get it.
Medicare Can Help You Fight Muscle Loss
If you have questions about how to improve your nutrition, Medicare may be able to help. While it doesn't typically offer coverage for a nutritionist, Medicare Part B does cover Medical Nutrition Therapy for a period of time for those who meet certain qualifications, including patients who have diabetes, kidney disease, or have had a kidney transplant in the last 3 years.
A Medicare Advantage plan may offer broader coverage for nutrition services. What's more, many of these plans offer SilverSneakers, a gym-access perk that you can use to help combat age-related muscle loss. Check out the options in your area with our easy-to-use Find a Plan tool.
Additional resources
Find a Medicare Plan in your area
It's FREE with no obligation
Speak with a Licensed Insurance Agent
M-F 9:00am-9:00pm | Sat 9:00am-3:00pm EST