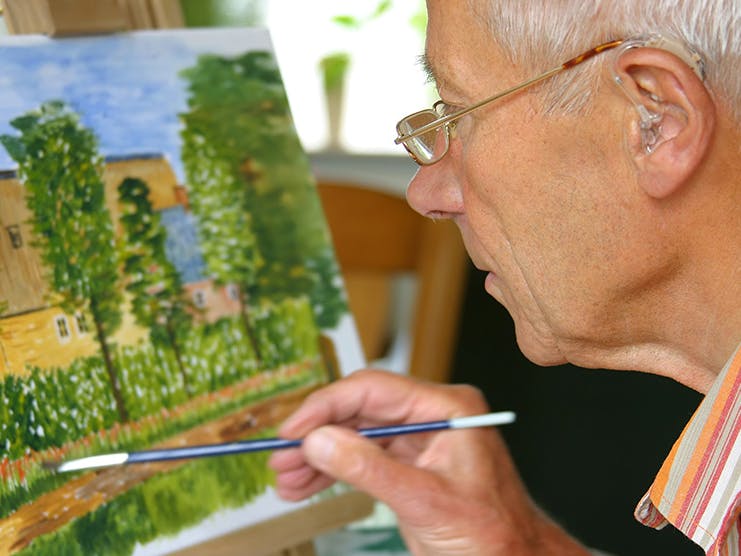 Retirement is the perfect time to try all the things you never had time for when you were working and raising a family.
You probably know the old adage: The best time to plant a tree was 20 years ago. The second-best time is now.
It's easy to buy into the idea that you can become an accomplished artist only if you start young. After all, we live in a culture that celebrates youth and prodigies.
But in reality, retirement is a great time to begin pursuing your passions.
"People often set interests or opportunities aside on the way out the door to pay the mortgage," William Winn, a psychologist who counsels retiring executives, told the Wall Street Journal. In later life, though, "they may have more flexibility and freedom to pursue something artistic from their past, and to see it as more of a possibility than as fantasy."
What's more, many artists create their most remembered work later in their lives. With age comes experience, which is invaluable to inspiration and creation.
The health benefits of creativity
Evidence shows practicing an art form can provide a wide range of benefits. In the Creativity and Aging study, researchers at George Washington University found that older adults who participated in art therapy programs experienced myriad health benefits, including:
Improved cognition
A fuller sense of identity
Reduced anxiety and depression
Elevated mood
Increased self-esteem
Deeper spirituality
More frequent socialization
Between the stimulation of the mind and spirit, along with the ability for self-expression, it isn't too surprising that taking up art brings a whole slew of benefits.
The advantages of a midlife start
It may sound surprising, but you might find developing your artistry easier now than as a child. Here's why:
You're more patient. The years have already taught you that learning a new skill takes patience. You're less likely to get frustrated by inevitable mistakes or slow progress. You'll be kinder to yourself.
You're motivated. Kids forced to take piano lessons will often come to resent it and quit at the first opportunity. But because you're choosing this hobby, you'll be more driven to learn and practice. Self-motivation is key to sticking to something when things feel tough.
You have some life experience under your belt. Age gives you a leg up when it comes to creativity. As the years go by, you cope with joy and sorrow, ups and downs. While creating, you can draw from your well of lived experience for inspiration.
Aging also allows you to be comfortable in your own skin. You're less likely to worry about what others think of you, which is great when it comes to trying new things. Don't be afraid to let your creativity and self-expression come through!
Successful late-bloomers
Need some inspiration? Look to these people who found success as artists later in life.
Grandma Moses was an American artist. She was born in 1860 but didn't start pursuing her art in earnest until the late 1930s, when she was 76. She became a household name in the United States and won numerous awards. Her work has been exhibited and sold throughout the world.
Charles A.A. Dellschau was one of the earliest American visionary artists. He started pursuing his art after he retired in the early 1900s, creating scrapbooks full of watercolors, drawings, and collages. His work has been recognized posthumously around the world.
Emily Kame Kngwarreye was an aboriginal Australian artist. In 1977, she began to learn batik in her mid-60s. About 10 years later, she began pursuing acrylics, creating more than three thousand paintings in a span of eight years.
George W. Bush began painting as a hobby after serving as president of the United States. His portraits consist of dogs, people, and still life. In 2017, Bush released Portraits of Courage, a book of portraits of veterans.
Whether you become a famous artist thanks to your pursuits, or you simply find a new hobby to enjoy, there's no downside to taking up art in retirement. Don't waste time with woulda, coulda, shoulda thoughts. Find an art therapy program, painting classes, or crafting sessions near you. Or search YouTube, where you can find thousands of free online tutorials for a variety of different art techniques. The possibilities are endless, and who knows where your artistic endeavors will lead?
Find a Medicare Plan in your area
It's FREE with no obligation
Speak with a Licensed Insurance Agent
M-F 9:00am-9:00pm | Sat 9:00am-3:00pm EST