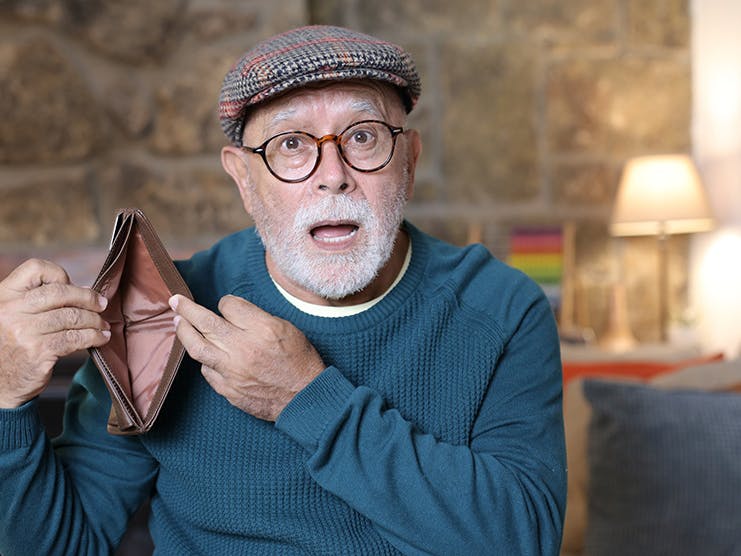 Are you feeling the inflation pinch? We've got ideas for saving money.
It's a tough time financially for many Americans. Inflation is soaring, reaching 9.1% in July. That's the highest rate the country has seen in more than four decades.
After a visit to the grocery store or gas pump, it's understandable to be worried — and a bit shocked — to see how much you just spent. And if you're retired, you might be especially stressed if your retirement savings are shrinking.
"For those currently retired, inflation risk is very real and will impact both how much retirees can withdraw from their portfolio and their lifestyle in retirement," Dylan Huang, head of retirement and wealth management solutions at New York Life, told the Society for Human Resource Management.
The key is not to panic. There are ways to manage your money amidst inflation. Here are some tips on how to weather the price-hike storm.
Tighten your budget
If you're currently feeling the financial squeeze, figure out where you can reduce expenses. A good way to start is to write down every single thing you pay for in a given week. From your electric bill to a cup of coffee and everything in between, this will help you see where your money's going and where you may be able to cut back.
Take advantage of free budgeting apps like Mint and Pocketguard. These can help you set goals, track your daily spending, and allow you to see all your accounts at once.
A free shopping app like ShopSavvy allows you to compare prices of the same item at different retailers to get the best deal out there. The popular GasBuddy app shows you the best deal on gas in your area.
Don't hold on to too much cash
It's always important to have some cash, not only for everyday funds but also for emergencies and large upcoming purchases. But holding on to too much cash is actually a losing battle. That's because the purchasing power of cash decreases as inflation rises.
If you have a stash of cash just sitting there but aren't sure where to invest it, meet with an accredited financial advisor. Together, you can weigh different options appropriate for you.
If you can, wait to collect Social Security
If you can delay receiving Social Security payments, you should. While the payments are adjusted each year to keep up with inflation, that's not always enough for people post-retirement.
After reaching retirement age, you can increase your benefits by 8% for each year you wait to retire, up to age 70. That increase in benefits is permanent and significant.
For example, if you were born in 1957, your full retirement age is 66 and a half. Suppose your full retirement benefit at age 66 and a half is $1,000. If you defer social security until you're 70, you'll receive 32% more, or $1,320!
Keep your portfolio balanced
Experts at Investopedia say gold, fixed-income annuities, and U.S. Treasury Inflation-Protected Securities (TIPS) can be good investments during inflationary times.. The key is to keep your financial portfolio balanced and diversified, which helps to manage market risk, protect against future inflation risk, and achieve your long-term financial goals. Work with a certified financial advisor to be sure your assets are well diversified.
Increase your income
Is there a way to boost your current income? Though you're retired, maybe it's time to get a part-time job, or sell some of your belongings that are currently collecting dust in the basement. Perhaps you can temporarily rent out a room in your home, babysit some neighborhood kids every once in a while, or sell the abundance of vegetables you've grown this year in your garden. Get creative in thinking about ways to make a little extra cash.
Don't get emotional
Getting caught up emotionally can cause people to make rash decisions. Before doing anything, take a deep breath and look at your finances with a clear head. Enlist the help of someone you trust, whether it's a family member or a professional financial advisor.
With a little careful planning, you can help your retirement savings last through the economy's ups and downs.
Find a Medicare Plan in your area
It's FREE with no obligation
Speak with a Licensed Insurance Agent
M-F 9:00am-9:00pm | Sat 9:00am-3:00pm EST