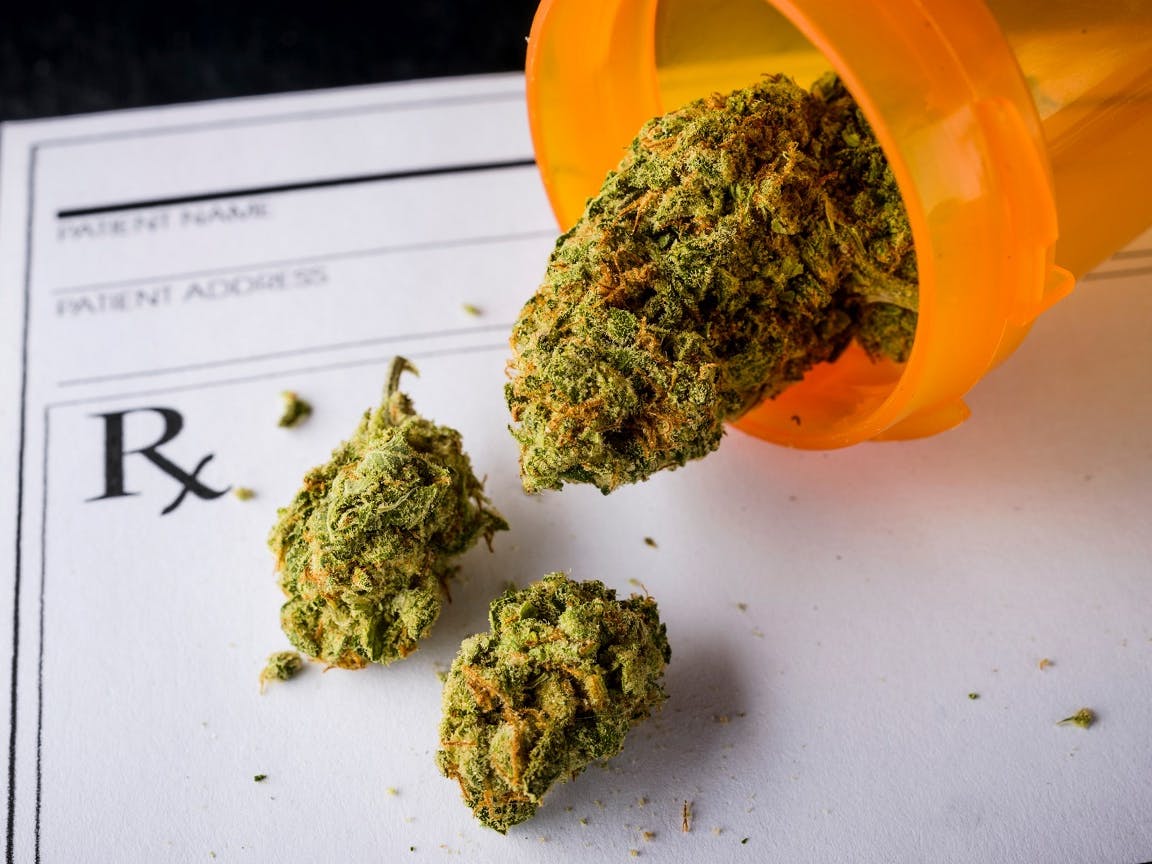 Marijuana helps treat a variety of conditions. But as long as it remains illegal at the federal level, no health insurance plan is likely to cover it.
Medical marijuana has been used for decades to treat or alleviate the symptoms of certain medical conditions, as well as the side effects of various medications. But over the last 10 years or so, marijuana's use has grown more prevalent and accepted in the public eye.
As it gains more popularity, more and more people wonder if it can or will be covered by their insurance. As of 2023, however, insurance companies do not cover medical marijuana (often abbreviated to MMJ), and this includes Medicaid.
What does medical marijuana treat?
Medical marijuana can be used to help with a variety of issues, including but not limited to:
●      Anxiety
●      Back pain
●      Chronic pain
●      Depression
●      Inflammation
●      Joint pain
●      Loss of appetite
●      Nausea
●      Post-traumatic Stress Disorder
●      Seizures (including epileptic seizures)
It is often prescribed to patients dealing with chronic pain or discomfort, such as one might experience with arthritis.
Marijuana can also help people who have AIDS or cancer – specifically in controlling the side effects from treatment (such as chemotherapy), as well as the physical issues said diseases cause – pain in particular.
Cannabis (another name for marijuana) is also considered a safer alternative to opiates in managing long-term pain, as it has not been found to be addictive.
How much does medical marijuana cost?
To access medical cannabis in states where it is legal, you need to get a medical marijuana card, which can range anywhere from $50 to $200 depending on your state.
Cards are typically registered with the state government and can only be given by a doctor that recommends marijuana to treat your condition. The process involves an appointment with a doctor, who will go over specific issues you may have and evaluate whether MMJ is right for you. Keep in mind that a doctor cannot directly prescribe cannabis, only recommend its use.
Marijuana costs also vary based on where you live, where you purchase it, and your chosen method of ingestion. For example, some states have higher prices than others because the plant is more difficult to grow there, requiring the use of greenhouses.
You purchase MMJ through a dispensary, with different dispensaries offering different prices based on the brands they work with, the amount of marijuana purchased at a time, and the strength of the product itself. How you choose to ingest cannabis also impacts cost:
Flower
Generally, when someone thinks of marijuana, this is what they picture. Flower is the term for the dried, green buds you purchase to grind up and smoke. It is generally the cheapest form of MMJ.
Oils and wax
Typically stronger, oils and wax come from distilling the THC (the component that gets you "high") from flower to create a substance that can range from near liquid to taffy-like. This is what you would find in a marijuana vape, and is often stronger, activates faster, and tends to sit on the higher end of prices.
Edibles
As the name implies, edibles are food and tinctures made with marijuana to deliver the effects in a more palatable way. Most commonly, edibles come in the form of baked goods, candy, and flavor syrups, but can be pretty much anything edible. Cost depends on the food itself and the concentration of MMJ used.
Why doesn't Medicaid cover medical marijuana?
Though medical marijuana is legal in most states, it is still illegal at the federal level. Because Medicaid is a federally funded program, it does not cover MMJ. However, there are some marijuana-related treatments that Medicaid does cover.
Dronabinol, which you may know better by the brand names Marinol and Syndros, is a medication made from synthetic THC used to treat nausea and vomiting. It has been legal in the United States since the 1970s and is approved by the FDA for patients with AIDS and those who are undergoing cancer treatment.
The FDA also approved Epidiolex in 2018, which is the first non-synthetic cannabis treatment in the U.S. It is used to treat seizures and has been shown to be effective against treatment-resistant seizures and childhood epilepsy.
Many people also wonder if CBD oils might be covered by Medicaid, as CBD does not contain the psychoactive properties that THC does. While CBD is technically federally legal, it has not been approved by the FDA, and Medicaid will not cover medicines that are not FDA-approved.
Where is medical marijuana legal?
At this point, it is actually easier to name the states that have not legalized medical marijuana. As of 2023, medical marijuana is only illegal in nine states:
●      Idaho
●      Indiana
●      Kansas
●      Kentucky
●      Nebraska
●      North Carolina
●      South Carolina
●      Tennessee
●      Texas
●      Wisconsin
●      Wyoming
In all remaining states, medical marijuana is legal, and in many states, it is now recreationally legal.
Does Medicare cover medical marijuana?
Just like Medicaid, Medicare is a federal insurance program, and will not cover medical marijuana or CBD oil.
Though legal at the state level in most states, there will not be a chance of Medicaid or Medicare covering MMJ until it is both federally legal and approved by the FDA as a treatment method. However, Medicare Part D drug plans and Medicare Advantage plans do cover Dronabinol and Epidiolex, assuming you have the qualifying conditions for said drugs.
We review Medicare's medical marijuana coverage here.
If you are wondering whether medical marijuana is the right choice for you, talk to your doctor to see if it could help, and if it might interact with any other medications you might be on. You can also search for medical marijuana doctors in your area and call to set up an appointment, or get the answers to any questions you may have.
And if you're ready to research your Medicare plan options, you'll love how easy it is with our Find a Plan tool. Just enter your zip code to start comparing Medicare plan costs and benefits in your area.
Find a Medicare plan in your area
It's FREE with no obligation
Speak with a Licensed Insurance Agent
M-F 8:00am-10:00pm | Sat 9:00am-6:00pm EST