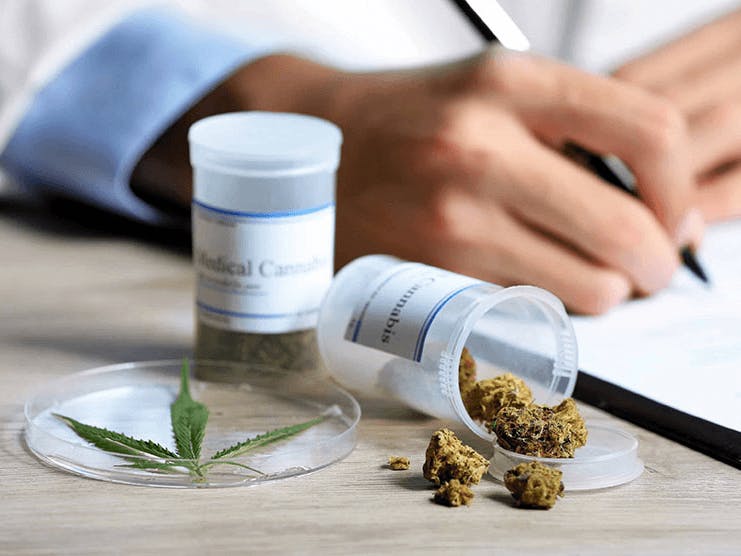 Medicare does not cover medical marijuana, even if it's legal in your state.
At this point, it would be shorter to list the states that have not legalized marijuana in one form or another. There are only eight states – Alabama, Idaho, Kansas, Nebraska, North Carolina, South Carolina, Tennessee, and Wyoming – where marijuana is still fully illegal. That leaves 42 states plus the District of Columbia (which may itself be granted statehood soon) where at least some form of marijuana is legal. Of those 42, 15 states have passed laws approving recreational use of marijuana.
Where Does Marijuana Come From?
To make this article easier to read, let's start by defining some common marijuana terms.
Cannabis: Cannabis is a type of flowering plant from which marijuana is derived. The main types of cannabis used for medical marijuana are Cannabis sativa and Cannabis indica.
Cannabinoids: These are the chemical compounds found in the Cannabis plant that provide most of the health benefits that marijuana is known for. There are over 60 cannabinoids in marijuana.
Cannabidiol: Commonly known as CBD, cannabidiol is one of the cannabinoids found in marijuana. Cannabidiols do not have any psychoactive properties (meaning you will not feel "high" after a CBD dose). CBD is available in a variety of formats, including oil, pills, edibles, vape pens, and smokables.
Dispensary: This is the store or pharmacy that sells cannabis products to patients who have a medical marijuana card.
Edibles: Food products that have been infused with marijuana. Common examples include candies, baked goods, and syrups you can add to beverages.
Hemp: Also derived from the plant Cannabis sativa, hemp is used to make a variety of products, including paper, rope, and fuel. It is not used for medicinal purposes.
Marijuana: Also known as cannabis, pot, weed, and many other slang terms. As with CBD, you may choose to smoke marijuana, take as an oil or tincture, consume orally in the form of a pill or edible, or "vape" it using an electronic device.
Tetrahydrocannabinol: More commonly known as THC, this is probably the most recognized cannabinoid found in marijuana. In addition to its medicinal properties, THC has psychoactive effects that result in the "high" feeling marijuana was mainly known for through most of the 20th century.
Why Doesn't Medicare Cover Medical Marijuana?
There are a couple of reasons that Medicare does not cover medical marijuana. First, the United States Drug Enforcement Administration (DEA) continues to classify marijuana as a Schedule I drug. According to the DEA, more clinical trials need to be conducted to prove the medical value of marijuana before that classification can change.
In addition, the U.S. Food and Drug Administration (FDA) has not approved marijuana for medical purposes. This organization also states that further research is necessary to prove the safety and efficacy of marijuana. Without federal approval, it is unlikely any health insurance plan, including Medicare, will help pay for medical marijuana.
There are exceptions, though. The FDA has approved cannabidiol for use in treating two types of epilepsy: Lennox-Gastaut syndrome and Dravet syndrome. In addition, the FDA has approved a synthetic form of THC. It is prescribed to help chemotherapy patients manage nausea symptoms and AIDS patients to prevent weight loss.
The federal government's stance is considered a bit hypocritical by activists promoting the health benefits of marijuana, since the U.S. government has a patent to use cannabinoids to treat neurological conditions. The patent was requested in 1999 and granted by the National Institute of Health (NIH) in 2003.
Do Medicare Prescription Drug Plans Cover Medical Marijuana?
Medicare Part D provides prescription drug coverage, which is not included with Original Medicare benefits (Medicare Part A and Medicare Part B). Part D plans are provided by private insurance companies that contract with the Centers for Medicare & Medicaid Services (CMS).
Although Part D prescription drug plans set their own drug formularies (the list of prescription medications covered by the plan), it is unlikely you will find one that pays for medical marijuana. However, some Part D plans may pay for cannabinoid medications that have been approved by the FDA for medical use. These include Epidiolex, Nabilone, and Dronabinol (brand names: Marinol and Syndros).
Medicare Part C, more commonly known as Medicare Advantage, may also help pay for these medications. It depends on whether your Part C plan includes prescription drug coverage (known as a Medicare Advantage Prescription Drug plan).
Whether you have a standalone Part D plan or a Medicare Advantage Prescription Drug plan, talk to your plan provider to learn more about which medications your policy covers.
What Is Medical Marijuana Prescribed For?
Medical cannabis may be prescribed to help control the symptoms and side effects of a variety of illnesses and chronic conditions. These include:
Anxiety
Back pain
Chronic pain
Inflammation
Joint pain
Loss of appetite
Muscle pain and stiffness
Nausea
Seizures (including epileptic seizures)
Marijuana is often prescribed for people living with chronic illnesses such as arthritis and multiple sclerosis (MS), as well as those with diseases like cancer and AIDS. You may also be prescribed cannabis to manage pain after an acute injury. Cannabis has grown increasingly popular for treating chronic pain, as it is much safer than the opioids found in most prescription pain pills. However, until federal laws change, it is unlikely any type of medical insurance will cover medical marijuana.
Additional resources
Find a Medicare Plan in your area
It's FREE with no obligation
Speak with a Licensed Insurance Agent
M-F 8:00am-10:00pm | Sat 9:00am-6:00pm EST