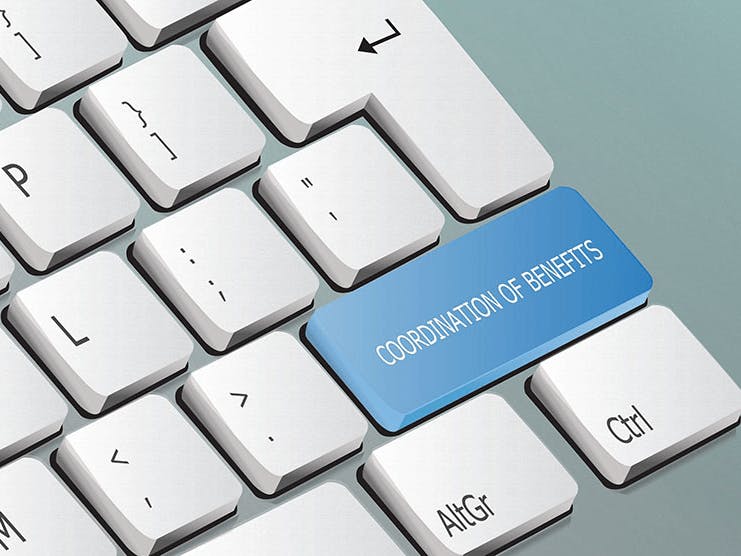 Coordination of benefits determines who pays first when you have both Medicare and group health insurance.
"Medicare Secondary Payer" (MSP) means that your healthcare claims go first to another entity, which is known as the "primary payer". This other "entity" is usually another insurance plan, like an employer group health plan (GHP) or the Consolidated Omnibus Budget Reconciliation Act (COBRA). But it may also mean another type of insurer entirely, like workers' compensation.
Once the primary insurance company covers its share, claims then go to Medicare, which typically covers any remaining costs. Coverage for these healthcare services depends on whether Medicare includes said services in its Part A and/or Part B benefits.
Medicare Primary Payer vs. Medicare Secondary Payer
As the names imply, the primary payer pays first while the secondary payer pays second.
For the first 14 years of the program, Medicare was the primary insurance except in extremely limited situations:
Federal Black Lung program
Veteran's Administration (VA) benefits
Workers' compensation
This changed with legislation passed in 1980 that allowed Medicare to become secondary payer in certain situations. Typically, these MSP provisions are only of interest to healthcare providers billing Medicare for medical services and items like durable medical equipment.
Medicare's coordination of benefits determines who has primary or secondary payer responsibility. Following are the most common scenarios.
Medicare Beneficiaries Age 65 or Older Who Have an Employer Group Health Plan
If you are at least 65 years old, enrolled in Medicare, and also covered by an employer group health plan, who pays first depends mostly on the number of employees. (This is true whether the plan is through your employer or your spouse's.)
If the employer has fewer than 20 employees, Medicare pays primary
If the employer or multi-employer group has more than 20 employees, Medicare pays secondary
Please note that the above applies only if you (or your spouse) are CURRENTLY employed. If you or your spouse have left said employment and are covered by COBRA or a retiree health plan, Medicare is always the primary payer.
Under-65 Beneficiaries with a Group Health Plan
If you haven't yet turned 65, qualify for Medicare due to a disability, and have a group health plan through a current employer, Medicare pays secondary when the employer has at least 100 employees. This also applies if your GHP is courtesy of a family member's current employment.
Coordination of benefits works slightly differently for under-65 Medicare beneficiaries who have end-stage renal disease (ESRD). Whether you have health benefits through a group plan or COBRA plan, Medicare is the secondary payer during the 30-month ESRD coordination period. Whether you are currently employed and the number of employees do not play a role in this situation.
Medicare.gov provides detailed information on Medicare secondary payer for ESRD patients here.
Medicare Beneficiaries Who Also Have a COBRA Plan
COBRA is a federal law that protects U.S. citizens who lose their group health insurance. Primary vs. secondary payer designation depends on your age and how you qualify for Medicare.
Age 65 or older: Medicare is primary payer, COBRA pays secondary
Have a disability and under age 65: Medicare pays primary, COBRA pays secondary
Have ESRD and under age 65: Medicare pays secondary during the 30-month coordination period for ESRD
Medicare Beneficiaries with a Retiree Health Plan
If you are age 65 or older, enrolled in Medicare, and have an employer retirement health plan, Medicare pays primary with your retiree plan paying secondary.
Other Types of Insurance
If you are the victim of an accident or job-related illness or injury, you may have healthcare costs covered by one of the following:
No-fault insurance
Liability insurance
Workers' compensation insurance
In these cases, Medicare pays secondary for services related to your accident or job-related injury or illness claims. If Workers' comp denies your claim, Medicare may pay primary if the medical service or item you require is normally covered by Medicare.
Before settling a workers' comp case, all interested parties are supposed to consider Medicare's interests in future medical needs and whether the settlement should "include a Workers' Compensation Medicare Set-aside Arrangement (WCMSA)."
Beneficiary Responsibilities Under Medicare Secondary Payer
The Centers for Medicare & Medicaid Services (CMS) offers the following advice to Medicare beneficiaries when dealing with Medicare secondary payer provisions:
Respond quickly to MSP communications to ensure prompt payment of claims
Understand that changes to employment status for the covered employee could impact payment of claims
Notify healthcare providers and the Benefits Coordination & Recovery Center (BCRC) at the time of service about any changes in your health insurance coverage or employment
You should also notify the BCRC if you (or your attorney) take legal action on a medical claim. Also talk to the BCRC if you are involved in an auto accident or workers' compensation case.
Find a Medicare Plan In Your Area
It's FREE With No Obligation
Speak with a Licensed Insurance Agent
M-F 9:00am-9:00pm | Sat 9:00am-3:00pm EST