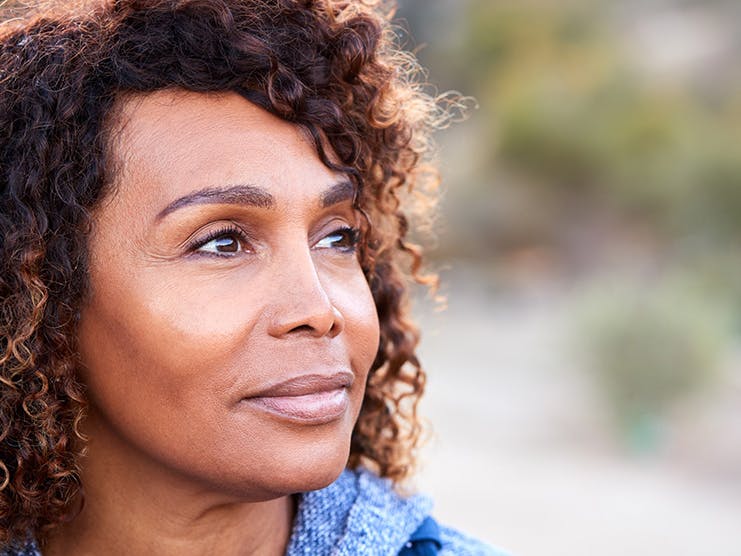 When it comes to Medicare Supplement Insurance, your monthly premium varies considerably depending on where you live.
Original Medicare plus a Medigap plan provides excellent coverage, but with so many variables, estimating your premiums can be a challenge. Not only will rates vary according to the plan and insurance provider you choose, but where you live plays a large role. Not only do some states offer greater consumer protections than others, but overall costs vary from state to state.
This page explains the various factors impacting Medicare Supplement rates to help you estimate your monthly Medigap premiums.
How much does Medicare Supplement Insurance cost?
When comparing your Medicare plan options, one of your first considerations is likely cost. That makes sense. How can you decide between Medicare Supplement Insurance and a Medicare Advantage plan if you don't have a good idea what each option costs?
Unfortunately, estimating costs can be a challenge. That's because private insurance companies sell Medicare Supplement plans, and each company sets its own premiums. In addition, there are numerous factors that insurers consider when determining Medigap rates.
Some of these pricing factors only apply if you don't have a guaranteed issue right for a Medigap policy. Others, such as the pricing method used, may vary based on state guidelines.
How do insurance companies determine Medigap premiums?
Medigap insurers use a process called medical underwriting to decide:
Whether to offer you a Medicare Supplement plan and
How much to charge you
Medical underwriting starts with you answering a series of questions about your medical history, personal habits like tobacco use, weight, age, and more. Your answers to these questions tell the insurance company how likely you are to file a claim. In other words, do your medical history and lifestyle mean that you're likely to get sick or develop a chronic illness?
If you're considered a higher risk than most Medicare beneficiaries, the insurance company may refuse to sell you a Supplement plan. Or, the insurer may offer you a policy at a higher rate.
What happens if you have a guaranteed issue right?
If you have guaranteed issue rights, your Medigap application does not go through medical underwriting. You cannot be denied a Medigap policy or charged a higher premium – even if you have preexisting conditions and a history of tobacco use.
Medicare beneficiaries do not have guaranteed issue rights very often. The first is your Medigap Open Enrollment Period (OEP). This 6-month period starts the day you are both age 65 or older AND enrolled in Original Medicare (includes Medicare Part A, hospital insurance, and Medicare Part B, medical insurance).
During your Medigap OEP, you cannot be denied a Supplement plan or charged a higher rate for any reason. Once it ends, though, your application goes through medical underwriting.
Medicare.gov describes seven other situations in which you may have guaranteed issue rights. They mostly have to do with losing your current coverage, such as leaving an employer group health plan.
What pricing method do Medigap insurers use?
Like most types of insurance, your Medigap premium will likely fluctuate over time. You can better estimate the long-term cost of your Supplement plan if you know what pricing method the insurance company used.
Attained-age rating: Premiums are based on your age at the time you submit your application. These plans are often the cheapest in the beginning. However, since premiums go up as you get older, you pay more for an attained-age plan over time.
Community rating: All beneficiaries within a certain geographic area will pay the same premium, regardless of age. You'll probably pay more for a community rated plan in the beginning. In the long run, though, these are the least expensive plans.
Issue-age rating: Premiums are based on your age at the time you join the plan, meaning the younger you are, the lower your premiums will be. Over time, premiums may go up because of inflation but they won't go up just because you get older.
Where do you live?
Where you live plays an enormous role in Medigap pricing. That's nothing new – most of us are used to costs being higher in certain parts of the country. But with Medigap premiums, there's a second reason location makes a difference: state laws.
The Medicare program is run on a national level. The Centers for Medicare & Medicaid Services (CMS) manage the program, operating under federal guidelines. Medicare Supplement Insurance, although monitored by CMS, is not actually part of the Medicare program. The plans are sold by private insurance companies. And because private insurers provide the plans, they must operate within state laws regarding the sale of insurance.
Some states offer no consumer protections beyond the federal level. Most, though, have additional guidelines. The most common is a requirement for Medigap insurers to make at least one plan available to people who qualify for Medicare due to a disability instead of age. Other Medigap consumer protections may include providing additional guaranteed issue rights and prohibiting age-based pricing.
Check your State Health Insurance Assistance Programs (SHIP) site for information specific to your state.
Additional pricing factors
There are two more items that influence pricing: age and gender. You'll usually pay less for a Medigap plan if you're a woman and under age 75.
Average monthly premiums for the most common Medigap plans
The average cost of supplemental insurance for Medicare is around $150 per month, with monthly premiums typically ranging between $50 and $450. Please note that premiums vary considerably from plan to plan.
Average monthly premiums for the most popular Medigap plans are:
Medigap Plan A: $200 - $300
Medigap Plan B: $100 - $150
Medigap Plan C: $250 - $300
Medigap Plan D: $140 - $160
Medigap Plan F: $165 - $185
High-deductible Plan F: $60 - $70
Medigap Plan G: $120 - $140
Medigap Plan M: $190 - $215
Medigap Plan N: $100 - $120
These are nationwide averages. As you saw in the Plan F vs. Plan G comparison, rates vary considerably from state to state.
How much does Medigap Plan F vs. Medigap Plan G cost?
Thanks to its coverage of the Medicare Part B deductible, Medigap Plan F offers the most comprehensive benefits of all the Supplement plans. However, as of January 1, 2020, any Medigap plan that pays the Part B deductible is prohibited. If you already had Plan F, you may keep it. In addition, if you qualified for Medigap before January 1, you may sign up for Medigap Plan F. New beneficiaries cannot.
The average cost of Medigap Plan F in three different states:
Florida: Around $250
New York: Around $175
Texas: Around $150
Enter Medigap Plan G. It provides all the same benefits as Plan F, minus the Part B deductible. It also costs less than Plan F, and that difference is expected to grow now that Plan F has been discontinued.
The average cost of Medigap Plan G in three different states:
Florida: Around $210
New York: Around $175
Texas: Around $120
Even if you figure in the cost of the Part B deductible, you still have a lower out-of-pocket with Plan G.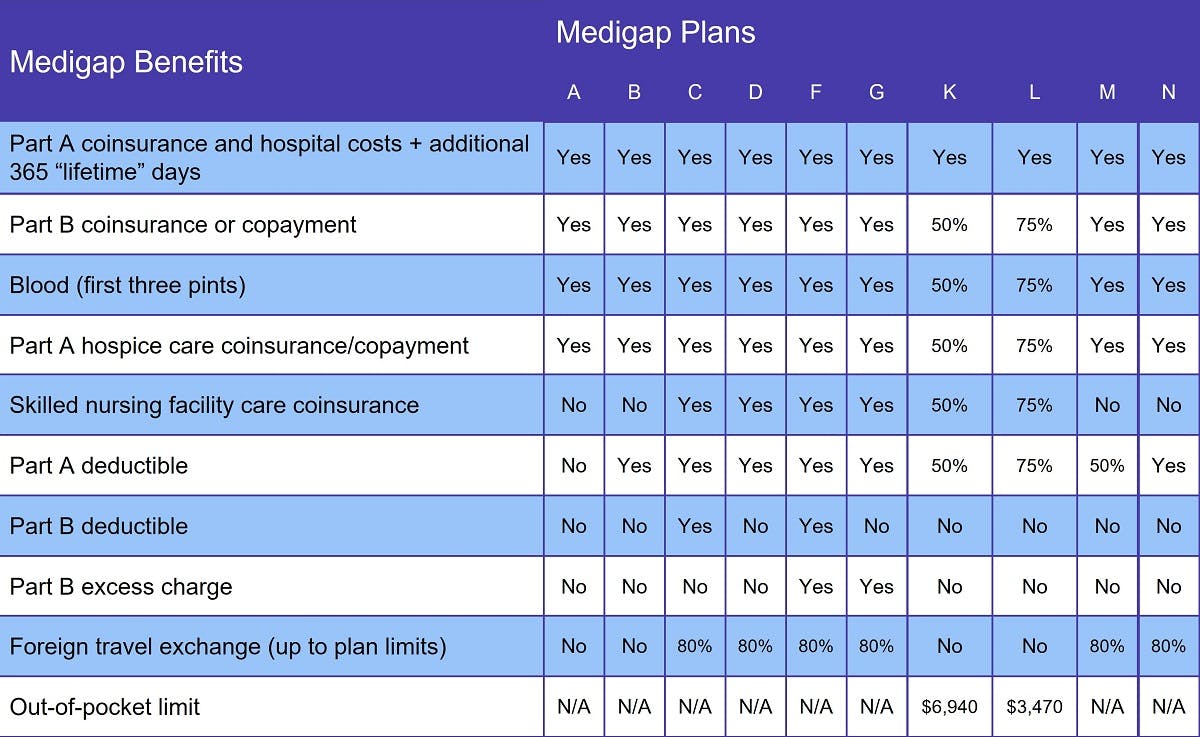 Is Medicare Supplement Insurance worth the cost?
Medicare Supplement Insurance plans help pay a variety of out-of-pocket costs when you have Original Medicare. The chart above shows which costs each plan covers. At a minimum, every Medigap plan pays your Part A coinsurance, gives you an additional 365 lifetime reserve days, and covers the first three pints of blood in a transfusion.
Other out-of-pocket costs that may be covered by a Medigap plan include:
All Medigap plans cover at least half of the Medicare Part B coinsurance, which is 20 percent of the Medicare-approved amount for covered services.
Medicare Part A coinsurance for skilled nursing facility (SNF) services and hospice care.
The Medicare Part B annual deductible is $226 per year.
The Medicare Part A deductible is $1,600 per benefit period, which starts the day you're admitted and ends once you go 60 days without receiving inpatient care. You can have multiple benefit periods in a calendar year.
Emergency care received in a foreign country is not covered by Medicare, but most Medigap plans pay at least a portion of it.
Please note that no Medigap plan covers costs of the Part A premium, Part B premium, or a Part D prescription drug plan.
Compare your Medicare Supplement Insurance options
Our Find a Plan tool makes comparing Medigap plans easy. Simply enter your location to review Medigap and Medicare plans in your area.
You can also call us toll-free at 888-992-0738 to speak to a licensed ClearMatch Medicare agent. We'll answer your questions and help you find the right Medicare plan for your unique needs and budget.