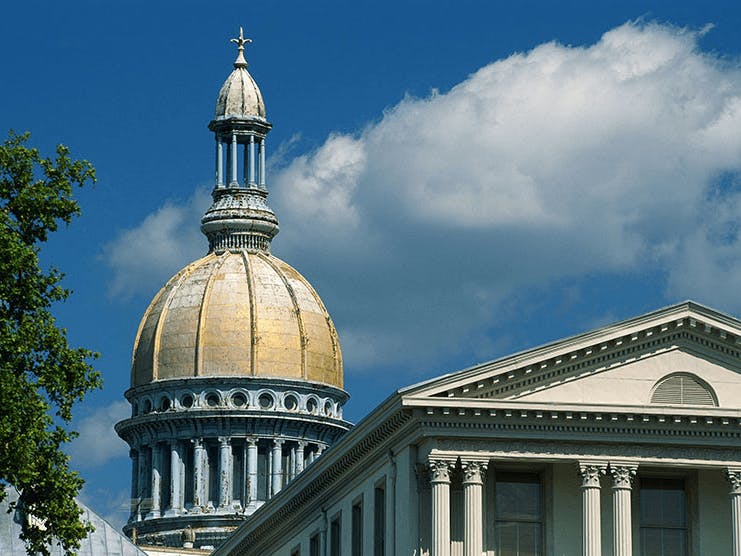 Between the PAAD and Senior Gold programs, the state of New Jersey helps over 125,000 New Jerseyites pay their prescription drug costs.
New Jersey provides two State Pharmaceutical Assistance Programs (SPAP) to its Medicare beneficiaries: Pharmaceutical Assistance to the Aged & Disabled (PAAD) and Senior Gold. Both programs work with your Medicare Part D benefits. To qualify, you must be a New Jersey resident and meet certain income thresholds.
What Is NJ PAAD?
The New Jersey Pharmaceutical Assistance to the Aged and Disabled program (NJ PAAD) helps eligible New Jerseyites pay some of their prescription drug costs. Eligibility requirements for PAAD include:
Being a New Jersey resident
Being age 65 or older OR receiving Social Security Title II Disability benefits if you are an adult between the ages of 18 and 64
Having an income lower than $38,769 (single) or $45,270 (married)
If you are also eligible for Medicare, then you must also be enrolled in a Medicare Part D prescription drug plan (PDP) to qualify for PAAD.
NJ PAAD covers nearly 118,000 New Jersey residents.
What Is the Senior Gold Prescription Discount Program?
The Senior Gold Prescription Discount Program has similar requirements to PAAD. The only difference is in the income limits. In 2023, your income must fall between $38,769 and $48,769 if you are single or $45,270 and $55,270 if you're married.
Around 18,000 New Jersey residents are covered by Senior Gold.
What Is Medicare Part D?
Medicare Part D provides prescription drug coverage for Medicare beneficiaries. Prescriptions are not covered by Original Medicare, which includes Part A, inpatient care, and Part B, outpatient services.
Private insurance companies sell Medicare Part D plans. Your Part D options are:
A standalone Medicare Part D plan that you add to your Original Medicare coverage or a Medicare Advantage plan that doesn't include prescription drugs
A Medicare Advantage Prescription Drug plan (MA-PD)
Out-of-pocket costs with Medicare Part D may include monthly premiums, deductibles, and copays or coinsurance.
Nobody is automatically enrolled in a Medicare Part D plan – even if you had automatic enrollment in Original Medicare. You must always choose to sign up for a Part D plan.
It's easy to compare Part D plans in your area with our Find a Plan tool. Just enter your zip code to get started.
What Does NJ PAAD Cover?
NJ PAAD beneficiaries should never have a copay higher than $5 for generic drugs or $7 for brand name drugs. Your plan pays any costs above these copay amounts. This coverage assumes that the prescription is deemed medically necessary by a qualified healthcare provider and that the medication is on your Part D plan's drug formulary (the list of prescription drugs covered by your PDP).
If your plan doesn't cover the prescription, you have two choices:
Ask your doctor to prescribe an alternative medication that is covered by your plan
Request that your Part D plan make an exception
In addition to reduced copays, PAAD also helps cover your monthly Part D premium as long as it is at or below the regional benchmark. It will also cover the premium if your plan has no deductible and exceeds the regional benchmark by $20 or less.
What Does Senior Gold Cover?
Senior Gold helps beneficiaries pay for prescription drugs, insulin, and insulin supplies. It does not cover diabetic testing supplies, such as test strips. For these items, you need to use your Medicare Part B durable medical equipment (DME) benefits.
If you have Senior Gold, your prescription copays will be $15 plus 50 percent of the remaining amount. Once your annual out-of-pocket spending on prescriptions exceeds $2,000 (single) or $3,000 (married), you have a flat $15 copay for each prescription.
How Do You Apply for PAAD or Senior Gold?
To apply for either program, you must complete the NJSave application. Click here to get started. You can also download and print the paper application. Follow the instructions on the form to complete and return it to the New Jersey Department of Human Services.
Other Ways to Save Money on Prescriptions
If you have limited income and resources, you may also qualify for Extra Help. Depending on your income, this Medicare program helps cover premiums, deductibles, and coinsurance or copayments.
Medicare beneficiaries who are dual eligible (qualify for both Medicare and Medicaid) automatically get Extra Help. If you are eligible, you should receive a notice from Social Security. To see if you qualify and to apply for Extra Help, go to the Social Security website here.
PAAD and Senior Gold Frequently Asked Questions
What drugs do PAAD and Senior Gold cover?
PAAD and Senior Gold cover what the programs call "prescribed legend" drugs. A "legend" drug is one that has FDA approval and can only be prescribed by a qualified healthcare provider, such as a medical doctor or nurse practitioner. This means you cannot use benefits to pay for over-the-counter medications and supplements.
Are diabetic testing supplies covered?
No, neither PAAD nor Senior Gold will pay for items like lancets and test strips. However, if you have Medicare, you can get these items through your Part B DME benefits. (You get these same benefits if you have a Medicare Advantage plan.)
Can I use pharmacies in other states or countries?
No, the Senior Gold and PAAD programs only cover prescriptions you fill in the state of New Jersey. If you go to any outside pharmacy – whether in another state or another country – PAAD won't pay for it. In addition, the drug's manufacturer must have a rebate agreement with the State of New Jersey.
Do I have to apply for PAAD every year?
Most PAAD beneficiaries need to submit a renewal application every other year. However, some PAAD recipients need to apply yearly.
The PAAD program should send you a renewal form about 4 months before your coverage expires. Just complete it and return by mail. If you don't receive your renewal form at least 2 months before your PAAD card expires, call 1-800-792-9745.
Do I have to apply for Senior Gold every year?
Yes, Senior Gold beneficiaries must reapply every year. As with PAAD, you should receive your renewal form about 4 months before your card expires. If you do not, call the toll-free number above to request a renewal form.
Do I have to use generic prescriptions if I have PAAD or Senior Gold?
When PAAD or Senior Gold is the primary payer, New Jersey state law requires generic substitutions whenever available. However, you may be able to get the brand name drug if your healthcare provider requests prior authorization.
Can I get 90-day prescriptions?
PAAD and Senior Gold beneficiaries are limited to 34-day supplies on initial prescriptions. This helps reduce medication waste in the event the initial prescription is inappropriate in any way. Refills are available in either 34-day or 100-unit amounts, whichever is greater.
Find a Medicare Plan in your area
It's FREE with no obligation
Speak with a Licensed Insurance Agent
M-F 9:00am-9:00pm | Sat 9:00am-3:00pm EST