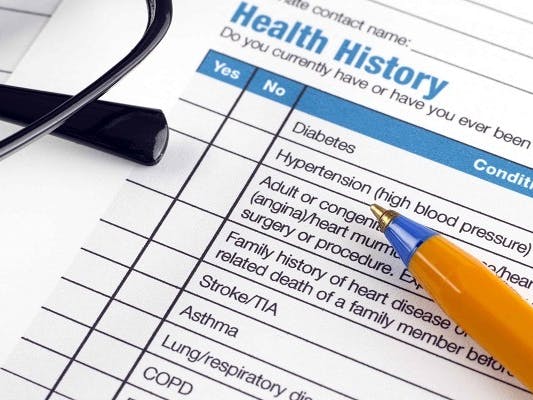 If you don't have guaranteed issue rights, your Medigap application goes through a process called medical underwriting.
Medical underwriting is the process by which your health insurance company looks at your medical history and health status to decide if they will sell you insurance or limit your coverage. In some cases, insurance companies may choose not to sell you insurance at all, while in others they may exclude coverage for pre-existing conditions or charge higher monthly premiums.
Medigap insurers can't use underwriting if you have guaranteed issue rights, which require companies to sell you certain plans. The conditions for gaining these rights can vary.
What is medical underwriting?
Medical underwriting is in essence a risk assessment about a person. An insurance company wants to know how likely it is that you may file a claim based on your medical history. It is similar to car insurance, where they review your driving record to guess how likely you are to have an accident If the insurance company expects you to file many claims, they are less likely to sell you a plan, or may charge you a higher premium.
Companies engage in underwriting by asking you questions about your medical history. This usually takes place in your Medicare Supplement application.
Does Medicare use underwriting?
Original Medicare (Parts A and B) doesn't use underwriting at all, and neither do Medicare Advantage health plans. You also don't have to worry about underwriting with Medicare Part D prescription drug plans either.
However, Medicare Supplement plans, also known as Medigap plans, do use medical underwriting. These plans provide additional coverage for your out-of-pocket costs under Original Medicare, such as your Part A deductible and Part B coinsurance. If you have a Medicare Advantage plan, you won't be able to buy a Medigap plan as well, but you can purchase one if you have Original Medicare.
What kind of health questions do you have to answer for medical underwriting?
Medigap policies use a variety of questions as part of the medical underwriting process, and the questions vary from plan to plan. Expect to provide information about your age, weight, drug use (including tobacco and alcohol), chronic health conditions, vision, issues with your circulatory system, prescription drugs you take, and more.
Some insurance companies may have more extensive questionnaires, and may also ask about other issues, like your mental health history.
There are several health conditions that may cause your Medicare Supplement insurance application to be rejected. Prominent conditions include:
AIDS
Alzheimer's
Cirrhosis
Atrial fibrillation
Kidney failure
Heart attacks
Any history of cancer
Certain cognitive conditions like dissociative amnesia and Huntington's chorea may also result in rejection.
Other reasons your Medigap application might be declined
Your Medigap application may also be declined if you use a:
Nebulizer
Implantable cardiac defibrillator
Supplemental oxygen
Additionally, using medications that are associated with conditions such as COPD, multiple sclerosis, or any of the health conditions listed in the last section may also lead to your application being rejected, even if the application doesn't specifically ask about the disease itself.
How to avoid medical underwriting
Although medical underwriting can seem like a huge hassle, there is an easy way out of it. If you apply for a Medicare Supplement policy during the Medigap Open Enrollment Period, your application cannot be denied as a result of underwriting. Your Medigap OEP begins on the first month that you are both enrolled in Medicare Part B and are 65 years of age. It lasts for six months.
For this reason, it is best to purchase Medigap coverage during this period, even if you don't think you need it right away. It may prove much more difficult in the future. This also usually results in a closer effective date, because your insurance can begin faster after you apply.
You can also avoid underwriting if you have guaranteed issue rights. There are a variety of guaranteed issue situations that may apply to you, and they can last for differing amounts of time. For example, you have guaranteed issue rights if you move out of your previous plan's service area and have to switch plans, or if you switch from Original Medicare to Medicare Advantage, but then switch back.
Need help understanding your Medigap plan options?
If you'd like help understanding your Medicare Supplement plan options, one of our licensed insurance agents can help. We're available Monday through Friday from 8 AM until 5 PM. You can also review Medicare plans in your area with our Find a Plan tool. Just enter your zip code to get started.
Find a Medicare Plan in your area
It's FREE with no obligation
Speak with a Licensed Insurance Agent
M-F 9:00am-9:00pm | Sat 9:00am-3:00pm EST