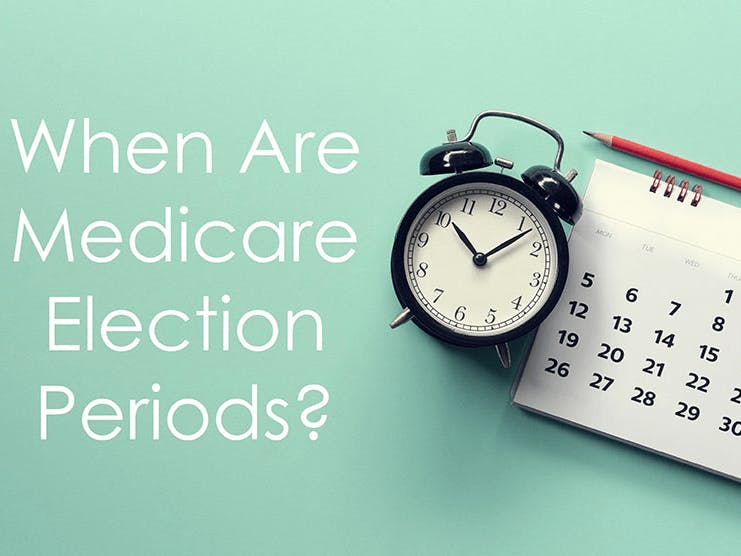 Is Medicare eligibility still tied to Social Security? Are you automatically enrolled? When can you sign up? You better know the answers if you don't want to face late enrollment penalties.
When it comes to understanding Medicare, eligibility and enrollment is often the most difficult thing. There are multiple times during which someone can enroll in Medicare, as well as a variety of eligibility criteria, some of which overlap and some which don't. This is intended as a rough guide that can help you understand the basics of Medicare enrollment, election periods, and eligibility.
Eligibility: The Basics
Before you enroll in Medicare, you have to be eligible. You are eligible for Medicare under the following conditions:
You are 65 years of age or older
You have End-Stage Renal Disease (ESRD)
You are eligible for Social Security Disability Insurance or receive disability benefits
These are the basic eligibility conditions for all of Medicare, and most people who enroll will fit the first condition. There are other complications for eligibility, especially related to those with disabilities. This form of Medicare will require a waiting period, and eligibility can also end after a certain period. However, the full details are out of the scope of this article.
Enrollment Periods: The Basics
Before getting into the details of enrollment periods, let's take a look at how these function at a general level. The basic idea here is that you have to enroll in Medicare health insurance at a specific time, on a specific schedule, and under certain circumstances. You can't simply enroll whenever you want.
Different enrollment periods have different guidelines and rules for health care enrollment and happen at different periods of the year. There are two fixed enrollment periods and two variable enrollment periods. Let's look at the variable periods first.
Initial Enrollment: The Best Time to Enroll?
The Initial Enrollment Period (IEP) is the easiest time to enroll, for most. This is a 7 month period, and consists of your 65th birthday month, three months prior, and 3 months after. It doesn't matter when your birthday is during your birthday month, so someone born on August 1st and someone born on August 31st will have the same Initial Enrollment Period.
During your IEP, you can enroll in Original Medicare (Parts A and B) easily and without penalty. If you already receive Social Security benefits or Railroad Retirement Board benefits, then you will be enrolled automatically. Your premiums for Medicare Part B will be taken from your benefits check.
If you want to defer your enrollment to a later time, you will have to contact the Social Security Administration to do so. However, this can result in late enrollment penalties, which we'll discuss in more detail later on.
The ICEP: IEP for Medicare Advantage
The ICEP, or Initial Coverage Election Period, is a period that will overlap with the IEP for most individuals. During this time, you can choose to enroll in a Medicare Advantage (Medicare Part C) plan, and the plan will have to accept you unless they have reached their limit.
A Part C plan is a way of receiving your Medicare benefits through a private insurance company. These plans tend to have lower premiums and higher deductibles, and some will have additional coverage as well. However, the cost and coverage can vary significantly. Medicare Advantage plans have to cover at least what Original Medicare covers, but can also cover more.
Special Enrollment for Special Situations
The other variable enrollment period is the Special Enrollment Period or SEP. This is a period that is triggered by certain life events that can change your insurance status. This includes things like marriage, moving across the country, or losing your employer-based coverage. The length of Special Enrollment Periods will vary depending on your situation.
If you know in advance that you are triggering an SEP, for example, if you are retiring from your job, get in touch with Medicare beforehand, so you can use the SEP optimally. If something has come as a surprise, get in touch soon so that you can explore your options for as much time as possible.
The General Enrollment Period
The General Enrollment Period is the first of the fixed periods we'll be looking at. This period lasts from January 1st to March 31st each year. This period is useful if you didn't enroll in Original Medicare and do not have a Special Enrollment Period. Under these circumstances, you can enroll in Original Medicare during General Enrollment.
If you enroll during the General Enrollment Period, your coverage will begin on July 1st. If you have a private insurance plan, make sure to coordinate your coverage so that you don't have any coverage gaps. If you delayed your coverage until this point without a proper reason, you will still have to pay the late enrollment penalty.
The Annual Open Enrollment Period: Change Your Plan
Annual Open Enrollment lasts from October 15th to December 7th of each year, with health coverage beginning on January 1st. This period is useful for a few things and will allow you to join, drop, or switch plans. You may also hear this period referred to as the "Annual Election Period".
First, this is the primary time during which you can enroll in a Medicare Supplement plan or Medigap policy. These are plans which are used to cover out-of-pocket costs associated with Medicare coverage, rather than medical costs directly. There are various Medigap plans to choose from, and they may fit your needs.
You can also use Open Enrollment to switch from Original Medicare to Medicare Advantage, or vice versa. Additionally, you can switch from one Medicare Advantage plan to another, including adding a prescription drug plan through Medicare Advantage.
You can also use this time to add on a Part D prescription drug plan, whether you have Original Medicare or Medicare Advantage. Note that if you have prescription drug coverage through your Part C plan, you can't add a Medicare Part D plan as well. Overall, Open Enrollment is a very versatile time to make changes to your coverage.
Watch Out for Late Enrollment Penalties
If you don't enroll in Medicare during your Initial Enrollment Period or a Special Enrollment Period, then you will have to pay a late enrollment penalty. These penalties can be severe, so you should do everything you can to avoid them.
For Part A, you will have to pay a 10 percent increase in monthly premiums for double the number of years that you could have had Part A, but didn't. So, if you defer enrollment and then don't enroll in a Special Enrollment Period, only to finally enroll two years later, you will pay your higher premium for four years.
The Part B late enrollment penalty is even more severe. For this penalty, you will pay a 10 percent increase in your premiums for every year that you could have had Medicare but didn't, for the entirety of the time that you have Part B. So, if you defer for 5 years, then you will pay the 50 percent higher premium of $247.35 each month, instead of $164.90. This will go on indefinitely, which can add up to a very high penalty cost.
Things to Keep in Mind
As you can see, there are many moving parts involved in Medicare enrollment. However, enrolling during your IEP or SEP can make the process much easier. If you have to enroll during General Enrollment, make sure to coordinate with your current plan so you don't have a coverage gap. Otherwise, make sure that you examine your plan options in detail to see if you want to make any changes when Open Enrollment comes around.
Find a Medicare Plan in your area
It's FREE with no obligation
Speak with a Licensed Insurance Agent
M-F 9:00am-9:00pm | Sat 9:00am-3:00pm EST