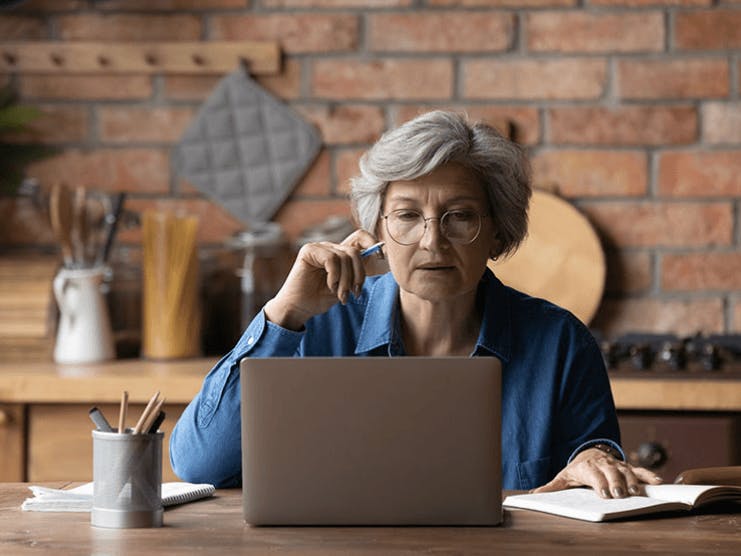 Annual Enrollment is your time to make needed changes to your Medicare coverage.
It's almost time for the Medicare Annual Enrollment Period (OEP), which begins every year on October 15 and ends December 7. During these eight weeks, Medicare beneficiaries can review their current plan and make any changes they feel are necessary. There's a lot of information to sift through; we know it can be confusing. That's why we offer this Medicare Open Enrollment Checklist. Use it to help ensure you get the best healthcare coverage at the best price.
What Can You Do During Annual Enrollment?
Once you have Medicare, AEP is your annual opportunity to compare your coverage options and make changes. During this time, you can:
Switch from Original Medicare to a Medicare Advantage (MA) plan
Move back to Original Medicare from your current MA plan
Switch your current MA plan for a new one
Join a Medicare Part D (prescription drug) plan, or change plans
Drop your Medicare Part D plan
Any changes you make during Annual Enrollment take effect January 1.
Medicare Annual Enrollment Checklist
Now you know what you can do during AEP and how long it lasts. It's time to make sure you're ready for it once it gets here.
Create a provider list
Make a list of your current providers, including your primary doctor and specialists, as well as medical services you use regularly and clinics or hospitals you visit. Without this information, you can't tell which Medicare plan is right for you.
Create a prescription drug list
What prescription drugs do you currently take? Write them down. Your plan may stop covering your prescriptions next year, or place them in a different tier. It's impossible to compare prescription drug plans without knowing what medications you currently take.
Plan ahead
What types of screenings or diagnostics has your doctor run recently? Has he or she warned you that you may need to begin taking a certain medication? This is where you note any healthcare changes you expect to occur over the next 12 months.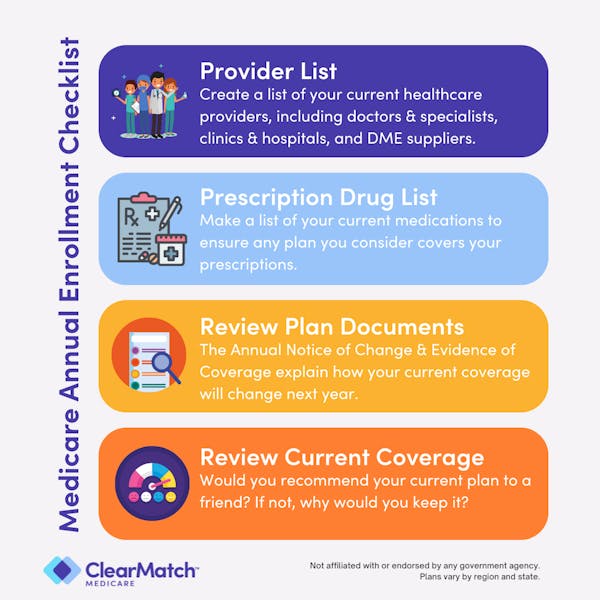 Review the Annual Notice of Change and Evidence of Coverage
If you have any coverage outside of Original Medicare (Parts A and B), your plan sends an Annual Notice of Change (ANOC) and Evidence of Coverage (EOC), which you should receive in September. If you don't receive one, contact your plan.
These documents provide details about upcoming changes to your coverage. Compare them to your current and projected medical needs to determine whether it's time to change plans.
Review your current coverage
Before OEP begins, review your current coverage. How well does it meet your medical needs today? What about the costs? If you've developed new healthcare issues since January, it's possible that the plan you started the year with no longer serves all of your needs. Or, perhaps your plan exceeds your monthly budget.
In addition, look at the daily reality of your plan. Are there issues that bother you every time you go to the doctor or fill a prescription? Is your plan's provider network limited, making it difficult to find a specialist? Are you limited to Original Medicare because you rely on your Medigap plan? It may be time for ancillary insurance, such as dental coverage.
Review Medicare Advantage options
Many Medicare Advantage plans offer benefits not covered by Original Medicare, such as prescription drug coverage and routine dental and vision care. You may find that an MA plan saves you money thanks to this increased coverage. In addition, MA plans have a yearly out-of-pocket maximum, something Original Medicare does not have.
Some Medigap beneficiaries hesitate to try an MA plan because they don't want to undergo medical underwriting later. However, if you have never had a Medicare Advantage plan before, you qualify for guaranteed issue rights. This allows you to switch from Original Medicare to Medicare Advantage, and back again, within 12 months. As long as this is the first time, your application is treated as though you were in your Medigap open enrollment period.
Compare Medicare Part D plans
If you have Original Medicare, or your MA plan does not include prescription drug coverage, you need to add a Part D plan. Already have Part D? Review the ANOC and EOC to determine whether your coverage is:
Still creditable
Includes prescriptions you currently take
Still falls within your budget
Costs and coverage vary by plan and insurer. Although checking price may be your first instinct, first determine whether the plan covers your prescriptions. It won't do you much good otherwise.
Confirm plan eligibility
Whether you're considering an MA or Prescription Drug plan, make sure you're eligible to join. At a minimum, you must have Original Medicare and live in the plan's service area, but check each plan's criteria.
Do you have other insurance?
Many beneficiaries have secondary insurance, particularly if they or a spouse has coverage through an employer. Others have coverage via retiree or VA benefits. If this describes you, talk to the benefits administrator to determine how your Medicare enrollment impacts your additional health coverage.
Look at total cost
The total cost of your Medicare plan may include monthly premiums, deductibles, co-pays, and co-insurance.
When comparing Part D or MA plans, dig a little deeper for an accurate picture of total costs. For Part D, you need to consider the monthly premium, co-pays, and the drug formulary. Most insurers use tiered pricing for prescription drugs. If your prescriptions are on one of the upper tiers, your co-pay could be substantial. Most MA and Part D plans with extremely low premiums have higher co-pays, deductibles, and out-of-pocket maximums.
Find a Medicare Plan in your area
It's FREE with no obligation
Speak with a Licensed Insurance Agent
M-F 9:00am-9:00pm | Sat 9:00am-3:00pm EST