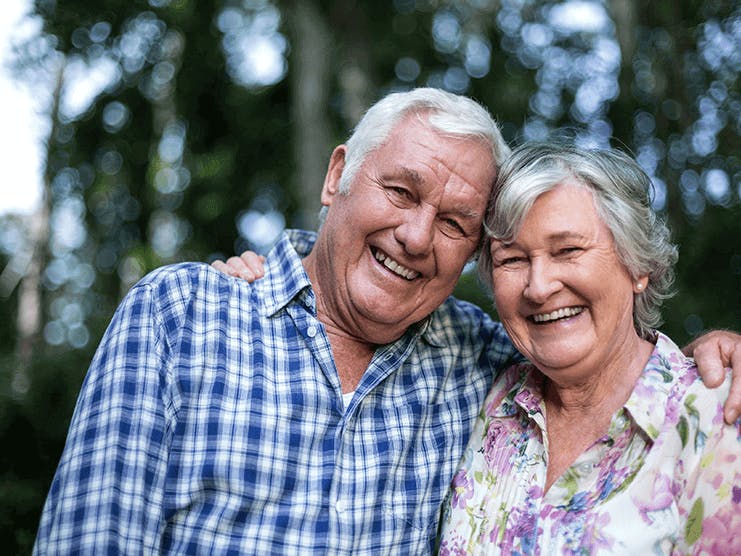 If you age into the Medicare program, you'll qualify as soon as you turn 65.
Most people become eligible for Medicare when they turn 65. As of 2021, the only exceptions are if you meet certain medical requirements. This post answers common questions about the Medicare eligibility age, when you can apply, and who qualifies for free Medicare.
What is the Medicare coverage age?
The "Medicare age" is 65, just as it has been since the program launched in 1965.
Once you turn 65, you qualify for full Medicare benefits if you are a U.S. citizen or permanent legal resident who has lived in the United States for at least 5 consecutive years.
To qualify for premium-free Part A, you or your spouse must have paid Medicare payroll taxes for 10 years (40 quarters).
You may also qualify for Medicare before turning 65 if you meet certain health conditions. This includes:
Qualifying for Social Security disability benefits for 24 months
Receiving a disability pension from the Railroad Retirement Board (RRB)
Having amyotrophic lateral sclerosis (ALS, or Lou Gehrig's disease)
Experiencing permanent kidney failure that requires a kidney transplant or regular dialysis (end-stage renal disease, or ESRD)
Medicare.gov offers an eligibility and premium calculator. Just enter your date of birth and follow the prompts to discover when your Initial Enrollment Period (IEP) begins and how much you'll pay for Medicare.
Can I get Medicare at age 62?
The Social Security Administration (SSA) allows people who qualify to collect early retirement benefits starting at age 62. And, because Social Security retirement and Medicare eligibility were linked for decades, many Americans assume they may apply for Medicare as soon as they retire. This is not the case. You can only sign up for Medicare at age 62 if you meet one of the medical or disability requirements listed above.
Can I get Medicare at 55?
Medicare at age 55 started making headlines again after the Medicare at 55 Act was introduced in August of 2017. It is one of dozens of bills that Congress has yet to vote on, much less pass. The bill proposes to allow American citizens aged 55 to 64 to buy into the Medicare program.
Options would be the same as if you "aged" into the program. This includes Original Medicare, which includes Part A, hospital insurance, and Part B, medical insurance. If the bill passes, you could also choose to enroll in Medicare Part C, more commonly known as Medicare Advantage. You would also have access to Medicare Part D prescription drug coverage.
As of November 2021, Medicare at 55 is not a reality.
Is Medicare free at age 65?
If you or your spouse worked and paid Medicare taxes for at least 10 years, you get Medicare Part A for free. This covers inpatient services received in a hospital or skilled nursing facility (SNF) as well as hospice care.
Please note that "free" refers only to the Medicare Part A premium. You are still responsible for coinsurance and the Part A deductible.
Your costs for Medicare Part B include a monthly premium, coinsurance, and yearly deductible. However, if you meet certain income requirements, you may qualify for one of the Medicare Savings Programs. Click the link for more details.
When can I apply for Medicare?
You may apply for Medicare 3 months before your 65th birthday. This marks the beginning of your Initial Enrollment Period. Your IEP:
Starts 3 months before the month you turn 65
Includes the month of your 65th birthday
Ends 3 months after your birth month
For example, if you turn 65 on July 25, your IEP begins on April 1 and ends on October 31.
The exception to this timeframe is if your birthday falls on the first of the month. In that case, all dates move forward one month. So, if your birthday is July 1, your Initial Enrollment Period begins on March 1 and ends on September 30.
After signing up for Medicare, don't forget to add your Part D coverage. Original Medicare doesn't include prescription drug coverage, so you'll want to add a Part D plan. You can compare your options with our Find a Plan tool - just enter your zip code to get started.
Do you have to apply for Medicare?
If you begin collecting RRB or Social Security benefits at least 4 months before you turn 65, Medicare enrollment is automatic. Everyone else has to apply.
Although the Centers for Medicare & Medicaid Services (CMS) manage the Medicare program, enrollment occurs through the Social Security Administration. The fastest, easiest way to apply for Medicare is by clicking here. The online Medicare application takes less than 10 minutes to complete and is available 24 hours a day, 7 days a week.
You may also apply for Medicare over the phone by calling 1-800-772-1213 (TTY 1-800-325-0778). Hours are Monday through Friday from 8 AM to 5:30 PM.
If you prefer, you may also apply for Medicare in person. Use the Social Security Office Locator to find your local SSA office and schedule an appointment. Please note that, due to COVID-19, in-person services through Social Security were suspended on March 17, 2020. As of November 2021, most are still closed.
Find a Medicare Plan in your area
It's FREE with no obligation
Speak with a Licensed Insurance Agent
M-F 9:00am-9:00pm | Sat 9:00am-3:00pm EST