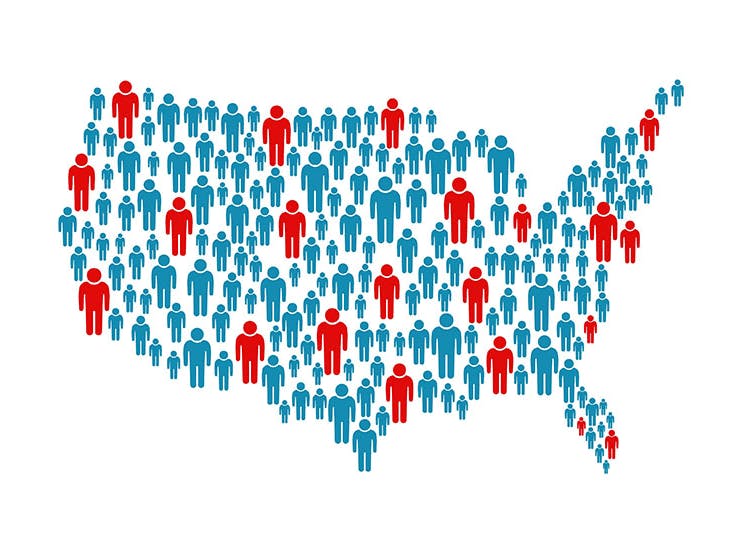 Around 62 million Americans have Medicare, with a little over one-third choosing Medicare Advantage.
Medicare is one of the most popular programs ever rolled out in the United States. A very large number of people have successfully enrolled in Medicare, and the overall percentage of enrollees is likely to grow as time goes on. We'll run through how Medicare works, from the types of care to eligibility. We'll also provide some more details about enrollment numbers.
Looking at the overall numbers
Overall, total Medicare enrollment comes to around 62 million people. This comes to a total of 15 percent of the population of the United States. Although most Medicare enrollees are aged 65 or older, there are also a large number of enrollees who can enroll due to a disability or End-Stage Renal Disease (ESRD).
If you look at the demographics, most of the Medicare Population are retirees.
How does Medicare coverage work?
Medicare works in a way that is analogous to, but different from other private health insurance programs. When Medicare covers some healthcare costs, it will cover them no matter who your healthcare provider is -- there is no provider network. Although you may be subject to some excess charges in some situations, Medicare provides a truly universal healthcare experience to beneficiaries who are enrolled.
There are different parts of Medicare which each cover a different set of healthcare costs. Understanding how these vary is important since there are different options available for every beneficiary.
Each part of Medicare has different cost-sharing rules. Each plan has a premium, deductible, copayment, and/or coinsurance.
Medicare enrollment
Medicare enrollment functions in a unique way compared to many private plans. Enrollment is available during some specific periods in the year, as well as during the initial seven-month period during which people enroll.
Understanding Medicare Part A
Medicare Part A is one of the most popular parts of Medicare to enroll in. One of the main reasons for this is that it is provided premium-free to most recipients. This means that although there are other associated fees like coinsurance and copay, recipients won't have to pay any monthly premium. This isn't available to all beneficiaries but is very common.
Medicare Part A covers inpatient care, and will often be called hospital insurance. It covers hospital care as well as hospice care, skilled nursing facility care, and home health care. Among those who have Original Medicare (Parts A and B), almost all have Part A.
What is Medicare Part B?
Part B benefits are, for most people, the most-used part of Medicare. This part of Medicare covers outpatient care, including most tests and doctor visits. It will also cover durable medical equipment, such as wheelchairs and hospital beds under some circumstances.
In 2023, Part B has a deductible of $226. For many procedures, you will also pay a coinsurance fee of 20 percent for applicable procedures. The Part B premium is $164.90. Although you can pay this directly to Medicare, for many people it will be more convenient to have the costs deducted directly from your Social Security check each month.
Medicare Advantage
Medicare Advantage, also known as Part C, functions distinctly when compared to the other parts of Medicare. Part C allows you to receive Medicare benefits through a private insurance company. Although there are some government regulations for these plans, they do function more similarly to private insurance plans.
Part C plans are required by law to provide at least the same amount of coverage that traditional Medicare plans cover. However, they are also allowed to cover more things than Original Medicare does. Some Part C plans will provide prescription drug coverage as well.
24.1 million people in total are enrolled in Medicare Advantage plans. Although a large number of people choose these plans, they aren't the best fit for everyone. Their popularity is the result of low prices and additional benefits, but for some people, they are less convenient and their provider networks are too difficult to work around. Most plans will function as either an HMO or PPO. Plans can also vary significantly depending on your location.
Medicare Prescription Drug Plans
Original Medicare doesn't provide any prescription drug coverage, which means that beneficiaries need to look to private plans to get this coverage. Medicare Part D plans are offered by private insurance companies and provide prescription drug coverage to Medicare beneficiaries.
Like Part C plans, these plans can vary widely depending on which company you purchase from. Not all plans cover the same medications, and costs can vary depending on which region you are in.
A total of 46.5 million people have a Medicare prescription drug plan. These plans are available to those who have Original Medicare, or those who have Medicare Advantage plans that don't provide prescription drug coverage.
What about Medigap plans?
In addition to traditional Medicare plans, many beneficiaries also choose to purchase Medicare Supplement plans, also known as Medigap plans. These plans don't directly cover any healthcare costs like most health plans, but rather pay for your out-of-pocket costs under Original Medicare. They cover things like your Part B coinsurance, Part A deductible, and so on.
There are several supplementary medical insurance plans to choose from, and each one fills different needs. These plans are also offered by private companies, so the costs can vary. However, the coverage itself is standardized.
14.1 million beneficiaries have chosen to enroll in supplemental plans. Although they are popular, not as many people are knowledgeable about them as traditional Medicare.
Medicare and Medicaid
Medicare and Medicaid are together administered by the Centers for Medicare and Medicaid Services, or CMS. Medicare primarily serves individuals aged 65 and older, while Medicaid focuses on serving low-income individuals. It is possible to have both Medicare and Medicaid at the same time.
Over 77 million Americans are enrolled in Medicaid, making it more popular than Medicare. It is available for people of any age, and also varies in each state. The requirements usually relate to the poverty level in that state.
Conclusions
As you can see, a large number of people utilize the Medicare program for their various needs. Medicare works well for most people who are eligible, and the flexibility allows Medicare beneficiaries to find the plan that works best for them. To find your plan, enter your zip code in our plan finder and compare plans today.
Find a Medicare Plan in your area
It's FREE with no obligation
Speak with a Licensed Insurance Agent
M-F 9:00am-9:00pm | Sat 9:00am-3:00pm EST