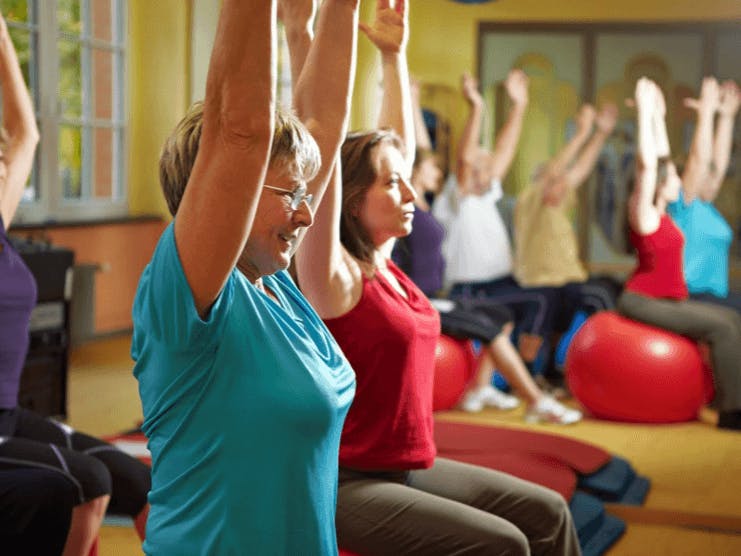 Most Medicare Advantage plans offer fitness benefits like SilverSneakers.
Staying active is important for your health, regardless of age. Depending on your interests and level of physical activity, you may turn to a local gym, group fitness classes, or personal instructors for assistance in exercising.
How you receive your Medicare benefits determines whether you have access to low-cost or free fitness and wellness benefits, such as access to SilverSneakers, which is heavily used by beneficiaries and members. In fact, 88% of members say SilverSneakers has improved their quality of life.
The SilverSneakers benefit is not available on all plans. However, if you want to have access to SilverSneakers and are eligible for Medicare, you may have options. Here is some more information about SilverSneakers if you have TRICARE coverage and how you can take advantage of this benefit.
Does Medicare cover gym memberships?
Original Medicare does not cover gym memberships, fitness programs, or the cost of a personal trainer. These costs are also typically not covered by Medicare Supplement plans, (more commonly known as Medigap).
However, many Medicare Advantage (MA) Part C plans offer additional benefits Medicare doesn't cover, including gym memberships. The most common fitness benefit offered to beneficiaries is access to the C, though there are others. Fitness options vary depending on the Medicare Advantage plan you choose. Most of the time, these benefits are at no additional out-of-pocket cost.
What is SilverSneakers?
SilverSneakers is a fitness program designed for adults age 65+. Members are able to:
Access live, online fitness classes and an on-demand library of workouts
Take exercise classes designed for all fitness levels
Go to local gyms, community centers, and other fitness locations
Download the SilverSneakers app to access workouts from their mobile device
Join an in-person or online support community
SilverSneakers has a network of more than 15,000 fitness locations in the U.S. In addition to the classes, members have full access to use gym equipment, weights, cardio machines, saunas, pools, hot tubs, walking tracks, and more.
To join, you must have a Medicare plan that offers the benefit. If you aren't sure what your plan offers, you can check your eligibility on the SilverSneakers website or contact your plan directly.
Is SilverSneakers covered by TRICARE?
TRICARE does not cover any exercise programs, including SilverSneakers.
However, if you have TRICARE For Life (TFL), you can also enroll in a Medicare Advantage plan that offers the SilverSneakers benefit.
What does TRICARE cover?
TRICARE is a healthcare program designed for active-duty service members, active-duty family members, National Guard and Reserve members and their family members, retirees and retiree family members, survivors, and certain former spouses.
This program combines healthcare resources of the Military Health System with a network of civilian healthcare professionals, facilities, pharmacies, and suppliers. There are a number of different plans available to fit your individual needs.
To learn what services and supplies are covered, you can use the TRICARE Covered Services tool. In general, TRICARE covers medically and psychologically necessary inpatient and outpatient care, similar to traditional insurance coverage.
Is TRICARE Medicare?
TRICARE is not Medicare, but TFL is Medicare-wraparound coverage for TRICARE-eligible beneficiaries who have Medicare Part A and Part B. Enrollment is not required and coverage is automatic if you have Part A and Part B and pay your Part B premium.
With TFL, you may visit any authorized provider, who would then file your claims with Medicare. Medicare would pay its portion then send the claim to TFL, which would pay the provider directly for covered care.
For services covered by TRICARE and Medicare, you'd pay nothing out-of-pocket. If they are covered by Medicare only, you'd pay the Medicare deductible and co-pay or co-insurance. If covered by TRICARE only, you'd pay the TRICARE deductible and cost-share.
If covered by neither, you'd likely pay 100% of the costs out-of-pocket.
Can I have TRICARE and Medicare Advantage coverage?
Yes, you can have TFL and other health insurance, such as a Medigap or MA plan, as long as you have both Part A and Part B. TRICARE would pay after Medicare or your other health insurance. By enrolling in an MA plan, TRICARE beneficiaries can get those extra benefits for little to no cost.
The important thing to note is because TFL includes drug coverage, you can only enroll in an MA plan without drug coverage. The other downside to this is you must use the MA plan's network of doctors, which will likely be much smaller than Original Medicare's or TRICARE's.
Are you ready to join a Medicare Advantage plan?
Our licensed insurance agents can help you understand your Medicare plan options. Just call us toll-free to get started.
Or, use our Find a Plan tool to research your Medicare plan options on your own. Just enter your zip code to start reviewing costs and benefits today.
Additional resources
Find a Medicare plan that covers SilverSneakers
It's FREE with no obligation
Speak with a Licensed Insurance Agent
M-F 8:00am-10:00pm | Sat 9:00am-6:00pm EST