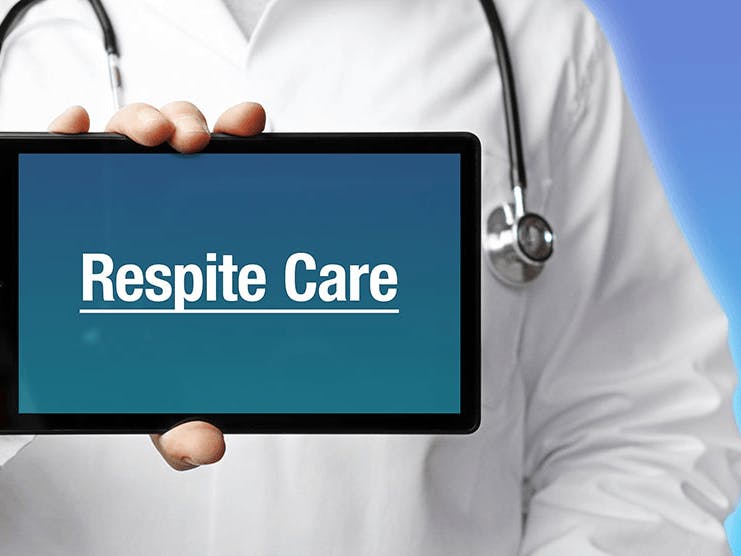 Medicare may help pay for respite care if you qualify.
Medicare covers a wide variety of inpatient, round-the-clock care options. However, coverage for respite care is more complex. Medicare coverage extends to things like at-home medical equipment and hospice care, but respite care itself will only be covered in some very specific instances.
We'll go through what you can expect if you or your loved one needs respite care, with details about when it is covered and what the restrictions are under Original Medicare.
What Is Respite Care?
Respite care is essentially a short-term inpatient care option that provides relief to an individual's main caregiver. If a patient receives 24/7 care from a family member or other caregiver, then respite care is a temporary way for that caregiver to have some time off of their work.
Respite care will usually be temporary care that is designed for people who need permanent or long-term care. It is especially common among patients with conditions like Alzheimer's and dementia, as well as those who have a long-lasting recovery from an illness or surgery.
Respite care facilities may go by different names. You will commonly hear them colloquially referred to as adult daycare centers. Some more general senior care facilities and assisted living facilities may offer respite care as well.
Respite care can last for varying lengths of time, from just one day to over a month. But, it is always intended as a temporary solution, with the intention that the patient will eventually return to their primary caregiver.
Coverage with Medicare Part A
Medicare Part A offers coverage that is oriented towards inpatient care. This primarily refers to places like hospitals and skilled nursing facilities. But, Part A will also cover hospice care.
Under Part A, Medicare beneficiaries can receive inpatient coverage for many days in each benefit period. There is a flat coinsurance fee for hospital stays, but it only begins after 60 days in a benefit period. Medicare.gov provides more details about the costs.
Medicare Part A will not directly cover respite care unless it is part of hospice care. Although it will cover a variety of other healthcare services that respite care recipients receive as well as nursing home care, respite care directly will not be covered in most cases. We'll describe the conditions under which Medicare does provide coverage in more detail below.
Coverage as Part of Hospice Care
If a Medicare beneficiary is receiving care in a hospice facility, then respite care may be covered as part of their hospice care. Hospice care under Medicare has its own requirements that will need to be followed.
In order to qualify for hospice care, a patient must be dealing with a terminal illness and explicitly declare that they are choosing not to pursue other treatment options and that they only want to receive palliative care. They must also sign documents stating this and it must all be confirmed by a hospice doctor.
If a patient is receiving hospice care, then their status will change and they will be eligible for other types of benefits. For example, many prescription drugs will be covered as part of hospice care, even though they aren't normally covered by Medicare.
Respite care for hospice patients can be offered for up to five consecutive days at a time under Part A. Although patients and their families may request respite care more than once, it may not be available as often as they would like. However, it is an option that can be used on occasion.
Respite care may require a copayment or coinsurance fee, but this will not be the case for every patient. These out-of-pocket costs will usually be small.
All of this care will fall under Medicare Part A. If a beneficiary doesn't receive Part A benefits, then they won't be able to access this care. Medicare Advantage plans are mandated to cover at least the same things that Original Medicare does, which means they will offer this coverage too. However, some plans may offer even more coverage for respite care, so make sure to check beforehand.
Coverage with Part B
Medicare Part B covers a variety of types of outpatient care services. This includes things like doctor visits as well as durable medical equipment.
Part B will not directly cover respite care. Although Part B will cover various things that respite care recipients will need, the respite care itself will not be covered at all by Part B of Medicare under any circumstances.
Can Medigap Help?
Although many people initially think that Medigap offers extra insurance, it is actually a way of covering your out-of-pocket costs under Medicare. Although Medigap plans don't directly offer help in receiving respite care, they can still be useful to look into.
Medigap plans can also help pay for the Part A coinsurance that will sometimes come along with respite care for hospice patients.
Coverage with Medicare Advantage
Medicare Advantage, also known as Part C of Medicare, is a way of receiving your care through a private insurance company. Medicare Advantage plans must have at least the same amount of coverage as Original Medicare, but may also have more.
Although it isn't particularly common, some Part C plans may offer more easily accessible respite care. This will vary depending on your plan, so make sure to look into this if you are looking for a new Part C plan.
Conclusions on Respite Care
The main thing to keep in mind when it comes to respite care is that it is only covered as part of hospice care. If you or a loved one qualify as hospice patients, they will be able to receive respite care at some point.
Remember that this may not always be available, but is worth looking into to see if there are options you can utilize. Respite care may only be granted once per year or benefit period, but this can vary widely depending on your area and situation.
Find a Medicare Plan in your area
It's FREE with no obligation
Speak with a Licensed Insurance Agent
M-F 9:00am-9:00pm | Sat 9:00am-3:00pm EST