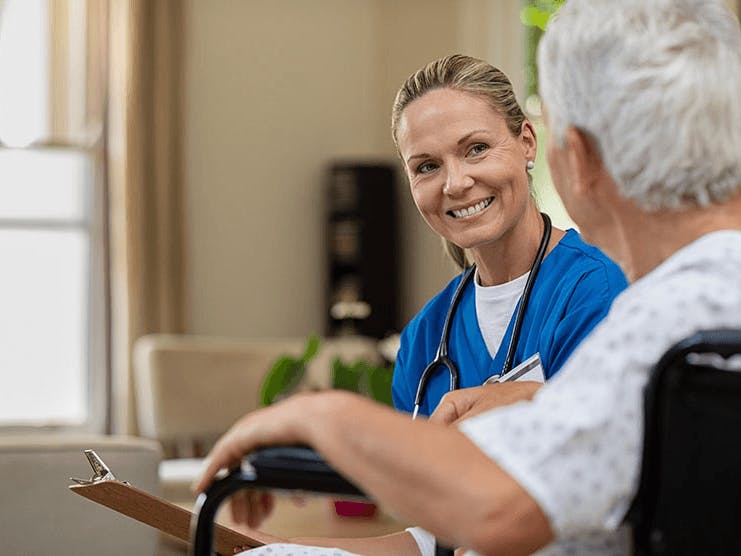 Medicare coverage mainly depends on whether a qualified healthcare provider prescribes the treatment as medically necessary.
When it comes to understanding insurance coverage, dementia poses a few especially tricky problems. Dementia care varies from medical services to help with daily living activities and can range from acute services to long-term caregiving with a home health aide. For these reasons, among others, enrollees and their family members can often feel at a loss when trying to understand their insurance coverage.
Although Medicare does cover some forms of dementia care, other services aren't covered at all or are only covered depending on the context. To make matters more complex, other options like Medicare Advantage may provide significantly more coverage than Original Medicare does.
We'll run through everything you need to know if you or a loved one want home care for dementia, but are unsure how to proceed with Medicare.
Step One: Understanding Medical Necessity
A lot of the coverage details of Medicare and other insurance plans rely on medical necessity. For this reason, it can be useful to understand medical necessity before we get into other coverage details.
Procedures and services are considered medically necessary if a doctor certifies that they will provide relief or healing to a specific medical condition. This means that there are medical procedures that may not qualify for medical necessity, and unfortunately, this can include some dementia care.
In general, most services that are targeted towards help with activities of daily living, such as washing, eating, and cleaning, are not considered medically necessary. This can be frustrating because, for people with dementia, these activities are necessary to do but often difficult or impossible to accomplish with their condition.
Although there may be some exceptions, don't expect activities of daily living, personal care, or general caregivers to be covered by Original Medicare.
Long-Term Care Under Original Medicare: What Are the Options for Your Care Needs?
Before we discuss home care in particular, it can also be useful to have a general understanding of how Medicare approaches long-term care. This can include home care, as well as skilled nursing facility care or long-term hospital visits.
Although Medicare does offer some coverage for long-term care, coverage is much less robust for care that lasts longer than a few months. It's important to keep in mind that Medicare is not intended as long-term care health insurance, so the options are limited.
Most of Medicare's long-term care options are limited to acute conditions that take a long time to treat. So, while Medicare may cover a hospital stay that lasts for several months, this coverage won't extend to patients who need help with daily living and other forms of supervision; this coverage is only available for lengthy, medically-necessary treatment. Assisted living, adult daycare, memory care, and long-term in-home care are rarely covered.
Medicare Part A and Home Health Care
Medicare Part A, often referred to as hospital insurance, covers services related to inpatient healthcare. This includes inpatient care at hospitals, some hospice care, skilled nursing facility care, and in some instances, home health care.
Home health care is covered by Part A under very limited circumstances that are unlikely to be relevant for dementia care. Part A will cover home health care if it is part of a hospital discharge plan and if it is medically necessary. If a patient needs medically necessary home health care but hasn't been admitted to a hospital, it won't be covered by Part A.
Part A has a deductible of $1,600 per benefit period, and a coinsurance of 20 percent. In the event that you do receive home health care under Part A, it will be subject to these costs.
Will Medicare Part B Cover Home Health Care for Dementia?
The answer to this question depends on what exactly the home health care is for. Part B offers fairly robust home health care coverage, but that doesn't mean that home health care for dementia will be covered by Part B.
If you need home health care and haven't been admitted to a hospital, then it will be covered by Part B. In addition to this, Part B also covers durable medical equipment (DME) which can sometimes be considered part of home health care.
Part B can cover things like medical injections in the home, skilled nursing care, occupational therapy, and other care services. However, all of this coverage is subject to medical necessity, and will not include help with activities of daily living, general custodial care, or homemaker services.
Part B will likely cover some other forms of care that dementia patients often require, including cognitive impairment tests and other diagnostics, usually as part of an annual wellness visit.
Can Medicare Supplement Plans Help?
If you're looking at your Medicare options, you may have heard of Medicare Supplement plans. These plans, also known as Medigap, can seem like a promising way to get additional coverage to supplement Original Medicare.
However, this isn't quite the case. Medigap plans cover out-of-pocket costs associated with Medicare, like your coinsurance fees. There are various Medigap plans out there, but none of them will actually provide additional medical coverage. Although these plans can be useful in general, they don't specifically help with home health care in any way.
Medicare Advantage: More Home Health Options
Medicare Advantage, also known as Medicare Part C, offers an alternative way to receive your benefits through a private insurance company. With Part C, you will have to shop around for a private insurance plan, and this means that your plan can have some limitations, like a provider network.
However, Part C plans can sometimes offer more coverage than Original Medicare does. Medicare Advantage plans are required by law to cover at least what Original Medicare covers, which means you will never receive any less coverage. But, many plans also offer more coverage in order to stay competitive.
Part C Insurance Policies for Dementia Patients
Some Part C plans may offer services that are never covered by Medicare. This can include things like meal delivery and transportation. However, it's important to note that Medicare Advantage plans vary widely. This means that although this coverage is available, you will have to search for it.
These plans also have different pricing structures when compared to Original Medicare. They can have different deductibles, copayments, coinsurance rates, and premiums.
Although Part C plans are a very promising avenue for coverage for dementia patients, it's important to make sure you understand the plan in detail before committing, since they vary a lot when compared to Original Medicare.
Medicaid: Good Coverage, If You Qualify
Medicaid is a government-run insurance program for low-income individuals who need medical care. Medicaid coverage will vary in each state, but it is a very good idea to seek Medicaid coverage if you think you may qualify. You can seek coverage in both Medicare and Medicaid at the same time.
Medicaid Home Health Services for Dementia
Generally speaking, Medicaid will cover in-home care if, were the patient not to receive in-home care, they would need nursing home care. This includes situations where a patient needs help with activities of daily living, rather than medically necessary healthcare services.
This means that Medicaid will offer more direct help for dementia patients than Original Medicare. Although not everybody qualifies for Medicaid, patients that qualify should absolutely seek Medicaid coverage and use it for in-home dementia care when possible.
Prescription Drug Coverage: Medicare Part D and Part C
Although it doesn't directly relate to home health care, it's important to keep Part D plans in mind. If you're seeking comprehensive Medicare coverage, a Part D plan will be required if you want coverage for prescription drugs.
These plans are private and can vary with respect to which drugs they cover. Make sure to look at the details of each plan individually.
The other way to get prescription drug coverage is through a Part C plan. Not all Part C plans offer prescription drug coverage, but some do. If your plan offers drug coverage, you won't be able to purchase a Part D plan in addition to your Part C plan.
Private Long-Term Care Insurance Options
If you're having trouble finding a plan that meets your needs, it can be useful to look at private health insurance plans. There are plans geared towards long-term care, as well as plans specific to dementia patients. The Alzheimer's Association has much more information about additional options for dementia and Alzheimer's disease as well.
Make sure to look at the details of these plans, as they are likely to vary. Even plans that are marketed as long-term care plans may not offer the exact coverage you want.
Conclusions: Medicare and Dementia In-Home Care
Although Medicare is a very useful type of insurance to have, it isn't necessarily targeted towards the needs of patients with dementia. These patients may need to look elsewhere for coverage if they need dedicated in-home care and help with activities of daily life. Within the Medicare system, Part C plans are the best option for getting dedicated coverage that is geared towards dementia patients specifically.
Find a Medicare Plan in your area
It's FREE with no obligation
Speak with a Licensed Insurance Agent
M-F 8:00am-10:00pm | Sat 9:00am-6:00pm EST