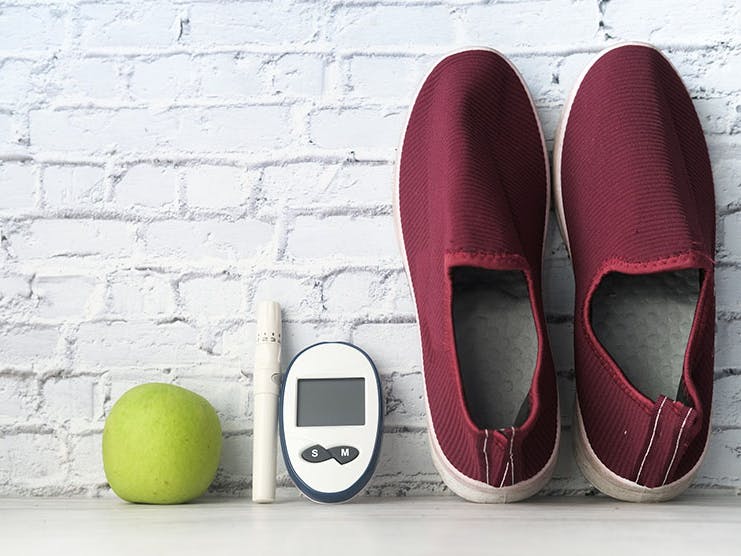 Orthopedic shoes and inserts, also called orthotics, can be used to either correct foot conditions or to relieve symptoms enough to allow for normal mobility.
They carry your weight around all day, every day, so it's no surprise that many people experience issues with their feet even without an underlying medical issue. But throw in a condition that affects circulation, like diabetes, and foot problems are practically inevitable.
If you have diabetes, either your primary care doctor or your podiatrist may recommend treatment that includes either diabetic shoes or an orthotic insert. While these shoes and inserts can be expensive, they may be covered by Medicare for people with a diabetes diagnosis. Read on to learn more.
Medicare coverage of diabetic shoes and inserts
Each calendar year, Medicare Part B (medical insurance) covers both the furnishing and the fitting either:
One pair of custom-molded shoes and inserts
One pair of extra-depth shoes
Additionally, Medicare covers:
Two additional pairs of inserts each calendar year for custom-molded shoes
Three pairs of inserts each calendar year for extra-depth shoes
If you prefer shoe modifications instead of inserts, Medicare will cover that as well.
To be covered, you must have diabetes and at least one of the following conditions in one or both feet:
Amputation of one of your feet
Evidence of callus formation
Foot deformity
Foot ulcers
History of pre-ulcerative calluses
Nerve damage caused by diabetes (diabetic neuropathy)
Poor circulation
The doctor who treats your diabetes must certify you need therapeutic shoes or inserts and that they are medically necessary, and a podiatrist or other qualified doctor must prescribe them to you.
Note that if custom shoes and inserts are required during a stay at a skilled nursing facility (SNF) or hospital, and if they are provided by the facility, they will be covered by Part A (hospital insurance).
Why would someone need diabetic shoes?
People with diabetes sometimes experience decreased sensation and restricted blood flow in their feet due to nerve disease and/or peripheral arterial disease. This can cause ulcers and infections, and sometimes lead to amputation. Regular visits to a podiatrist, preventive care, and proper footwear, including diabetic shoes, can all help prevent this from happening.
Diabetic shoes are specifically designed to protect your foot from force that can cause breakdown of the skin and develop into sores and ulcers. They can also prevent foot strains and calluses. The inside is made from soft, seamless material to prevent irritation, and has a wide toe box to allow for extra room for the toes. Most are made to accommodate custom orthotic inserts as well.
Do Medicare Advantage plans cover diabetic shoes?
Medicare Advantage plans (Part C) are sold by private insurance companies as an alternative way to receive Medicare benefits. These plans are required to cover everything Original Medicare Part A and Part B do, so because Part B covers diabetic shoes and inserts, Medicare Advantage plans will as well.
To qualify for coverage, you still must meet all eligibility requirements and work with a provider and supplier in the plan's network. Check with your plan to learn more.
Does Medigap cover the cost of diabetic shoes?
Medicare Supplement Insurance, or Medigap, helps to fill the "gaps" in Original Medicare by covering costs like deductibles, co-pays, and co-insurance. Because Medicare covers shoes and inserts for people with diabetes, Medigap plans can help cover the out-of-pocket cost you may have.
Where to get diabetic shoes
You must get the shoes or inserts from a podiatrist, orthotist, prosthetist, pedorthist, or other qualified provider for Medicare to cover them. This can include a durable medical equipment (DME) supplier. Just be sure the supplier accepts assignment. Otherwise, they may not be covered. Or, you may end up paying more than the Medicare-approved amount.
How to find a durable medical equipment supplier
Find medical equipment and suppliers using the search tool on Medicare.gov. Enter your zip code and the equipment (custom diabetic shoes) and receive a list of suppliers near you. You can also talk to your doctor about options available to you.
How much do diabetic shoes and inserts cost?
Diabetic shoes can be expensive, especially depending on the customizations necessary to fit your feet. On average, they cost between $50 to $200 per pair. If your shoes and/or inserts are covered, you must first meet the Part B deductible. Then, you'll pay 20% of the Medicare-approved amount (as long as your supplier accepts assignment). Medicare would pay the other 80%.
Remember, Medicare only covers shoes and inserts if the doctor and supplier is enrolled in Medicare.
If you purchase shoes or orthotics on your own or from a non-approved retailer, you will pay 100% of the cost out-of-pocket.
Find a Medicare Plan in your area
It's FREE with no obligation
Speak with a Licensed Insurance Agent
M-F 9:00am-9:00pm | Sat 9:00am-3:00pm EST