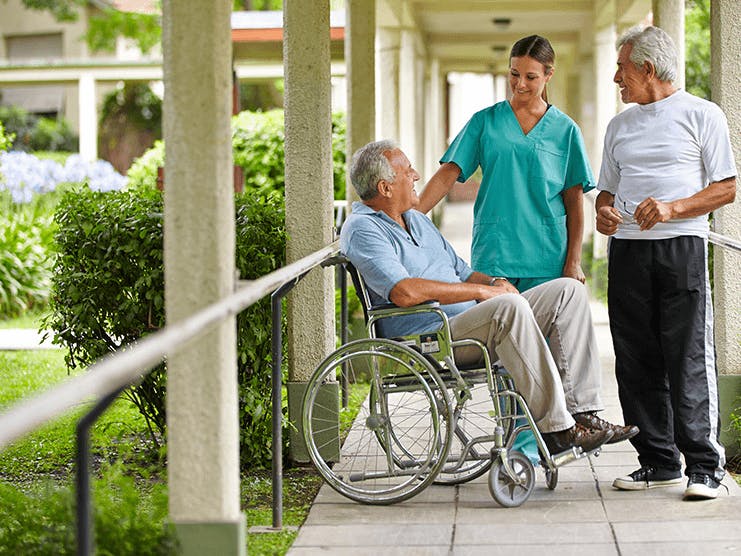 Medicare's nursing home coverage depends on the type of care required and where you receive said care.
Unfortunately, there isn't a simple answer to whether Medicare covers nursing home care. To start with, coverage first depends on answering two other questions:
What you mean by "nursing home"
Is said treatment is medically necessary
This page helps you understand how Medicare covers nursing home services.
Does Medicare pay for nursing homes?
Whether Medicare pays for a nursing home depends on what you mean by nursing home. Many people hearing the words "nursing home" think of long-term residences whose inhabitants receive a wide range of services, most of most of which are considered custodial care.
Even though many nursing home residents require custodial care due to medical reasons (such as dementia), Medicare does not cover this type of nursing home care.
Medicare will pay for care received in a skilled nursing facility (SNF), assuming you meet the requirements for this coverage (more on that below).
When does Medicare cover skilled nursing care?
Skilled nursing care is provided by your Medicare Part A coverage as long as you meet the following guidelines:
SNF treatment follows a qualifying hospital stay (at least 3 days as a hospital inpatient)
You are within 30 days of being released from the hospital
Your condition requires skilled nursing care related to the illness or injury that caused your original hospitalization
Your doctor orders daily skilled care
You receive services from a Medicare-certified SNF
You also qualify for skilled nursing care if you require services for a condition that began as a result of previous SNF care – without the 3-day hospital stay prerequisite.
What's the difference between custodial care and skilled nursing care?
Custodial care is what's usually equated with nursing homes. It includes assistance with the activities of daily living, such as eating, dressing, bathing, and using the bathroom. As part of long-term care, it may also include meal prep, housekeeping, paying bills, and similar tasks. You'll notice that all of these are requirements of daily life but you couldn't really say they're medically necessary. They also don't require the skill of a medical professional.
Skilled nursing care means services that require the expertise of a licensed medical professional, such as intravenous injections. It is considered medically necessary healthcare for the treatment, evaluation, management, and/or observation of your condition.
Skilled nursing care may be provided by a variety of healthcare professionals, including doctors, nurses, physical therapists, clinical psychologists, and more.
Who needs skilled nursing care?
If you're discharged from the hospital after at least 3 days as an inpatient, your doctor may order skilled nursing care. Some of the most common reasons Medicare beneficiaries require inpatient hospital care are:
A fall
Heart attack
Pneumonia
Stroke
Surgery
Any of these conditions or issues may require skilled aftercare.
You're also covered by Medicare Part A if something happens during your SNF stay that leads to a second SNF stay, such as acquiring an infection.
Your healthcare provider will decide whether you need skilled nursing care.
What does Medicare pay for?
Original Medicare includes Parts A and B. Medicare Part A covers inpatient services such as hospital and skilled nursing facility care. Your skilled nursing costs in 2023 include:
Days 1-20 cost $0 per benefit period
Days 21-100 have $200 Part A coinsurance per day, per benefit period
Days 101 and beyond you pay 100% of costs.
Your Part A coverage includes a semi-private room (meaning you share it with one or more other patients), meals, and skilled nursing care. If meeting your health goals requires it, you'll also receive physical therapy, occupational therapy, and/or speech-language pathology services. You'll find the full list of covered SNF services on Medicare.gov here.
Medicare Part B pays for medical services like doctor visits and durable medical equipment (DME). However, if you're being treated by a skilled nursing facility, any DME required for your condition should be provided by the SNF.
What won't Medicare pay for?
Medicare won't cover everything during an SNF. You bear the full cost of:
Personal care items, such as toothpaste and razors for shaving
Phone and entertainment charges not covered by the SNF
Private nursing
If you're wondering whether a service or item is covered, ask your healthcare provider and/or the staff at your skilled nursing facility. You can also call 1-800-MEDICARE (633-4227) TTY 1-877-486-2048 for more information about a test or service.
Does Medicare cover inpatient rehabilitation?
Yes, Medicare helps pay for care in an inpatient rehabilitation facility (IRF), also known as a rehab facility, rehabilitation hospital, and acute care rehabilitation center.
Required care may include occupational therapy, physical therapy, and/or speech-language pathology. As with traditional hospital care, your doctor must verify that such treatment is medically necessary. Covered and non-covered services are the same as in skilled nursing facility care.
Does Medicare cover long-term care?
No, Medicare does not cover long-term care. Even private health insurance rarely covers long-term care. You can buy an ancillary policy for long-term care insurance. (With Americans living longer than ever before, these insurance policies have grown quickly in popularity.) There are also some life insurance policies that provide this coverage.
Another idea is to check your state's Medicaid office to see if you qualify for long-term care. VA Aid and Attendance benefits may also be available. Click here for more details.
Does Medicare Advantage cover nursing home care?
Medicare Part C, commonly known as Medicare Advantage, provides enrollees the same benefits as Original Medicare. This means that Medicare Advantage plans cover inpatient care at a skilled nursing facility. It also means that they don't have to cover nursing home care.
However, Advantage plans are not limited to the coverage you get with Parts A and B. Most provide additional benefits, particularly prescription drug coverage. Few plans help pay for nursing home care, though.
Coverage varies according to which plan and provider you choose. Compare benefits carefully when choosing a Medicare plan.
Does Medigap pay for skilled nursing care?
Yes, there are several Medigap plans that pay the coinsurance for skilled nursing facility care. Also known as Medicare Supplement Insurance, you get this coverage with Medigap Plans C, D, F, G, M, and N. In addition, Plan K covers 50% and Plan L pays 75% of the Part A coinsurance.
Comparing Medigap plan options is easy with our Find a Plan tool. Just enter your location to review Medicare plans in your area.
Find a Medicare Plan in your area
It's FREE with no obligation
Speak with a Licensed Insurance Agent
M-F 9:00am-9:00pm | Sat 9:00am-3:00pm EST