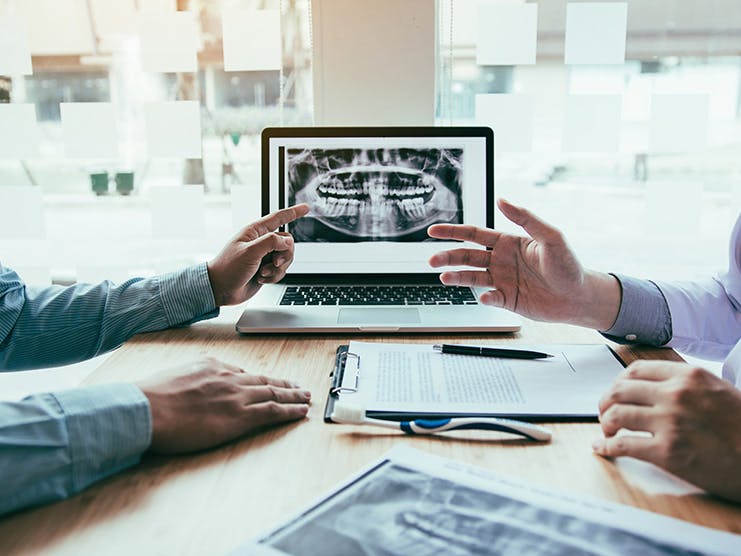 Medicare's dental coverage is extremely limited. Teeth extractions are usually only covered when they're necessary for another procedure, such as jaw reconstruction following a surgery.
Severe decay, periodontal disease, or an impacted tooth could become infected if left untreated for too long. And a badly infected tooth may become so damaged that the tooth can't be saved with a filling or a crown. In this case, you made need to have the tooth extracted.
A tooth extraction may also be necessary following an acute injury, such as an auto accident, or because of teeth overcrowding. Unfortunately, Original Medicare does not cover most dental care. However, there are other options for coverage for preventive care and other dental services, including tooth extractions. Read on to learn more.
Medicare dental coverage
Medicare may cover tooth extractions done in preparation for radiation treatment for neoplastic diseases involving the jaw. However, it does not cover routine dental care, such as cleanings, fillings, standard tooth extractions, dentures, dental plates, wisdom tooth removal, root canal treatment, and other preventive dental services or treatments.
The other exceptions in dental coverage are that Medicare Part A will pay for certain dental services that you get when you're in a hospital, or for inpatient hospital stays if you have an emergency during a complicated dental procedure. Otherwise, you'd pay 100% of the costs for non-covered services out-of-pocket.
Part A or Part B may also cover dental services if they are required for another medical procedure, such as reconstruction of the jaw after surgery, as well as an oral exam in the hospital before a kidney transplant, dental splints/wiring needed after jaw surgery, or surgery to treat fractures of the jaw or face.
Note that even if Medicare does pay for some of these dental services, they do not pay for any follow-up care you may need after the underlying health condition has been treated.
Do Medicare Advantage plans cover teeth extractions?
Medicare Advantage plans, also known as Part C, are plans offered by private insurance companies, bundling your Original Medicare benefits into a single health plan.
At a minimum, every Advantage plan must provide the same benefits as Part A and Part B, but most – over 90% – have extras, like vision, hearing, prescription drug coverage (Part D), and dental.
Specific coverage will vary by plan, as will costs like deductibles and co-pays, but many MA plans have benefits for routine dental care and services like exams, cleanings, and X-rays. You may also find plans that offer more comprehensive coverage for things like filings, crowns and bridges, root canals, dentures and dental implants, and tooth extractions.
If you need a tooth extraction, or believe you may need more comprehensive dental coverage in the future, explore MA plan options using our Find a Plan tool. Here, you can compare plans, coverage, and costs. Just enter your zip code, close any popup windows you don't want to answer, and start reviewing Medicare plans in your area.
Does Medicare Supplement Insurance cover teeth extractions?
Medicare Supplement plans, also known as Medigap, help pay your out-of-pocket costs for Original Medicare coverage, including deductibles, co-pays, and co-insurance. However, that coverage is limited to services provided by Parts A and B. Because Original Medicare does not cover tooth extractions or other dental care, Medicap plans do not either.
Other dental insurance options
Other than a Medicare Advantage plan with a dental coverage benefit, other options for helping with dental care include a standalone dental plan, a dental discount plan, or dental, hearing, and vision plans.
Standalone dental plans offer preventive care and sometimes basic or major dental coverage starting at around $20 per month, ranging up to $100 or more depending on how comprehensive the coverage. These plans typically have premiums, deductibles, and co-pays, as well as a network of providers you must use for the services to be covered.
Discount dental plans require you to pay a monthly membership fee in exchange for a discounted rate for dental care. There is also usually a one-time fee to apply, and not all providers accept these plans.
A combined dental, vision, and hearing plan is an option offered by some large insurance companies, offering these benefits in one insurance plan. Some of these plans don't have network restrictions, but they may have limits on the type of services you can get or additional co-pays.
A local dental school may offer discounted services as an opportunity for their students to learn and practice with real patients.
So, while Medicare doesn't cover dental care, including tooth extractions, there are several other opportunities available to you for coverage. Many are affordable and can give you the coverage you need for both preventive and major dental care.
Find a Medicare Plan in your area
It's FREE with no obligation
Speak with a Licensed Insurance Agent
M-F 9:00am-9:00pm | Sat 9:00am-3:00pm EST