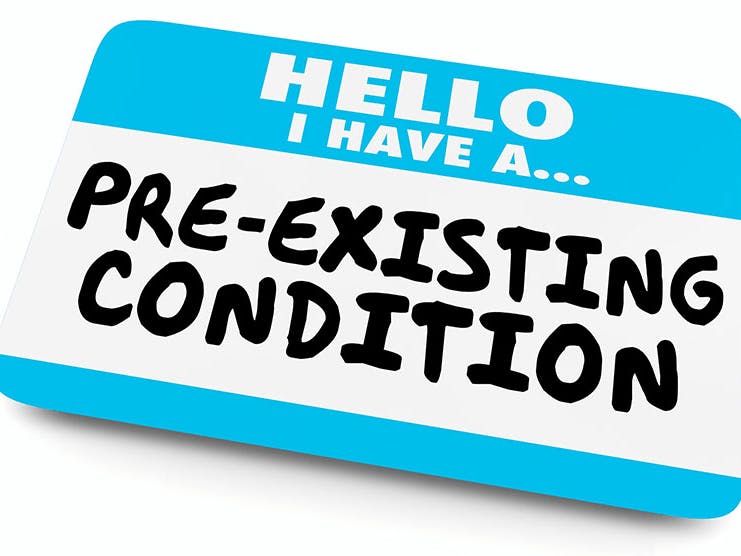 Yes, Medicare covers healthcare services for pre-existing conditions, assuming the care is considered medically necessary, is ordered by your doctor, and has FDA approval.
The Affordable Care Act (ACA) protects the tens of millions of Americans who have preexisting conditions from being denied health insurance. In addition, insurance companies cannot charge significantly higher premiums if you have a preexisting condition. This is true whether you have private health insurance or Medicare.
According to the Centers for Disease Control (CDC), at least half of Americans aged 55 to 64 have a preexisting condition. Those numbers only go up as we get older. It's why so many healthcare advocates keep fighting to save the protections provided by the Affordable Care Act.
Do All Parts of Medicare Cover Preexisting Conditions?
Yes, every "part" of Medicare covers preexisting conditions. There are no caveats to this protection under ACA.
The parts of Medicare include:
Original Medicare is comprised of Parts A and B. Medicare Part A is also known as hospital insurance, as it covers inpatient care received in a hospital or skilled nursing facility (SNF). Medicare Part B is sometimes called medical insurance. It helps pay for outpatient services like doctor visits, mental health care, and durable medical equipment (DME).
Medicare Part C is more commonly known as Medicare Advantage. These insurance plans more closely resemble the group health insurance many of us had through an employer. Private insurance companies provide Medicare Advantage plans. However, the Affordable Care Act protections for preexisting conditions extend to all types of health insurance, including Advantage plans.
You cannot have both Medicare Advantage and a Medicare Supplement plan. (See below for more information on preexisting conditions with Medicare Supplement Insurance.)
Medicare Part D provides prescription drug coverage. These plans are also offered by private insurance companies, working within the guidelines set by the Centers for Medicare & Medicaid Services (CMS). You may join either a standalone Medicare Part D plan or a Medicare Advantage Prescription Drug plan (MA-PD).
What Is a Preexisting Condition?
Any medical illness, injury, disease, or chronic condition you had before starting a health plan may be considered a preexisting condition. (You may also see it as "pre-existing" condition.)
Preexisting conditions may include:
Cancer
Diabetes
High blood pressure
Asthma
In 2020, the coronavirus pandemic (also known as COVID-19) swept the across the United States. As of October 2021, there have been over 46 million COVID cases diagnosed in the U.S. with over 744,000 deaths. Experts predict that at least half of these patients will have long-lasting respiratory problems – all of which would be considered a preexisting condition.
Does Medigap Cover Preexisting Conditions?
Medicare Supplement Insurance, more commonly known as Medigap, is not the same thing as health insurance, which means it isn't covered by ACA. Instead, a Medigap policy helps pay your out-of-pocket Medicare costs. How many costs a Supplement plan covers depends on which plan you choose.
There are 10 standardized Medigap plans (A, B, C, D, F, G, K, L, M, and N). At a minimum, every Supplement plan pays your Medicare Part A coinsurance and gives you an additional 365 lifetime reserve days for inpatient hospital care. They also cover at least a portion of your Medicare Part A and Medicare Part B deductibles.
Although it isn't traditional health insurance, preexisting conditions can make it more difficult to get a Medigap policy. This is due to medical underwriting, the process Medigap insurers use to determine whether to sell you a Medicare Supplement plan. It involves you answering a series of health-related questions about age, weight, tobacco use, and medical history. Unless you have a guaranteed issue right, Medigap insurers may charge you more for a policy – or deny you coverage altogether – based on your answers to these questions.
Medical underwriting is also why we recommend buying the best Medigap coverage you can afford from the beginning. If you want to change your plan later, your application will go through underwriting unless you have a guaranteed issue right.
Can You Ever Avoid Medical Underwriting?
Yes, if you have a guaranteed issue right, your Medigap application does not go through medical underwriting. This means you cannot be charged a higher rate or denied coverage, even if you have a preexisting condition.
The best time to join a Supplement plan is during your Medigap Open Enrollment Period (OEP). This 6-month period starts once you're both age 65 or older AND enrolled in Medicare Parts A and B.
You also get a Medigap OEP once you turn 65 if your Medicare eligibility was based on having end-stage renal disease (ESRD). Six months is also the timeframe you have to enroll.
Other instances of guaranteed issue rights include:
You lose your current Medicare Advantage plan due to the plan leaving the Medicare program, no longer being available in your area, or because you moved outside the plan's service area
Your non-Medicare supplemental insurance (such as an employer group plan) is ending
You move away from your Medicare SELECT plan's area
Your Medicare Advantage or Medigap insurer misled you or failed to operate within CMS guidelines
You left a Medicare Advantage or Program of All-Inclusive Care for the Elderly (PACE) plan to return to Original Medicare within the first 12 months of having Medicare
You originally had Medigap but left it join your first Advantage plan, then switched back to Original Medicare within 12 months
If you enroll in Medicare Supplement Insurance while you have guaranteed issue rights, you cannot be denied coverage due to preexisting health conditions. However, coverage may be delayed.
What Is the Medigap Preexisting Condition Waiting Period?
Some Medigap insurance providers may impose a 6-month waiting period before covering any out-of-pocket costs for preexisting conditions. However, they cannot impose this waiting period if you had at least six continuous months of creditable coverage prior to joining the Medigap policy. Any break in coverage cannot have lasted longer than 63 days for you to be eligible for this protection.
You should also avoid the preexisting condition waiting period if have a guaranteed issue right.
Compare Medigap Options
Our Find a Plan tool makes it easy to compare Medigap plans. Just enter your zip code to review Supplement plan options in your area.
Find a Medicare Plan in your area
It's FREE with no obligation
Speak with a Licensed Insurance Agent
M-F 9:00am-9:00pm | Sat 9:00am-3:00pm EST