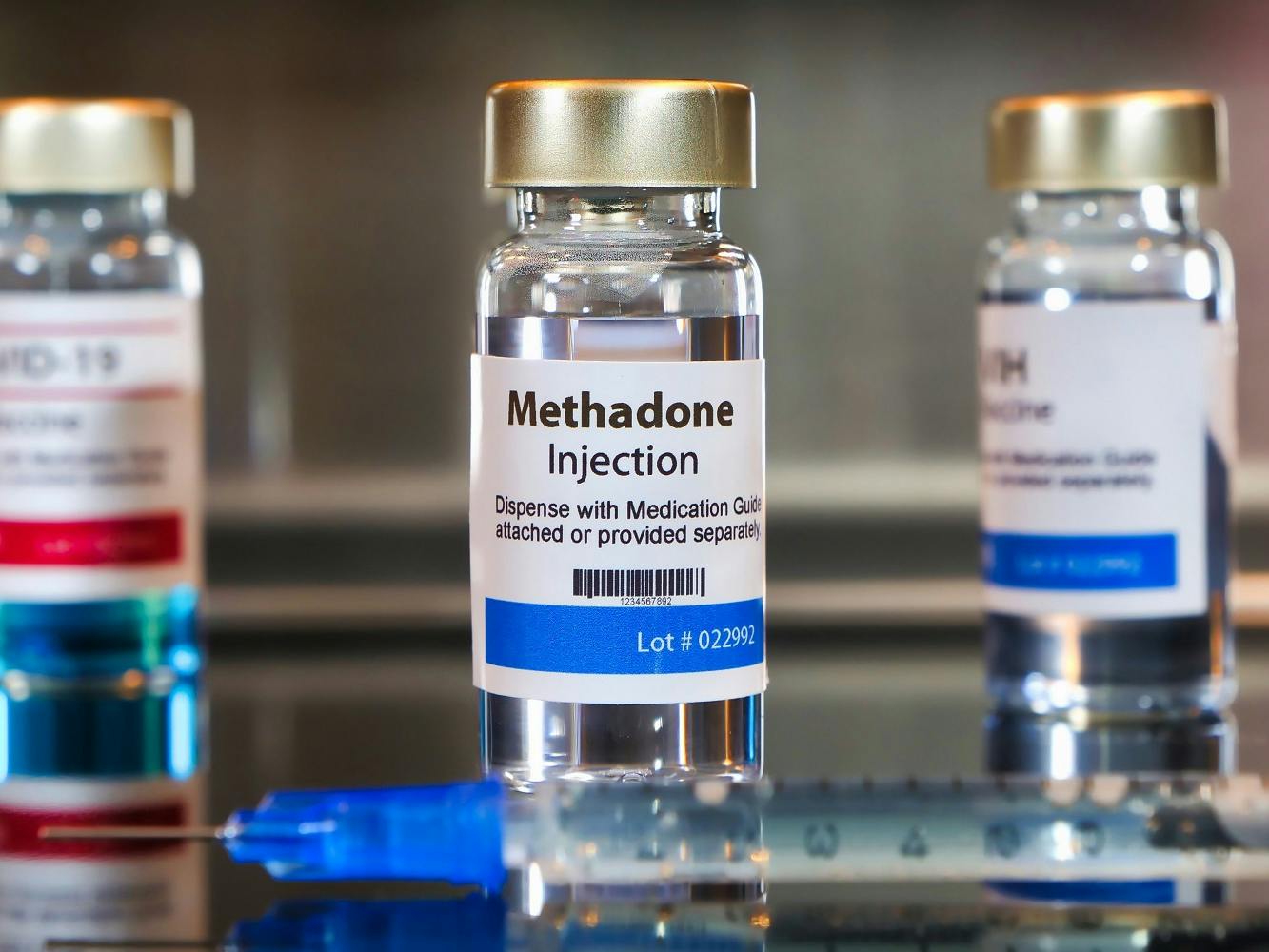 Medicare covers treatments for a variety of substance use disorders, including those looking to end their opioid addiction.
If you or a loved one needs treatment for opioid addiction, seek professional help immediately. Treatment programs are successful in helping individuals return to their normal lives, and evidence shows that medication, including methadone, is the most effective type of treatment for opioid use disorder (OUD). However, only 13% of adults 50 years and older have received medication for the disorder.
Here's what you need to know about the use of methadone for those with substance abuse disorders. We will then discuss Medicare coverage of this type of opioid treatment program.
What is methadone?
Methadone is an FDA-approved opioid medication used to treat OUD. It must be prescribed through an opioid treatment program certified by the Substance Abuse and Mental Health Services Administration (SAMHSA).
Individuals addicted to opioid drugs such as heroin, oxycodone, hydromorphone (Dilaudid), fentanyl, and Percocet may be prescribed to take methadone or buprenorphine as a part of their treatment plan.
How does methadone work?
Methadone is a long-acting drug, which means it acts slowly in the body – and for a more extended time. As a result, methadone therapy will not get the patient high.
Methadone reduces unpleasant opioid withdrawal symptoms for 24 to 36 hours and helps to reduce or eliminate cravings for other short-term opioid drugs. This is highly critical because withdrawal symptoms can be so unpleasant, and cravings can be so intense, that an addicted individual may do almost anything to get more drugs to make the pain stop.
Withdrawal symptoms can include:
Anxiety and agitation
Muscle aches
Insomnia
Sweating
Abdominal cramping and diarrhea
Nausea and vomiting
Goosebumps
Methadone therapy may also relieve other types of pain (unrelated to the pain of withdrawal) for a few hours after the patient takes their dose.
How is methadone taken?
Methadone can be taken orally. When patients are prescribed methadone for OUD, they must go to the pharmacy daily to take the medication. Over time, the patient may be able to take home doses if the treatment proves successful.
According to the National Institute on Drug Abuse, methadone treatment should last at least 12 months. Following the year-long treatment, patients may work with their healthcare provider to gradually reduce their methadone dosage to prevent withdrawal symptoms. However, some people remain on methadone indefinitely because it allows them to live free of opioid cravings.
It's important to note that methadone is only one part of an OUD treatment plan, as counseling and behavioral health therapy is also essential.
What are some potential side effects of methadone treatment?
Those who undergo methadone treatment report feeling lightheaded or sleepy for the first few days.
Additional side effects can include constipation, excessive sweating, dry mouth, changes in sex drive, and weight gain. It's important to note that only some people experience side effects, and they typically occur early on during the treatment.
Methadone can interact with other medications and herbal remedies. Mixing methadone with other drugs that depress the central nervous system can be extremely dangerous, so care should be taken to avoid other opioids, alcohol, and benzodiazepines.
As with all medications, methadone can be extremely dangerous if taken by someone for whom it is not prescribed. A methadone overdose may be lethal.
Does Medicare cover methadone?
Yes, Medicare covers methadone for OUD. This coverage is part of a larger plan that went into effect in January 2020. Here are the specifics of the coverage:
Medicare Part A (hospital insurance) may cover methadone when it's used to treat OUD in a Medicare-approved hospital or facility.
Medicare Part B (medical insurance) covers OUD treatment services in outpatient opioid treatment programs.
Whether the treatment program is inpatient or outpatient, Medicare may cover all parts of the OUD treatment, including the following:
Medication (like methadone or buprenorphine)
Substance use counseling
Individual and group therapy
Drug testing
Intake activities
Periodic assessments (in-person or virtual)
Opioid antagonist medications (like naloxone) approved for the emergency treatment of known or suspected opioid overdose
Overdose education you get along with opioid antagonist medication
You won't have to pay copayments for these services if you get them from a Medicare-enrolled opioid treatment program provider. However, the Part B deductible still applies for supplies and medications you get through the program. (In 2023, the Part B deductible is $226.)
Medicare Part D prescription drug plans cover medications like buprenorphine to treat opioid use disorders and methadone (when prescribed for pain).
Medicare Advantage plans cover opioid treatment program services because they are required, by law, to provide all the benefits you get with Original Medicare. However, check with your treatment program if you have Original Medicare and are considering switching to a Medicare Advantage plan. The program may not accept your specific Medicare plan.
Medicare Supplement Insurance, more commonly known as Medigap, helps cover your out-of-pocket costs when you have Original Medicare. If the service is covered, you should be able to use your Medigap plan to pay for at least a portion of your coinsurance – and most Medigap plans cover it at 100%.
You can compare Medicare plan benefits and costs quickly and easily with our Find a Plan tool. Just enter your zip code to get started.
Medicare expansion of OUD coverage
During the pandemic, Medicare expanded access to treatment for OUD. Medicare participants could use telehealth services for diagnosis and treatment. In addition, the expansion included the use of mobile units for rural and underserved communities.
Additional resources
Find a Medicare Plan in your area
It's FREE with no obligation
Speak with a Licensed Insurance Agent
M-F 9:00am-9:00pm | Sat 9:00am-3:00pm EST