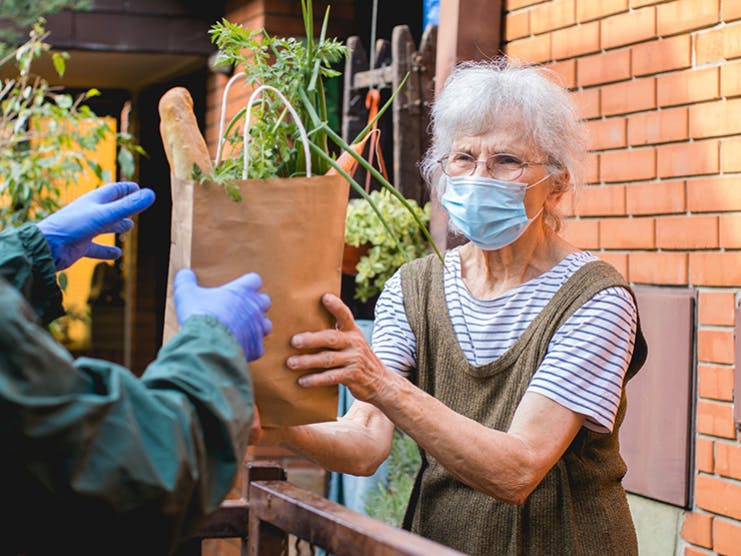 Meals on Wheels serves millions of people over the age of 60 every year.
Meals on Wheels is a program that delivers meals and healthy food to individuals at home who are unable to purchase or prepare their own meals. This service is ideal for seniors, people with disabilities, individuals recently released from the hospital, and others who may otherwise be facing hunger or food insecurity.
This program serves more than 2.4 million people from age 60 to 100+ every year. Most of these individuals have Medicare health insurance coverage, and while Medicare typically doesn't cover meal delivery services, there are a few situations meals could be covered and other options to explore if you're in need.
Does Medicare cover meal delivery?
Original Medicare usually doesn't cover meal delivery services, including Meals on Wheels. However, Medicare Part A(hospital insurance) will cover meals when you're an inpatient at a hospital or skilled nursing facility (SNF). This coverage is only for meals at the facility where you're admitted, not delivery to another place.
Medicare Advantage meal delivery coverage
Medicare Advantage plans (Part C) cover everything Original Medicare does and more. Often, this includes coverage for routine vision and hearing services, dental, and even fitness memberships. These plans are offered by private insurance companies, and you can enroll in one to get your Parts A and B benefits, and usually Part D, in a single plan that's similar to the health insurance many people had through an employer.
Some MA plans do offer meal delivery as a benefit, so if this service would be helpful to you, research plans in your area that may offer it. While coverage depends on the plan, there are two rules that are typically in place:
Many plans offer only temporary assistance for a set number of meals (example: 10 meals) or for limited time, typically after you're discharged from the hospital, an SNF, or other inpatient facility.
Meals that are delivered must be nutritious meals and in line with Medicare's daily nutritional guidelines.
Your plan may also limit how many hospital stays qualify for meal delivery, though four stays is often the standard. Additionally, if you have a chronic medical condition or other health condition that has you homebound, your plan may pay for up to 20 meals specific to your condition.
Your plan can help you understand your coverage and how to arrange for meal delivery, as well as what companies in your area offer the service.
Other resources available for food delivery programs
Meals on Wheels is federally funded, so many Meals on Wheels programs serve older adults regardless of their ability to pay. For example, they may operate on a sliding fee scale, or take SNAP (food stamps) as payment. Typically to qualify, you must have physical or mental disabilities that make it difficult to leave your home unassisted, go grocery shopping, or prepare meals.
There are other programs that offer meal delivery for qualifying adults and those with chronic medical conditions, including home-delivered meals and meals at community organizations. In fact, the Centers for Medicare & Medicaid Services (CMS) recently approved several grants that will go to organizations that provide meals to help eligible adults get meal services.
Programs to look into include:
Program of All-Inclusive Care for the Elderly (PACE) Program: PACE offers services for people ages 55 and older to live safely in their community. Funded by both Medicare and Medicaid, this program can provide meals and nutritional counseling for those in need, including home-delivered meals, meals prepared in your home by a personal care assistant, or meals supplied through an organization like Meals on Wheels.
Medicaid: This state-run health insurance program helps those with low or limited income, as well as other qualifying situations. It also partners with organizations to provide meals, though you typically must be homebound and unable to prepare meals on your own. These could be through home-delivered meals or meal preparation services.
Special Needs Plan (SNP): A type of Medicare Advantage plan, these plans limit membership to beneficiaries with specific diseases or characteristics. With an SNP, benefits, provider choices, and drug formularies are designed to meet the specific needs of the group they serve. Some individuals with chronic conditions may be eligible for meal benefits through an SNP.
Supplemental Nutrition Assistance Program (SNAP): Beginning in 2019, a pilot program launched that allowed people who receive nutrition assistance through SNAP are able to use it to order groceries online, including prepared grocery store meals. Check if this pilot is available in your state.
Consumer delivery services may also be an option for those who can't prepare meals on their own. While offerings depend on where you live and available restaurants, consumer meal delivery services like Uber Eats or Postmates, or meal kits like Daily Harvest, Sunbasket, EveryPlate, HelloFresh, and others offer meal delivery, or you can pick up your meals.
Find a Medicare Plan in your area
It's FREE with no obligation
Speak with a Licensed Insurance Agent
M-F 9:00am-9:00pm | Sat 9:00am-3:00pm EST