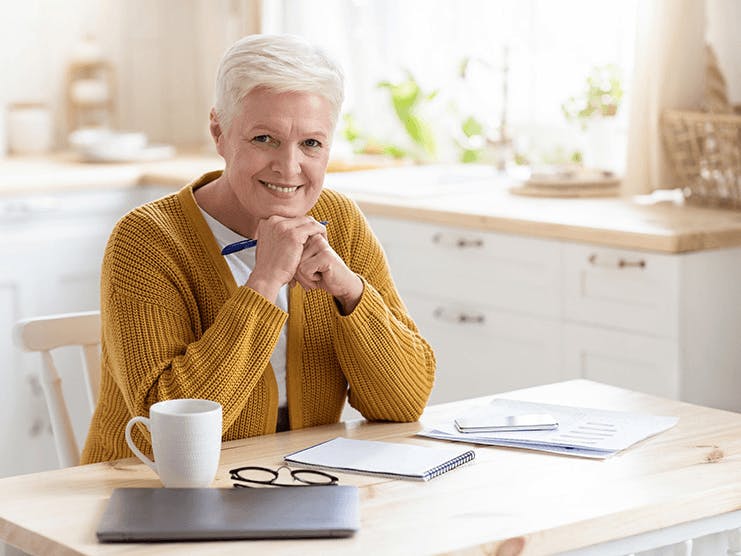 With Americans enjoying longer lifespans than ever before, the need for long-term care planning is also greater than ever.
It's said the best time to repair the roof is when the sun is shining. This same adage can apply to planning for long-term care, or LTC. As we get older, the odds grow greater we might need a long-term care solution.
Over half of people over 65 will require some kind of LTC. But long-term care isn't just for older people. Injury or disability can strike younger folks as well.
Unfortunately, Medicare, Medigap, and most health insurances don't cover long-term care. To avoid a nasty surprise, it's important to have a long-term care plan in place. Especially before illness, injury, or some other debilitating condition can strike. Having a long-term care plan just makes sense.
What is long-term care?
LTC, or long-term care, boils down to day-to-day personal assistance. For example, help with dressing, eating, bathing, and using the restroom all fall under the LTC umbrella. Long-term care can be as simple as a grocery shopping service or as comprehensive as assisted living services.
Types of long-term care include but aren't limited to:
Home renovations such as bathroom grab bars for safety, or wheelchair access ramps
Transference in and out of bed or a chair, if you have limited or no mobility
Medication administration should you need it
Money management if you are unable to pay your bills on your own
Housekeeping services if you need a helping hand in cleaning your home
As you can see, there are many types of assistance available. Many choose to receive in-home help. For others, a nursing home, adult day care, or an assisted living facility makes more sense. Not to mention, there are community programs available for those only needing meal delivery, or adult day services. In a nutshell, long-term care provides help to retain your independence and/or quality of life.
Who needs long-term care?
The term long-term care might make you think of elderly folks in nursing homes. Or cancer patients. Or quadriplegics. But the simple truth is that most of us will need LTC at some point in our lives. Factors such as age, disability, gender, health status, and even living conditions apply.
For the majority, long-term care is provided by someone they know, such as a family member. But around 25% of people will require more LTC services than their friends and family can provide.
How much does long-term care cost?
According to LongTermCare.gov, costs for LTC vary widely. For example, do you need assistance with grocery shopping and other personal errands a few times a week? A personal care service averages around $20/hr. At the other end of the scale, a private room in a nursing home can cost as much as $7,700 monthly. It's important to remember that pricing not only varies with your situational need, but length of time you'll need help. Where you live also plays a role. For example, hourly rates are typically higher in urban areas compared to rural communities.
Other variables include your age, the time of day, extra charges at a facility, and community program rates and availability. This is why having a long-term care plan can afford you a sense of security, especially financially.
What programs are available?
Although Medicare and Medigap do not provide long-term care benefits, there are some government programs that do.
Medicaid: If you qualify, Medicaid may pay for long-term care. Eligibility is determined by both medical necessity and your financial resources (income, savings, etc.).
VA Aid: Are you a housebound or disabled veteran? VA Aid and Attendance or Housebound benefits can help. These programs provide additional financial assistance to qualifying veterans and survivors on pensions. Check with the US Dept of Veterans Affairs to see if you are eligible.
Additionally, many of your local community programs can assist with your long-term care needs. Common services and programs include:
Assisted transportation provide rides to the doctor and other appointments.
Adult day services offer your loved one daily social and recreational activities, supervision, meals, and more in a community setting.
Care management can help you develop a plan of action for an individual's care as well as assessing their needs. These services are generally provided by nurses or social workers.
Homecare for those requiring assistance with personal tasks such as bathing or dressing.
Housekeeping services can help with your domestic chores and meal preparation. Such agencies also can provide outdoor maintenance like lawn mowing or snow shoveling.
Meal delivery can provide hot, fresh, nutritious meals delivered directly to your home, community center, or living facility.
Senior Centers offer a broad range of services and activities from recreation and meals to volunteer opportunities and public benefits counseling.
Most community programs also offer help and services for caregivers as well. Check with your local community center to find out which services are provided, and which will be most beneficial to you.+
What about long-term care insurance?
Long-term care insurance policies may cover nursing home costs for yourself or your loved ones, home modifications, assisted living, and much more. Premiums are also lower than most people assume – especially if you go with a company you already use for your home, auto, or life insurance.
The younger and healthier you are, the less you'll pay for long-term care insurance. So, if LTC insurance is something you're interested in, it's better to act sooner rather than later.
How to avoid long-term care
Staying healthy can help you avoid long-term care. Simple, small lifestyle changes can increase your chances of doing so.
Do you smoke? Quit. Non-smokers are at a far lower risk for a cardiac event, stroke, and most types of cancer.
Are you physically active? If so, great! If not, the goal is to get at least 150 minutes of moderate physical activity a week. That's only 30 minutes a day, but general consensus has shown it to be extremely beneficial to your health.
Maintaining a healthy weight and drinking alcohol in moderation also contribute to general wellness. In this case, "moderation" means one drink per day.
Making changes to your living space can also help you avoid the need for long-term care. For example, bathroom fixes like safety bars in the shower can prevent a debilitating fall. Widening doorways can help ease mobility issues. Worried about navigating a staircase? You might think about moving to a one-story home. If relocation isn't an option, you can install a stair lift. At a minimum, you should install banisters on both sides of the staircase.
If living alone becomes difficult for you, not to worry. There are alternatives to nursing homes or assisted living facilities. Do you want to be closer to your children or grandchildren? Consider moving in with family. Or perhaps you'd like to share a living space with roommates. Has your house become too much of a hassle to maintain? You could decide to move to a 55+ or active adult community or a semi-assisted living apartment. With proper planning, the possibilities are endless.
The importance of planning ahead
Nobody likes to think about getting older, or the possibility of becoming sick. But planning ahead gives you greater control over how – and where – you get to live your life.
Find a Medicare Plan in your area
It's FREE with no obligation
Speak with a Licensed Insurance Agent
M-F 8:00am-10:00pm | Sat 9:00am-6:00pm EST