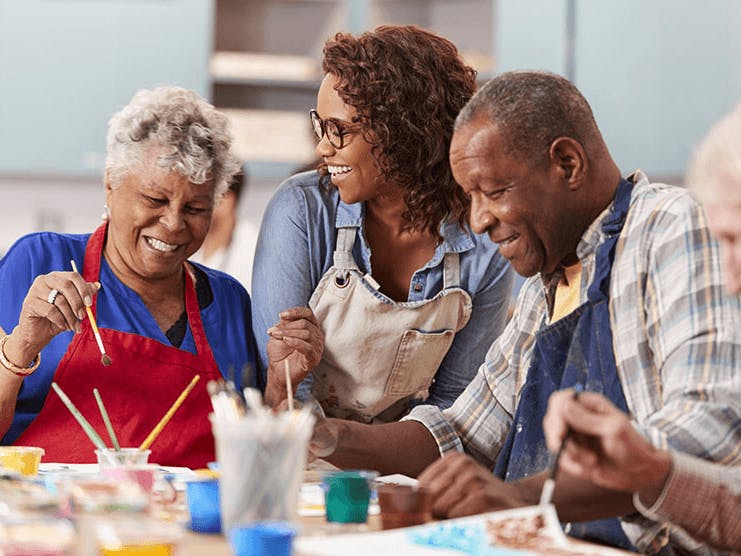 Active adult communities are neighborhoods where everything is specifically designed for adults age 55 and older. This includes the layout of the community itself, amenities, and even the design and construction of the homes.
If you are retired or planning your retirement, you may be thinking about making the move to an active adult community. This article explains the pros and cons of active adult communities, including restrictions and guidelines, common neighborhood amenities, and what to look for when comparing your options.
What Are Active Adult Communities?
Also known as 55+ communities and retirement villages, active adult communities are much like any other master-planned neighborhood. The homes usually have similar floorplans, layouts, and color schemes, with customizations available. Community amenities vary but most include swimming pools, fitness centers, and parks or picnic areas for the residents.
Although many people still call them retirement communities, you're sure to find residents who are still actively employed.
Common Amenities in an Active Adult Community
Amenities vary greatly from one community to the next. And you can be sure that, the more amenities there are, the more you're going to pay to live in an active adult community. But for many people planning their retirement, those amenities are their reward for the years they spent saving for retirement.
Common active adult community amenities include:
Community clubhouse
Community swimming pool(s)
Fitness center
A variety of athletic courts for playing bocce, pickleball, tennis, and more
Golf course(s)
Trails for walking, biking, and hiking
Parks
Picnic and barbecue areas
The community clubhouse may be an enormous building (tens of thousands of square feet) that includes a kitchen, entertainment areas, and rooms where clubs or classes meet. Or, in smaller neighborhoods, the clubhouse may be no bigger than one of the homes and offer rooms for entertaining.
Most 55+ communities also offer residents numerous opportunities to meet their neighbors and socialize. It's common to see bars and restaurants – even retail shopping– in active adult communities. They also typically offer easy access to healthcare providers, including medical clinics and hospitals.
The Pros of an Active Adult Community
The advantages of living in a 55+ community include:
Amenities: This is what makes them "active" adult communities. Whatever your interests, you can probably find a community that lets you indulge it. In addition to the usual items, like pools and fitness centers, many of these neighborhoods let residents form social clubs around hobbies like reading and crafting. You also find a variety of classes, from dance and yoga to painting and woodworking. The cost for these amenities is usually included in the community's fees (typically quarterly or yearly). And, like everything else in the neighborhood, the amenities are designed for people age 55 and older.
Stay social: One of the biggest dangers we face as we age is becoming socially isolated, which raises your risk of depression. With so many activities, and so many people of a similar age and background, it's easy to meet people and make new friends who share your interests.
Peace and quiet: Depending on the community's guidelines and restrictions (more on that in a moment), you aren't likely to see many people under the age of 50 in an active adult community. That means fewer loud parties, no kids running around, and a generally quiet neighborhood.
Convenience: Active adult communities tend to either have everything you need within the neighborhood or they're located very near shopping, restaurants, and healthcare services – or both.
Designed for you: The entire community is designed with 55+ folks in mind. That means mostly single-story homes (or ones where most of the living space is on the first floor) with low-maintenance landscaping. Residents also report feeling more comfortable taking fitness classes, swimming in the pool, or playing a round of golf when they don't have to worry about a bunch of twenty-somethings.
Greater security: Even if the community isn't gated, it likely has its own security patrol – one usually made up of residents who volunteer with the local police department.
Finally, if you prefer sunshine to shoveling snow in the winter, some of the best active adult communities are in warmer climates, like Arizona and Florida.
The Cons of an Active Adult Community
Of course, there are disadvantages to everything – even chocolate. The cons many people list about 55+ communities are often the flip side of the pros. They include:
The fees: If you're familiar with master-planned communities, you likely know all about homeowners' association (HOA) fees. But, thanks to those amenities mentioned above, fees tend to be significantly higher in a 55+ neighborhood. Before you sign anything, make sure you understand all of the fees required by an active adult community.
Age restrictions: Not everyone wants to live in an area where nearly everyone is over 50. Some people like the variety they get in a traditional neighborhood; they want to see trick-or-treaters and hear kids playing outside.
Multigenerational families: Those same age restrictions make it impossible to have a multigenerational family living arrangement.
Location: Most 55+ communities are in suburban or rural locations. If you prefer the hustle and bustle of urban life, you may not enjoy the lifestyle of an active adult community.
Uprooting your life: If you have roots in an area – family, friends, a sense of community – then leaving that all behind for life in a 55+ village may not appeal to you.
Active Adult Community Restrictions and Guidelines
As with the amenities, rules and restrictions for active adult communities vary. Typically, they are governed by either a homeowners' association or management company.
The most common restriction is, of course, age-related. Some communities restrict residency to people age 65 and older, but most have a 55+ guideline. In addition, many active adult communities allow up to 20 percent of residents to be UNDER age 55. Usually, though, this allowance includes a qualification that at least one member of each household be age 55 or older. There may also be limits to the younger spouse's age, with 45 being most common.
Few adult neighborhoods allow children under the age of 18 to live there full-time, although visits are generally permitted. In addition, if you have college-age children or grandchildren who visit frequently or live with you during holidays and school breaks, talk to the management association about guidelines for these situations.
There may also be restrictions pertaining to income, financial resources, and criminal history.
Is an Active Adult Community Right for You?
When comparing the pros and cons of active adult communities, look carefully at the amenities, costs, and restrictions. If you're not a big golfer, don't care much for swimming, and already have an active social life, one of these neighborhoods may not be for you.
If you're seriously considering making the move, take the time to research your choice thoroughly and actually visit the property. Until you see for yourself, you won't know whether that "beautiful park" is just a bench under a tree.
Most of these neighborhoods have websites, Facebook pages, and even message boards for residents, so do a little online investigation as well. If you can, talk to a few residents to see what living there is like. How quickly does the management company or HOA respond to complaints? Is the fitness center fully equipped or just a treadmill and weight machine?
Finally, see whether prospective buyers can spend a night or two in the community. Many 55+ neighborhoods offer this service. For the price of a hotel stay, you can experience life in an active adult community. Ask whether the community has a lifestyle director to show you around and explain the amenities.
Find a Medicare Plan in your area
It's FREE with no obligation
Speak with a Licensed Insurance Agent
M-F 8:00am-10:00pm | Sat 9:00am-6:00pm EST