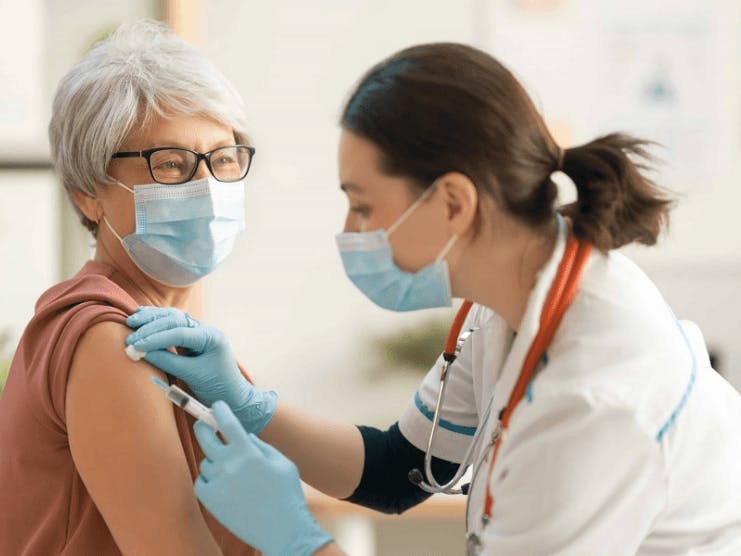 Medicare covers a variety of preventive services, including immunizations against flu, pneumonia, and COVID-19.
Immunizations are often recommended to help prevent illness and injury, which is why Medicare covers many vaccines you may need. Both Part B (medical insurance) and Part D (prescription drug coverage) cover the cost depending on the type of immunization.
Even though coverage is available, benefits could vary between plans if you have Medicare Part C (more commonly known as Medicare Advantage). It's important to know which immunizations are available to you for no or low cost through Medicare, as well as which ones you should receive as you age in order to stay healthy.
Which vaccines does Medicare Part B cover?
Part B covers many preventive and screening services, including immunizations like:
Seasonal influenza (flu) shot
H1N1 shot
Pneumococcal vaccine
Hepatitis B vaccine (if you have hepatitis C, HIV, ESRD, diabetes, hemophilia, or STIs)
Medicare Part B will also cover any vaccines directly related to the treatment of injury or illness, or direct exposure to a disease or condition, such as rabies or tetanus shots.
Which vaccines does Medicare Part D cover?
In addition to vaccines included with your Part B benefits, most Part D prescription drug plans cover commercially available vaccines when they are reasonable and needed to prevent illness, though you should contact your plan if you have specific questions. These immunizations may include:
Tetanus shot (to prevent illness)
MMR vaccine
Shingles vaccine
Your Part D formulary should list which vaccines your plan covers, or you can contact your plan to learn more.
Does Medicare cover the COVID-19 vaccine?
Yes, Medicare does cover FDA-authorized COVID-19 vaccines. These vaccines help reduce the risk of illness from COVID-19 by assisting the body in developing immunity to the virus.
If you're immunocompromised, Medicare will cover an additional dose at no cost to you.
When you get the vaccine, take your red, white, and blue Medicare card so the provider or pharmacy can bill Medicare directly.
Medicare also covers COVID-19 tests, COVID-19 antibody tests, and COVID-19 monoclonal antibody treatments if necessary.
Do other Medicare plans cover immunizations?
Medicare Advantage plans may cover additional vaccines not included with Original Medicare. For example, an MA plan may cover:
Shingles vaccine
MMR vaccine
Tdap vaccine
Meningococcal vaccine
Chicken pox vaccine
Hepatitis A and B vaccine
MA plans must also cover all vaccines Original Medicare Part B does, and because most MA plans include Part D coverage, those vaccines are covered as well. Most vaccines can be received easily at your primary care provider's office or at your local pharmacy.
How much do vaccines cost?
The cost of a vaccine can depend on which part of Medicare is covering it, as well as what the vaccine is.
For vaccines covered by Part B, you won't have any out-of-pocket costs.
If your vaccine is covered by Part D, your plan will negotiate a price that includes both the vaccine cost and administration fees, including the dispensing fee, sales tax, vaccine administration fee, and vaccine ingredient costs. The provider administering the immunization will bill your Part D plan, but you may be responsible for a co-payment or co-insurance.
In some cases, you must pay for the immunization first and then submit a claim to your Part D plan for reimbursement.
If you have an MA plan, check your coverage information or formulary to learn how much you'd pay. It's important to know that you may have to follow certain instructions in order to get your vaccine covered. For example, you may have to get your vaccine from a plan-approved provider or pharmacy, or from a certain company.
What immunizations are recommended for people ages 65 and older?
The Centers for Disease Control (CDC) develop and update each year a recommended adult immunization schedule. For adults ages 65 or older, the CDC recommends talking to your doctor to learn if you're due for:
An annual flu shot
Tdap booster
Varicella (chicken pox)
Zoster (shingles)
Pneumococcal
Hepatitis A
Hepatitis B
Meningococcal
MMR
HPV
Not all adults need these immunizations because you may have received them as a child, so check with your doctor or review immunization records to better understand what you may need.
Not only can these vaccines help keep you from getting sick, but they could also help prevent painful or even life-threatening illnesses.
Are you ready to join Medicare?
Our licensed insurance agents can help you understand your Medicare plan options. Just call us toll-free to get started.
Find a Medicare Plan in your area
It's FREE with no obligation
Speak with a Licensed Insurance Agent
M-F 9:00am-9:00pm | Sat 9:00am-3:00pm EST