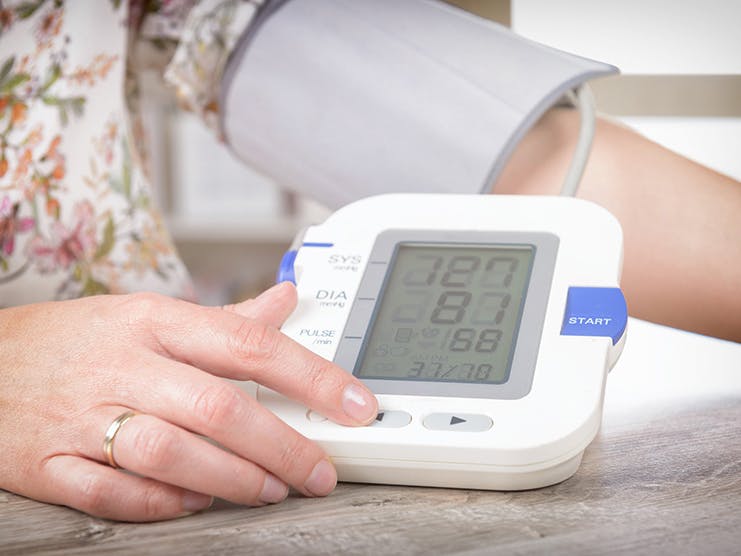 Original Medicare rarely covers over-the-counter items like blood pressure monitors, but it may be covered by a Medicare Advantage plan.
These days, more people are taking an active role in their healthcare, particularly if they have a chronic condition like high blood pressure.
At-home blood pressure monitoring devices help you track your progress and spot patterns, like an increase in blood pressure after indulging in your favorite comfort foods. Or, you could get good news, such as a lower BP after implementing a new exercise regimen (following your doctor's advice, of course).
As you search for options and compare costs, you'll find that Original Medicare does not typically pay for at-home blood pressure monitors.
Read on to learn more about why your doctor may recommend a blood pressure monitor, Medicare's coverage for at-home monitors, and how much this equipment costs.
Why would I need a blood pressure monitor?
There are two commonly used home blood pressure monitors: Blood pressure cuffs and ambulatory blood pressure monitors (ABPM). The primary reasons you'd need to use a blood pressure monitor at home are:
The readings in your doctor's office are inaccurate. Perhaps you're feeling nervous just being at the doctor, which can cause your blood pressure to go up. Or vice versa, your blood pressure is lower at the doctor's office than it normally is. This is also called "white coat hypertension" or "masked hypertension." If your doctor can't get an accurate reading during your visit, they may suggest taking your blood pressure at home for a more reliable reading.
You're on renal dialysis. Those on renal dialysis must have accurate and regular blood pressure readings because if you have chronic kidney disease, high blood pressure can decrease your kidneys' ability to filter toxins out of your body. It's important to monitor if your blood pressure is increasing if you're on dialysis at home.
An ABPM is often recommended for those who have high blood pressure induced by anxiety or stress from going to the doctor. These monitors measure your blood pressure in 24-hour cycles and store the blood pressure measurements on the device.
Does Medicare pay for home blood pressure monitors?
Medicare Part A (hospital insurance) will cover any blood pressure monitoring you need while you're an inpatient at a hospital.
Medicare Part B (medical insurance) will cover blood pressure checks that take place in your doctor's office. It will also pay for an at-home blood pressure monitor if you're on renal dialysis in your home or if your doctor has recommended an ABPM.
Otherwise, home blood pressure monitors are not covered by Medicare.
Do Medicare Advantage plans cover blood pressure monitors?
Medicare Part C plans (more commonly known as Medicare Advantage) are health insurance plans offered by private insurance companies that cover everything Original Medicare does and more. Common additional benefits include vision, dental, hearing, and prescription drug coverage (Part D).
Because MA plans must cover everything Medicare does, they will cover at-home blood pressure monitors if you're on renal dialysis or an APBM if recommended by your doctor. However, they may offer additional coverage for blood pressure monitors under their durable medical equipment (DME) benefits. Check with your plan to learn more.
How much does a blood pressure monitor cost?
If the blood pressure monitor is covered by Medicare for an eligible reason, Medicare would pay for 80% of the Medicare-approved amount and you would be responsible for the other 20% co-insurance. The Part B deductible would apply ($226 in 2023).
The monitor must come from a Medicare-certified DME supplier; otherwise, you could end up owing additional out-of-pocket costs.
You can also buy a blood pressure monitor online or from your local pharmacy. The cost ranges from about $40 to $100, though they could be more if they are more high-tech. More expensive doesn't necessarily mean better, though, so choose one that fits your needs and your budget. You can also ask your doctor for their recommendation.
Tips for buying an at-home blood pressure monitor
If you're buying a blood pressure monitor for home, here are a few tips to follow:
If you're 50 years old or older, choose an arm cuff that goes on your upper arm rather than one for your wrist.
Be sure to buy the right size.
Choose a device that automatically reads your blood pressure three times in a row at intervals of around one minute apart for the most accurate readings.
Look for a device with an easy-to-read display that's well-lit.
After you've purchased a blood pressure monitor, it's important to ask your doctor to confirm its readings. Your doctor will likely also ask you to share the results, which allows them to gauge how well treatment is working and whether it is sufficient to manage your high blood pressure.
Find a Medicare Plan in your area
It's FREE with no obligation
Speak with a Licensed Insurance Agent
M-F 9:00am-9:00pm | Sat 9:00am-3:00pm EST