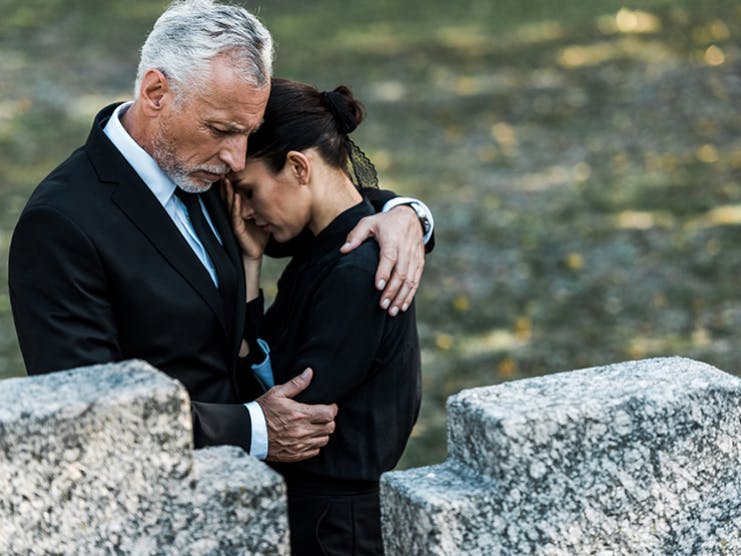 If you qualify for Medicaid, your state may offer financial assistance to help with funeral expenses.
Losing a loved one is never easy. It's even more difficult if, in addition to grieving, you're responsible for planning the funeral and memorial services.
Not only can making funeral arrangements be emotionally taxing, but it can be financially draining if there is no life insurance or savings to help cover costs. In fact, according to the National Funeral Directors Association, the average cost of a funeral in 2023 is between $7,000 and $11,000.
Funeral expenses can include service fees, urn or casket, embalming, transportation, preparation fees, memorial costs, and more. While these costs can add up quickly, it may be helpful to know that there are some states that offer financial assistance for a funeral for people who are on Medicaid. Read on to learn more.
Medicaid funeral expense benefits
Medicaid is a federal and state assistance program that helps with healthcare costs for those with limited income and resources. One of these costs includes funerals for those who meet certain criteria.
Medicaid funds are managed by the states, so what is and isn't covered by Medicaid and the extent of coverage depends on where you live. Some states offer financial assistance for funeral and burial (or cremation) through government agencies that help people who have Medicaid.
Because benefits can vary by state, it's important to check with your local Medicaid office to understand your personal benefits. Contact your state Medicaid department, local Medicaid office, or an attorney in your area to learn more. There may be certain criteria you must follow, such as using a particular group of funeral homes. Or, the funds may only be used for certain parts of the funeral services or burial.
Setting aside funds for a funeral on Medicaid
Additionally, Medicaid recipients can set money aside in a separate account or prepay a funeral home if they desire. These funds are excluded from the accounting of assets recorded when determining eligibility for benefits, and interest earned does not count as a resource. To do this, there are typically three options offered by states:
1. Sign an irrevocable contract with a funeral home. This means it cannot be canceled or cashed in. These can be funded in advance up to $8,000.
2. Enter into a revocable contract for an unlimited amount, though this can be canceled as long as the funds are returned to the state. This would happen if you needed Medicaid to cover your medical or long-term care costs and your other assets have been depleted.
3. Buy one or more personal life insurance policies, though the combined death benefit cannot exceed $1,500.
You can also establish an irrevocable trust, which protects the money you set aside and allows it to be used to cover long-term care costs if necessary. If you choose to establish a trust, you may want to talk with a trust and estate attorney to ensure you're preparing properly and to get advice on the best way to do this.
They can also help you understand the rules of Medicaid. For example, to qualify for funeral payment under Medicaid's rules, the trust must have existed for at least five years.
Does Medicare help with funeral expenses?
Original Medicare does not cover funeral costs or burial expenses. Medicare only covers hospital expenses (Part A), medical expenses (Part B), and prescription drugs (Part D).
However, there is a type of Medicare Advantage (MA) plan, called a Medicare Medical Savings Account (MSA), that may offer financial assistance for funeral expenses. An MSA is a high-deductible MA plan that has a savings account associated with it. Medicare will deposit a set amount of money each year into this account, and then you can use the money from that account to pay for eligible health care services.
Note that not all plans allow the funds to be used for funeral expenses, or you must pay taxes on the funds used.
Related reading: Types of Medicare Advantage Plans
Social Security death benefit
Another way to help pay for funeral expenses is the Social Security Administration (SSA) death benefit, though in 2023 this benefit is only $255. The benefit is typically paid to the surviving spouse and can be used for whatever the spouse needs, including funeral expenses.
In most cases, the funeral home will report the death to the SSA (as long as the funeral home has the Social Security number of the deceased) and the SSA will process the benefit.
Why it's important to plan ahead for your funeral
Depending on the type of service and burial you'd like, or your family members plan for you once you're gone, funeral expenses can cost thousands of dollars. If you didn't plan ahead and set aside burial funds, this financial burden falls on your loved ones. While some states offer some financial assistance for those on Medicaid, your family may still be left with a large bill. That's why it's critical to plan for your funeral in advance.
While you don't need to have every detail figured out (though that can be helpful), you should consider purchasing some type of life insurance policy to help cover burial costs. Or, set aside a certain amount in a savings account or funeral fund that can be used to pay for your service. The more you're able to financially prepare in advance, the better off your family will be as they mourn and plan.
You can also explore final expense insurance, which is a type of permanent life insurance that includes a death benefit to cover funeral expenses.
Or, you may be eligible for VA benefits through the U.S. Department of Veterans Affairs. If the death isn't service-related, your family could receive a $300 burial allowance and about $800 for a burial plot. You can also receive a gravesite and headstone in a national VA cemetery for free.
Also keep in mind that your funeral won't be the only of final expenses you may have. You may also have long-term care or medical expenses that must be paid for, and your life insurance policy or savings can also help cover this financial burden.
Find a Medicare Plan in your area
It's FREE with no obligation
Speak with a Licensed Insurance Agent
M-F 9:00am-9:00pm | Sat 9:00am-3:00pm EST