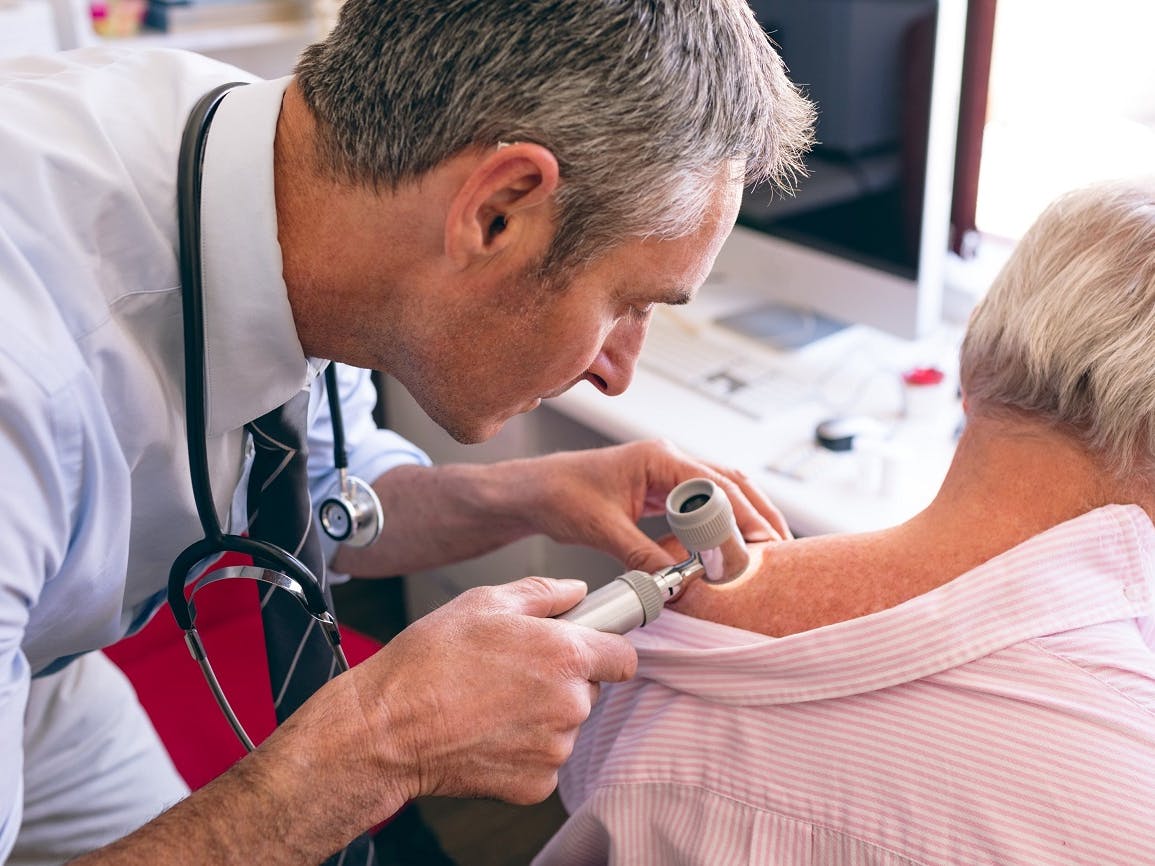 Whether Medicaid covers dermatology services depends on the state you live in, and the additional Medicaid benefits the state offers.
Medicaid services are split into two types benefits: federally mandated benefits and optional benefits the state chooses to add. Dermatology falls into the latter category.
When will Medicaid cover dermatology?
Dermatology is not one of the benefits federally required to be a standard part of Medicaid, so you need to check with your state Medicaid program to see if dermatology or any other benefits you may need are covered. Even if your state does cover dermatology, you typically still have to get a referral from your primary care doctor that says it is medically necessary.
Conditions such as simple acne have a much lower chance of being covered by Medicaid, since they are likely considered cosmetic treatments rather than a medically necessary treatment.
There are some conditions that are often considered medically necessary to treat, such as eczema, psoriasis, and skin cancer. These are more likely to be covered by Medicaid.
If your state does cover dermatology through Medicaid, you still need to go to a dermatologist that accepts Medicaid. Otherwise, you risk being charged more or not receiving coverage at all. Your primary care physician should be able to refer you to a dermatologist who accepts Medicaid, but you can also contact your state Medicaid program to find out.
How to protect yourself in the sun
The best thing you can do for your skin is protect it from the sun. The biggest concern is skin cancer, with 1 in 5 Americans developing skin cancer by the time they turn 70. In addition to this, UV rays cause 90% of skin aging, so it is imperative you treat your time in the sun with some caution. Below we go over some key factors to remember in the sun.
Wear protection
First and foremost, sunscreen is one of the best tools to protect your skin from the sun, but you still need to use it properly. Never rely on makeup or moisturizer for protection, even if it has an SPF rating. You need a broad-spectrum sunscreen of at least SPF 30 to protect you from UVA and UVB rays. And if you think you've used enough, put on a little bit more. Other key things to remember include:
●      Apply sunscreen 15 minutes before going outside
●      Reapply every two hours, especially if swimming or sweating heavily
●      Cover your ears, back of the neck, and the tops of your feet, as well; don't just stick to face, arms, and legs
●      Spray-on sunscreen still needs to be rubbed in to provide full coverage
In addition to sunscreen, think about the clothes you wear. As it gets hotter, we are more likely to wear shorter sleeves and lighter clothing. But if you don't have time to reapply, a long-sleeve shirt might just save your arms.
A hat is also a great tool to protect you from the sun, and the wider the brim the better. UV rays can also damage your eyes, so be sure to have a pair of sunglasses with real UV protection handy.
Timing
It goes without saying that the sun is brighter and hotter during certain points in the day, so it is important to schedule your time in the sun accordingly. You are at the highest risk of skin damage when the sun is closest, which is when it is directly overhead. It is recommended you spend time outside either before 10 a.m. or after 3 p.m.
However, the sun reaches its zenith at different times in different places, so it is a good idea to check the best time for your area. In general, the longer your shadow, the safer your skin is.
Know your surroundings
The shade can keep your skin safe from UV rays, but you still need to consider the surrounding area. Concrete, sand, snow, and water all reflect UV rays. Even in the shade, make sure to apply sunscreen and keep yourself safe. Also be sure to check the weather for your area, including the UV index. Don't be fooled by clouds, either, as UV rays can easily push through.
What is a Dual Eligible Special Needs Plan?
Some people qualify for both Medicaid and Medicare, which is called dual eligibility. Beneficiaries that are dual eligible can have Medicare cover services Medicaid can't or won't and vice versa. So, if your Medicaid plan does offer coverage for dermatology and you are dual eligible, then you would get your services through Medicare.
A Medicare Special Needs Plan (SNP) is a type of Medicare Advantage plan that limits membership to beneficiaries who have specific characteristics and/or chronic conditions. Medicare Advantage plans must provide the same level of coverage as Original Medicare (Parts A and B). However, they are not limited to that coverage and most – nearly 99% – offer additional benefits.
Medicare Advantage offers a Dual Eligible SNP for people enrolled in both Medicaid and Medicare. So, if you were to have a Dual Eligible SNP through Advantage, and one of the additional benefits included dermatology care, then you would likely have it covered through that plan.
To learn more about SNPs, check here. And to talk to a licensed Medicare agent, call us toll-free Monday through Friday. We'll answer all of your Medicare questions and help you find the right coverage for your unique needs and budget.
Find a Medicare Plan in your area
It's FREE with no obligation
Speak with a Licensed Insurance Agent
M-F 9:00am-9:00pm | Sat 9:00am-3:00pm EST