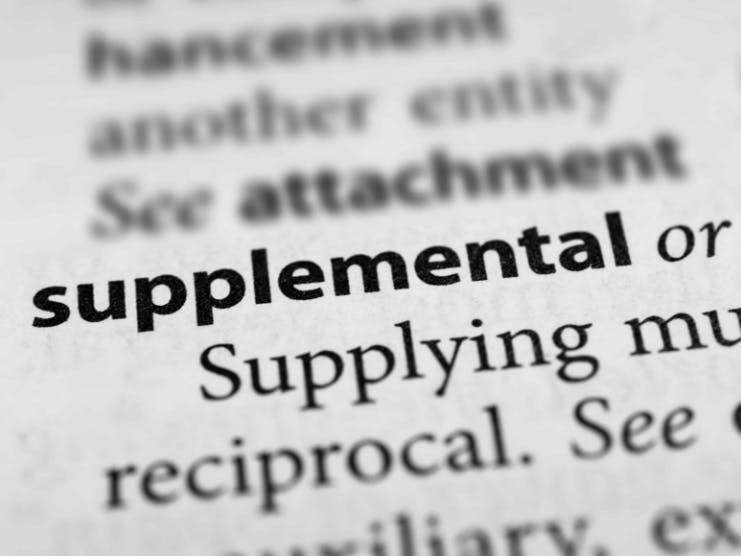 With no annual maximum out-of-pocket under Original Medicare, around one-third of beneficiaries choose some kind of supplemental insurance.
If you are enrolled in Original Medicare, you may choose to purchase a Medicare Supplement Insurance (Medigap) policy to help pay your out-of-pocket costs. This is not required, and it's not necessary for many enrolled in Medicare, but it is an option available to you.
It's estimated that more than 80% of Medicare beneficiaries have supplemental coverage. While having supplemental insurance can be beneficial, there are both pros and cons to having the coverage. Here is information you may need to help determine whether or not supplemental insurance is right for you.
If I Have Medicare, Do I Need Supplemental Insurance?
Medigap (Medicare Supplement Insurance) helps fill the "gaps" in Original Medicare. Sold by private insurance companies, it helps pay for some or all of your remaining health care costs such as copayments, coinsurance, and deductibles.
Original Medicare pays for much of the cost for covered health care services and supplies. In most cases, you don't need supplemental insurance if you have Medicare. However, it is an option for you to help pay out-of-pocket costs for Medicare-covered services and supplies. Medigap may also cover some additional services not covered by Original Medicare.
If you're generally healthy and don't expect any extensive medical bills, Medicare alone may be sufficient. But because Med Supp plans can help with out-of-pocket costs, you may want to consider supplemental insurance if you:
Travel extensively outside of the U.S.
Are likely to have multiple hospital stays throughout the year
Expect to have frequent doctor visits or necessary medical services
What Is Medicare Supplement (Medigap)?
When some people enroll in Original Medicare, they need additional coverage and assistance. In this case, they may opt for a Medigap policy.
When you have a Medigap policy, Medicare will pay its share of the Medicare-approved amount for covered health care costs. Then, your Medigap policy pays its share. This helps cut down on the out-of-pocket costs you have for things like coinsurance, copayments and deductibles.
Medigap policies may also cover services Original Medicare doesn't cover, such as coverage when you travel outside of the U.S.
In order to qualify for a Medigap policy, you must have Medicare Part A and Part B. Once you qualify, you must pay a monthly premium for the policy in addition to your monthly Part B premium.
You can purchase a Medigap policy from any insurance company that's licensed in your state to sell one, and it's guaranteed renewable even if you have health concerns. You can apply for a Medigap policy at any time, but you're not always guaranteed to be able to purchase a Medicare Supplement plan. For the best outcome, you should sign up during the Open Enrollment Period when you turn 65.
Even if you purchase a Medigap policy, you must still purchase a stand-alone Part D prescription drug plan because Medigap does not cover prescription drugs. Other things Medigap doesn't cover include:
Long-term care
Vision
Dental
Hearing aids
Eyeglasses
Private-duty nursing
In most states, Medicare Supplement Insurance plans are assigned letter names (such as Plan A or Plan B). Each plan covers different combinations of Medicare's out-of-pocket costs at different levels, and is based on the state you reside in.
With most Medicare Supplement plans, you can use any doctor, hospital or health care provider within the U.S. that accepts Medicare.
Are There Other Types of Supplemental Insurance?
While Medigap is the most common, there are other types of supplemental insurance including:
Employer-sponsored insurance: This provides retiree health coverage to Medicare beneficiaries. Depending on the size of the employer sponsoring the health plan, Medicare may be either your primary or secondary health coverage. The primary coverage pays for medical expenses first, and if there are leftover costs, the secondary coverage kicks in.
Medicaid: Medicaid is a state-run program that provides hospital and medical coverage for people with low income. Each state has rules regarding who is eligible and what is covered. While some people can qualify for both Medicare and Medicaid, they are separate programs with separate coverage, eligibility requirements and enrollment periods.
Do I Need Health Insurance if I Have Medicare?
If you have Medicare, that counts as your health insurance and you do not need additional insurance coverage for your medical or hospital needs.
One thing to note is Original Medicare Part A and Part B do not include coverage for most prescription drugs, so you'll need to enroll in a stand-alone Part D prescription drug plan for prescription drug coverage. (You cannot go for more than 63 days without creditable drug coverage or you may have to pay a late enrollment penalty.)
If you have Original Medicare Part A and B, you've enrolled in prescription drug coverage, and don't want to add Medicare Supplement or enroll in a Medicare Advantage plan, you don't need to make additional coverage changes and you have the health insurance you need.
Medicare Coverage Choices
When you first enroll in Medicare, you can choose how to get your Medicare coverage and benefits. There are primarily two ways for you to get this coverage: Original Medicare (Part A and Part B), or a Medicare Advantage Plan (Part C).
Original Medicare
Original Medicare covers your basic health and wellness needs. It's made of two parts: Part A (hospital insurance) and Part B (medical insurance). As long as it's medically necessary, Part A and Part B cover things including (but not limited to):
Inpatient hospital stays
Outpatient procedures
Labs and imaging services
Doctors' appointments
Durable medical equipment
Physical or occupational therapy
Mental health services
Preventive screenings and testing
Additionally,
In most cases Part A has no monthly premium, though there is a monthly premium for Part B ($164.90 in 2023).
You can see any doctor or hospital that takes Medicare, no matter where in the U.S. you are. In most cases, you do not need a referral.
For prescription drug coverage, you must enroll in a stand-alone Part D drug plan.
Once you meet your deductible, you typically pay 20% coinsurance for Part B services.
There is no limit to out-of-pocket costs.
A Medicare Supplement policy would supplement your Original Medicare benefits.
Medicare Advantage (MA) Plans
Medicare Advantage plans offer everything Original Medicare does, and more. Typically, these plans include Part A, Part B and Part D coverage all in one plan. They also offer extra coverage for things like:
Hearing
Vision
Dental
Gym memberships
Travel coverage
Additionally,
You must still pay your Part B monthly premium, but the MA plan may have an additional monthly premium. In other cases, the plan may have a $0 monthly premium.
You can only use doctors and providers who are in the plan's network and service area. In many cases, you may need a referral to see a specialist.
You have to reside within the plan's service area.
Out-of-pocket costs can vary by plan, but there is an annual limit on how much you'll have to pay out-of-pocket. Once you reach that limit, you'll pay nothing for Part A and Part B services.
Medigap vs. Medicare Advantage Plans
Medigap policies are a way to supplement your Original Medicare coverage, while Medicare Advantage plans are an alternate way to get your Medicare coverage. You cannot have both Medigap and Medicare Advantage coverage. However, there are some similarities and differences, as well as pros and cons, that may help determine which is right for you.
How Much Does Medicare Cost?
In 2023, you will pay the following costs:
Part A:
Premium: You typically won't pay a monthly premium for Part A. (If you do have to purchase Part A, you will pay either $278 or $506 per month).
Deductible: $1,600
Coinsurance based on the number of inpatient hospital days
Part B:
Premium: $164.90
Deductible: $226
20% coinsurance after you meet your deductible
Part C:
Premium: Varies by plan
Deductible: Varies by plan
Out-of-pocket costs vary by plan
Part D:
Premium: Varies by plan
Deductible: Varies by plan
Out-of-pocket costs vary by plan
How to Apply for Medicare
If you qualify for Medicare, there are a number of ways you can apply:
Apply online at www.ssa.gov.
Visit your local Social Security office.
Call Social Security.
Call the RRB (if you worked for a railroad).
If you already have Part A and want Part B, you must complete an Application for Enrollment in Part B.
Find a Medicare Plan in your area
It's FREE with no obligation
Speak with a Licensed Insurance Agent
M-F 9:00am-9:00pm | Sat 9:00am-3:00pm EST