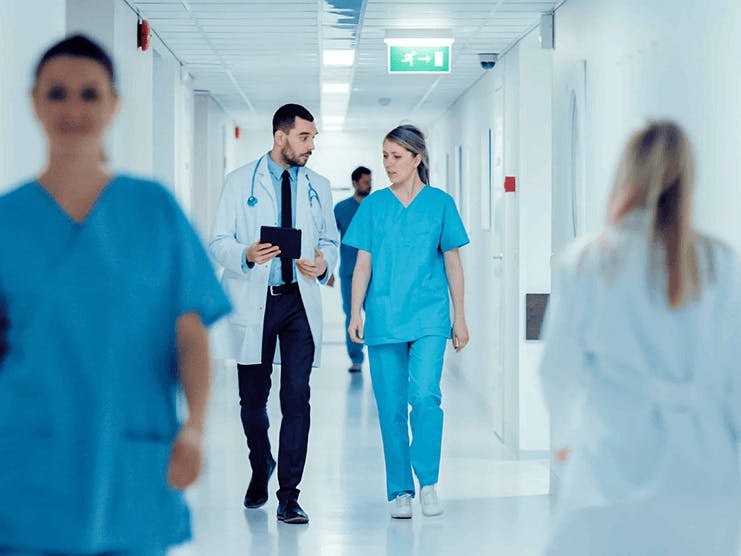 Medicare is accepted at over 7,000 hospitals, which must meet Medicare's safety and care standards.
In most cases, you can go to any doctor, healthcare provider, hospital or facility that's enrolled in Medicare. In fact, more than 7,000 hospitals in the U.S. provide services to Medicare patients. To participate in Medicare, hospitals must meet certain conditions in order to ensure the health and safety of Medicare beneficiaries.
Once you're enrolled in Medicare, you can get inpatient or outpatient services at any hospital that participates in Medicare. Here, we've outlined how to find a participating hospital, tips for finding the best hospital for your needs, and information about what your inpatient and outpatient Medicare coverage is.
How to find a hospital that accepts Medicare
The easiest way to find a hospital that accepts Medicare is by using the Medicare.gov Find a Medicare Provider tool.
Your search results will return a list of different types of hospital facilities, including:
Acute care hospitals
Critical access hospitals
Inpatient rehabilitation facilities
Long-term care hospitals
Qualifying research studies
Psychiatric hospitals
In addition to searching for a hospital, this tool also helps you find:
Doctors and clinicians
Nursing homes
Home health services
Hospice care
Dialysis facilities
You can also use the Medicare.gov Live Chat, or call 1-800-MEDICARE (1-800-633-4227, TTY 1-877-486-2048) to get assistance with finding hospitals or facilities in your area.
Using the Find a Medicare Provider tool
The Find a Medicare Provider tool helps you get information about providers and facilities, including hospitals, based on your location and needs. You can filter your search results, use the map feature to determine whether the hospital is near your location, and compare information about multiple facilities.
To use this tool, enter your city or state, select the type of provider you need, and click "search." The tool will return all the search results matching your criteria, listing the hospital's
Name
Address
Phone number
Overall star rating, which Medicare bases on how well a hospital performs across a variety of quality and safety metrics
Patient survey rating, based on patient-reported experiences of their care, including how well nurses and doctors communicated, responsiveness of staff, cleanliness, and quietness
You can filter your results based on distance from your home, overall star ratings, patient survey ratings, hospital type, and if the hospital provides emergency services.
You can also save a hospital or compare multiple hospitals to help you see information about them side-by-side. The map feature shows you where each hospital is located in your area to help you choose the one that's closest to you, especially if it's an emergency.
Then, if you click on a particular hospital, you're taken to the location's profile page. Here, you can review ratings, view survey details, and get specific information related to quality measures including:
Timely and effective care
Complications and deaths
Unplanned hospital visits
Payment and value of care
Psychiatric unit services
Other details on the profile include the hospital type, whether emergency services are provided, affiliated doctors and clinicians, and the ability to get directions from your location.
How to choose the best hospital
If you're having a medical emergency, you should go to the hospital nearest you for immediate care.
However, if you are choosing a hospital to receive inpatient or outpatient services and have some time to do research and select the best one for you, there are a few things to keep in mind or questions to ask yourself.
Step 1: Learn about the care you need and research your hospital choices
The first step you should take is talking to your doctor about which hospital(s) they work with, and which they think give the best care for your condition or medical needs. You may want to also ask how well those hospitals check and improve their quality of care. And always verify whether the hospital participates in Medicare or is in your Medicare Advantage plan network.
Once you know this information, ask your provider what type of hospital you should choose, if you need a surgeon or specialist, and if they have any recommendations for one with experience and success treating your condition.
You'll also want to understand who will be responsible for your care while you're in the hospital and what care or services you'll need after leaving the hospital.
Step 2: Consider your personal and financial needs
After learning about your care and hospital needs, you'll next want to check your insurance coverage. Contact Medicare or your health plan to understand if you must:
Get permission, like preauthorization or a referral, before being admitted
Only use your health plan's network, and if you have to use certain hospitals or see particular surgeons or specialists
Pay more to use a hospital that doesn't participate in your Medicare health plan, particularly if you have a Part C Medicare Advantage plan
Meet certain requirements in order to receive care after you leave the hospital
Also ask yourself if it's important to be in a hospital located near friends or family and consider details like convenient visiting hours and similar rules.
Step 3: Find and compare hospitals based on your needs
The third step is to use the Medicare.gov Find a Facility tool to compare hospitals you're considering for care.
Step 4: Discuss your options and choose the one best for you
Finally, once you've narrowed down your hospital options, talk to your family members, friends, and/or doctor about how the information you've gathered applies to you and if they have any recommendations or preferences.
Once you feel like you have all the information and are prepared, you can choose the hospital that's right for you.
Medicare coverage for inpatient hospital care
Inpatient hospital care is covered by Medicare Part A if:
You're admitted to the hospital as an inpatient after an official doctor's order
The hospital accepts Medicare
In some cases, the Utilization Review Committee of the hospital may have to approve your stay in order to receive coverage, but this is not as common.
Hospital services covered include semi-private rooms, meals, general nursing, medications that are part of your inpatient treatment, and other services and supplies you need while an inpatient.
For inpatient services, you pay:
$1,600 deductible for each benefit period
Days 1-60: $0 co-insurance for each benefit period
Days 61-90: $400 co-insurance per day of each benefit period
Days 91 and beyond: $800 co-insurance per each "lifetime reserve day" after day 90 for each benefit period, up to 60 days over your lifetime
Beyond lifetime reserve days: You pay all costs
If you also have Medicare Part B, that pays 80% of the Medicare-approved amount for covered doctor's services you get while in the hospital.
Medicare coverage for outpatient hospital services
Outpatient hospital services are covered by Medicare Part B. This typically means diagnostic and treatment services you receive as an outpatient at a participating hospital, and may include:
Emergency or observation services, including same-day surgery
Lab tests (billed by the hospital)
Mental health care in a partial hospitalization program
X-rays and other radiology services (billed by the hospital)
Medical supplies
Preventive and screening services
Certain medications you wouldn't give yourself
For services or supplies covered by Part B, you'd pay 20% co-insurance of the Medicare-approved amount. The Part B deductible also applies.
Additional information about hospitals, nursing homes, hospice care, and more
Medicare provides an extensive library of information about patient's rights, choosing a facility, understanding your coverage, and more. These resources provide helpful information for patients as well as their families and caregivers.
If you need information about how to choose the right facility, file a complaint, or learn what your coverage is for a particular facility or service, the Resources and Information tool is a great place to start.
Do you have Medicare questions? We have answers.
Do you have questions about your Medicare coverage? One of our licensed insurance agents can answer your questions and help you decide which is the best Medicare plan for your unique needs. Call our toll-free number to get started.
Find a Medicare Plan in your area
It's FREE with no obligation
Speak with a Licensed Insurance Agent
M-F 9:00am-9:00pm | Sat 9:00am-3:00pm EST