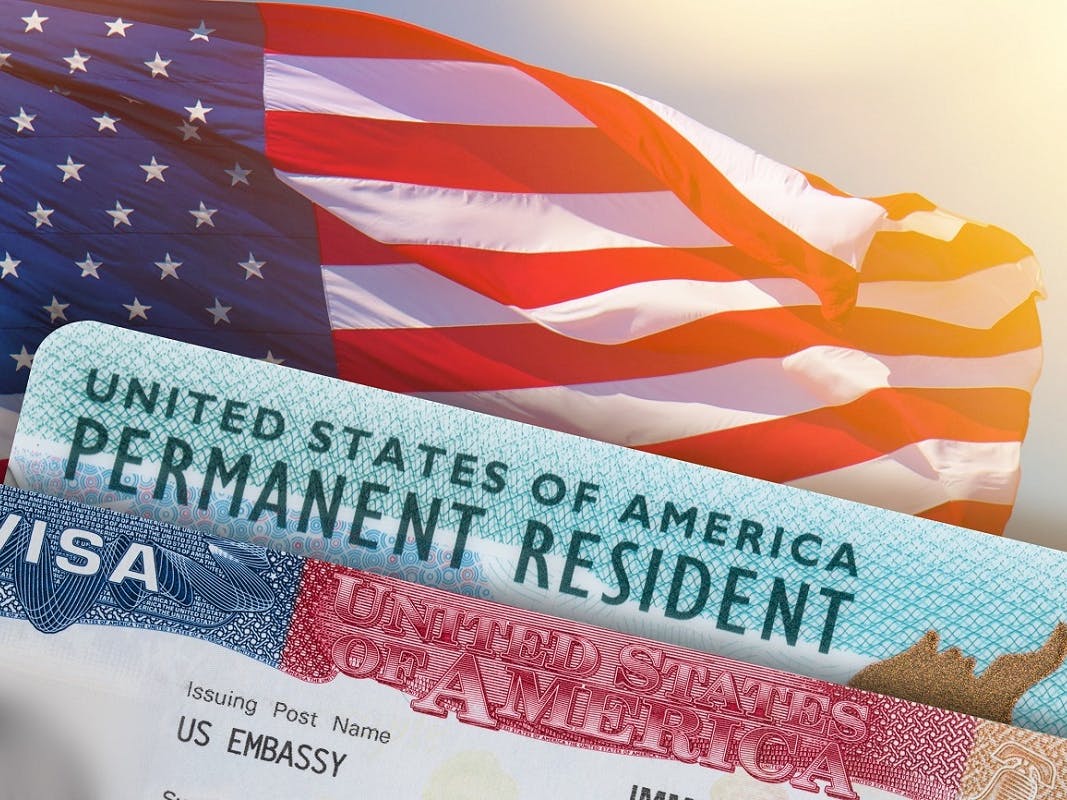 If you have a green card and have been a permanent U.S. resident for at least five consecutive years, you may qualify for Medicare.
Having a green card, officially known as a Permanent Resident Card, allows someone to live and work permanently in the United States. Legal permanent residents are not considered U.S. citizens, but once issued, a green card is valid for 10 years and it entitles holders to certain rights and responsibilities. The process to get a green card can be long and complicated, but for many, the advantages are worth it.
One advantage to having a green card is that if you meet other eligibility requirements, you may be able to enroll in Medicare Part A (hospital insurance) and Medicare Part B (medical insurance), as well as a prescription drug plan or Medicare Advantage plan.
Read on to learn more about Medicare eligibility for green card holders, when to apply, and how to enroll.
Medicare for green card holders
If you're a recent green card holder or a new immigrant to the U.S., and/or you haven't worked in the U.S., you may not immediately qualify for Original Medicare.
However, you may qualify if:
·       You're a lawfully admitted green card holder, and
·       Have constantly lived in the U.S. for five years or longer, and
·       You don't qualify for Social Security benefits
You must also meet general Medicare eligibility requirements, such as being age 65 or older OR having a qualifying disability or medical condition, such as end-stage renal disease (ESRD).
To qualify for Medicare due to a disability, there may be additional eligibility requirements based on work history, paying Social Security taxes on income, and having enough years of Social Security taxes accumulated.
Once you're eligible to enroll in Part A and Part B, you can also enroll in Medicare Part D prescription drug coverage and/or a Medicare Advantage plan (Part C).
New or undocumented immigrants, as well as those who have not been a resident of the U.S. for at least five years, are not eligible for Medicare benefits, regardless of age or disability status. However, they may be able to purchase other private health insurance or buy temporary health insurance for non-U.S. citizens.
How much does Medicare cost for green card holders?
A beneficiary will only be eligible for premium-free Part A if they or their spouse have at least 40 work credits, meaning they have paid the Medicare payroll tax for at least 40 quarters (10 years). These quarters do not have to be consecutive but to earn one credit, you'll have had to work one quarter and earned at least $1,640.
Even if you do not have this work history, legal immigrants who are age 65 or older can purchase Medicare Part A (as long as they meet other eligibility requirements).
If you must purchase Part A, you'll pay either $278 OR $506 every month (depending on how long you or your spouse worked and paid Medicare taxes).
The 2023 Part B premium, which everyone must pay, is $164.90 per month (or higher depending on your income).
If you do not enroll in Medicare when you're first eligible, you may have to pay late enrollment penalties. This penalty could be added on to your monthly premium and could last years, depending on how many years you delayed receiving benefits.
Learn more about Medicare costs here.
When can green card holders apply for Medicare?
Even if you've been living in the U.S. for five years, there are specific times during the year called enrollment periods when you can sign up for Medicare or make changes in coverage.
Initial Enrollment Period
Your IEP is your first chance to enroll in Medicare. This period lasts for seven months, starting three months before you turn 65 and ending three months after. Your coverage then starts on the first of the month after you enroll.
During this time, you can enroll in Original Medicare Part A and Part B, a Part D prescription drug plan, or a Part C Medicare Advantage plan.
General Enrollment Period
Between January 1 and March 31 each year, you can enroll in Medicare Part A and/or Part B if you did not do so when you were first eligible. When you sign up for Medicare during the GEP, coverage begins the month after you enroll.
Special Enrollment Period
There are certain situations that allow you to sign up for Part B (and premium-Part A) outside of the regular Medicare enrollment periods. This is known as a Special Enrollment Period (SEP). Examples of situations include:
·       Moving into a new area
·       Losing group health plan coverage
·       Losing Medicaid coverage
During your SEP, you can also make changes to your Medicare Advantage and Medicare prescription drug coverage, including enrolling in or changing plans or going back to Original Medicare.
Annual Enrollment Period
Once you're enrolled in Medicare, you can make changes during the Annual Enrollment Period (AEP), which runs from October 15 through December 7. Changes you can make to your Medicare coverage includes joining, switching, or dropping a Medicare Advantage or prescription drug plan, and/or returning to Original Medicare.
Looking for a Medicare plan is easy with our Find a Plan tool. Just enter your zip code to review plans in your area. You can also call us toll-free Monday through Friday to speak to a licensed ClearMatch Medicare agent who will answer your questions and help you find the right coverage for your unique needs and budget. Help is available in both Spanish (888-921-1320) and English (888-992-0738).
How to enroll in Medicare
If you receive Social Security benefits four months or more before turning 65, you may automatically be enrolled in Medicare Part A and Part B. Otherwise, you must apply for Medicare through the Social Security Administration (SSA). Ways to sign up include:
·       Online is the fastest and easiest way to enroll in Medicare or sign up for Social Security benefits. You may need to create a my Social Security account
·       Call 1-800-772-1213 TTY 1-800-325-0778
·       Contact your local Social Security office
You will need to provide basic information about yourself, start and end dates for any current group health plans, and start and end dates for any group health plans after age 65. If Medicare needs any additional information or documentation, they will let you know by mail or phone within 14 days.
After you submit an application, your Medicare card and welcome packet is automatically mailed to you about 30 days after you're approved. Your coverage begins on the date specified in your award notice.
Find a Medicare plan near you
It's FREE with no obligation
Speak with a Licensed Insurance Agent
M-F 8:00am-10:00pm | Sat 9:00am-6:00pm EST