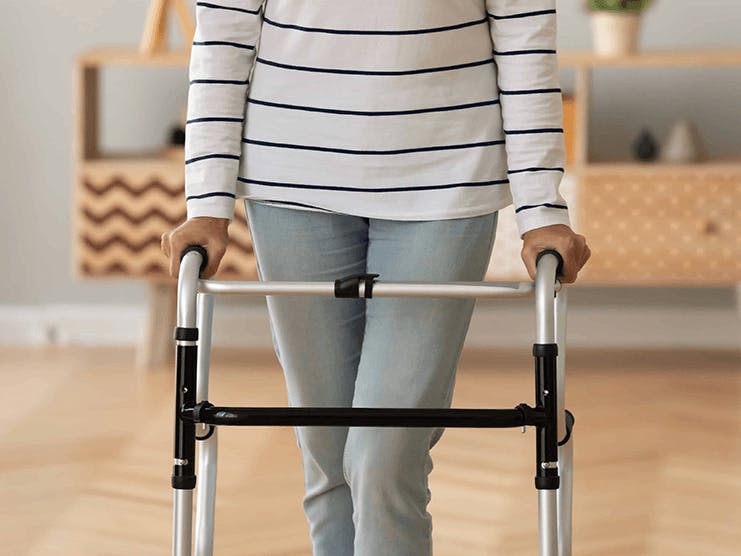 Medicare covers walkers as part of your durabled medical equipment benefits under Part B.
Walkers are necessary for a number of reasons, such as if you have shortness of breath, arthritic or other pain, are afraid of falling or have fallen in the past, or are unable to walk and carry objects at the same time. If you struggle to walk without support, you may need a walker.
More people than ever are using walkers or other walking assistance devices. Having a walker can help you keep your independence and maintain a quality of life you wouldn't otherwise have, and reduce the risk of falling or injury.
Walkers are considered a type of durable medical equipment (DME), or equipment ordered by your doctor for use in your home. If you have Medicare Part B (medical insurance) coverage and your doctor says a walker is medically necessary for you, Medicare will cover some of the cost.
To be eligible for Medicare, you must be age 65 or older and you or your spouse must have worked and paid Medicare taxes for at least 10 years. You must also be a citizen or permanent resident of the U.S.
Will Medicare Pay for a Walker?
If certain qualifications are met, Medicare will pay for part of the cost of a walker.
Your doctor must determine the walker is medically necessary, which means it you need it to diagnose or treat an illness, injury, condition, disease or its symptoms. Your doctor may have to provide written proof to Medicare that the walker will improve your health or prevent risk, such as injury from falling.
Original Medicare will cover DME, like walkers, when your doctor or health care provider prescribes it for you to use in your home and it is determined medically necessary. They may have to show you require more support than a cane or crutches can provide in order to qualify for a walker. If these qualifications are met, walkers are covered under your Medicare Part B coverage.
Typically, the walker must have a medical purpose, and the primary reason for having one is to help you move about your home independently. It should be used repeatedly, not just for recreation or under certain circumstances.
Your doctor must write a prescription for the walker. You will then fill the prescription with a contracted supplier that participates with Medicare.
Both your doctor and the supplier must be Medicare-approved and accept assignment. It's important to know that Medicare also only covers DME if you get it from a supplier that is Medicare-approved with a Medicare supplier number. Your doctor must also be Medicare-approved. Your health care provider may be able to help you find a local supplier, or you can contact Medicare directly.
Accepting assignment is an agreement to accept a Medicare-approved amount as full payment for a covered service, such as for your walker. Accepting Medicare assignment or not helps determine how much you will pay for the walker.
There are two exceptions to this:
If a doctor, nurse, or other provider gives you a walker directly, it may be covered by Medicare. For example, if you have been in the hospital and are given a walker to take home and use when you leave.
If you live in a skilled nursing facility (SNF) as part of a stay covered under your Medicare Part A coverage, the facility must provide any DME you need while you are there.
Medicare will also pay to replace your walker if it's lost or stolen, and for repair or replacement if it's worn out or broken. Typically, a walker will last two to three years, so if you have one long-term, you may eventually need a repair.
When Won't Medicare Cover Walkers?
Original Medicare will cover DME when your doctor or health care provider prescribes it for you to use in your home. It will not be covered if its primary use is outside the home, recreationally or under certain circumstances.
That being said, even if you live in a hospital or nursing home and your care is covered by Medicare, this cannot qualify as a "home." That means a walker may not be covered by Medicare. However, if you live in a long-term care facility, your walker could qualify.
Because you must get DME from a Medicare-approved supplier, Medicare will not cover your walker if you go to a non-approved supplier. If the supplier does not have a supplier number, Medicare will not pay the claim and you will likely have to pay the full cost out-of-pocket.
Walkers are also not covered if they are not deemed medically necessary or prescribed by a doctor who doesn't accept Medicare.
How Do I Get the Walker If It's Covered?
Once your doctor or health care practitioner determines your walker is medically necessary, they must fill out an order for Medicare. Medicare may also require your doctor to provide information and documentation regarding your need and necessity of the walker. The DME supplier your doctor works with will make sure they submit all required information. Once you qualify for coverage, you will purchase or rent your walker through the DME supplier.
Remember, only suppliers enrolled in Medicare are covered. To find one, visit Medicare.gov/supplierdirectory or call Medicare directly.
How Much Does a Walker Cost with Medicare?
In most cases, you must first pay your Medicare Part B deductible ($226 in 2023). Then, you pay 20% of the Medicare-approved amount. Medicare will cover the other 80%. (The Medicare-approved amount is the amount your doctor or supplier can be paid.)
The amount you actually pay can vary based on doctor and supplier.
Note: In order to have Part B coverage, you must pay your monthly premium, which is what provides the medical insurance coverage. You should be billed for your Part B premium directly through Medicare.
The cost can also depend on whether the equipment is rented or purchased. Medicare will either pay to rent the equipment on your behalf, or they will purchase it for you. In some cases, you will have the choice to rent or buy, and in others the decision will depend on whether the need for a walker is temporary or long-term/permanent. Talk to your doctor and DME supplier to understand whether your walker will be bought or rented.
To find out how much your walker will cost, talk to your doctor.
What Is a Medicare Supplier vs. a Participating Supplier?
It's important to determine whether your DME supplier is both Medicare-approved and participating, and if they accept assignment. This will help determine what your out-of-pocket cost will be for your walker.
Even if your supplier is enrolled with Medicare, be sure to ask if they "participate". If suppliers are participating suppliers, they must also do something called "accept assignment." By accepting assignment, they ensure you will not pay more than 20% of the copay of the Medicare-approved price.
If they are enrolled with Medicare but not participating, they can choose not to accept assignment. This means they would accept Medicare as a form of payment but have the flexibility to set their own prices. If this happens, there is no limit on how much they can charge you for a walker or other DME.
Note that there are also DME suppliers that are not Medicare-approved, and if you purchase your walker from them, Medicare will not cover any portion of the cost.
What Are the Different Types of Walkers Available?
There are different types of walkers to consider depending on your needs. Here are a few of the most common:
Walker: A traditional walker has four legs and must be picked up and moved with each step you take. Standard walkers are best if you are only traveling short distances, or balance and stability are your main reasons for needing mobility assistance. People who fall forward find this type of walker most useful.
Walkers have a light weight, adjustable frame for comfort and safety. Most are collapsible and can fold up for easy storage and transport.
Hand grips can be made of plastic, foam or other materials (like gel), and come in different sizes for the most comfort.
Rubber tips on the bottom of the legs keep the walker from slipping or moving while you put your weight on it.
Two-Wheeled Walker: These are similar to a traditional walker, except they have two wheels on the front legs. This allows you to put your weight on the walker while moving, with the rubber tips on the back legs preventing the walker from rolling.
Rollator: A rollator, or "wheeled walker," has wheels on the bottom of the legs and can be rolled as you walk and are typically recommended if you need minimal support while walking. They may also be more helpful for those who do not have arm or upper body strength to lift and use a traditional walker.
Typically, they also have a seat so you can take a break if you need, and hand breaks for additional safety.
When choosing a rollator, pay attention to the adjustable handlebars that allow you to fit your height and arm requirements.
Also consider the weight capacity - most are designed to support up to 250 lbs, but others can support up to 500 lbs.
Some rollators collapse to save storage space, and others do not, so consider your needs when deciding on one.
You can even get a basket to attach to the front or sides to help you carry groceries or other items.
Rollators also have different wheels for you to choose from. Some have larger wheels with more grip to allow you to move safer indoors. Others have harder and more durable wheels for walking around outside.
Hemi Walker: These walkers allow you to lean on just one side for support. Often these are best for people with little or no use of one arm or hand, such as after a stroke. They are larger and considered more stable than a cane, though are half the size of a traditional walker.
The walker you choose must be justified by your medical condition, as outlined by your doctor. Medicare will not pay for a walker that cannot be justified, or will only cover a standard walker. The information qualifying you for more than a standard walker must be outlined in the order/prescription from your doctor.
Will My Medicare Advantage or Medicare Supplement Plan Cover a Walker?
If you have a Medicare Advantage (MA) plan, it must cover the same things Original Medicare does. The difference is that the costs are dependent on the plan you choose. To learn if your MA plan covers DME, you should call your plan to find out what is and is not covered, and how much you will have to pay. You may have to pay a copay or percentage of the final cost.
Medicare supplement plans may also help pay some or even all of the cost for your walker, though you may still have to acquire the walker from a Medicare contracted supplier. Most Med Supp plans pay for at least 50% of the cost of a walker, though some will pay 100% of the cost. However, you may have a deductible that must be met first. Contact your plan to understand your coverage and costs.
Does Medicare Cover Other Walking Aids?
As long as the walking aid is considered medically necessary, prescribed by a Medicare-enrolled doctor, and purchased from a Medicare-approved supplier, it would be considered durable medical equipment and covered under Part B coverage. Medicare would still pay 80% if your deductible has been met, leaving the remaining 20% to you.
Other walking aids Medicare will cover include:
Canes
Crutches
Powered/electric wheelchairs
In some cases, Medicare will only pay for one walking aid. If you are in need of two, such as a walker and a wheelchair, talk with your doctor and/or call Medicare to understand your coverage for both DME.
Find a Medicare Plan in your area
It's FREE with no obligation
Speak with a Licensed Insurance Agent
M-F 9:00am-9:00pm | Sat 9:00am-3:00pm EST