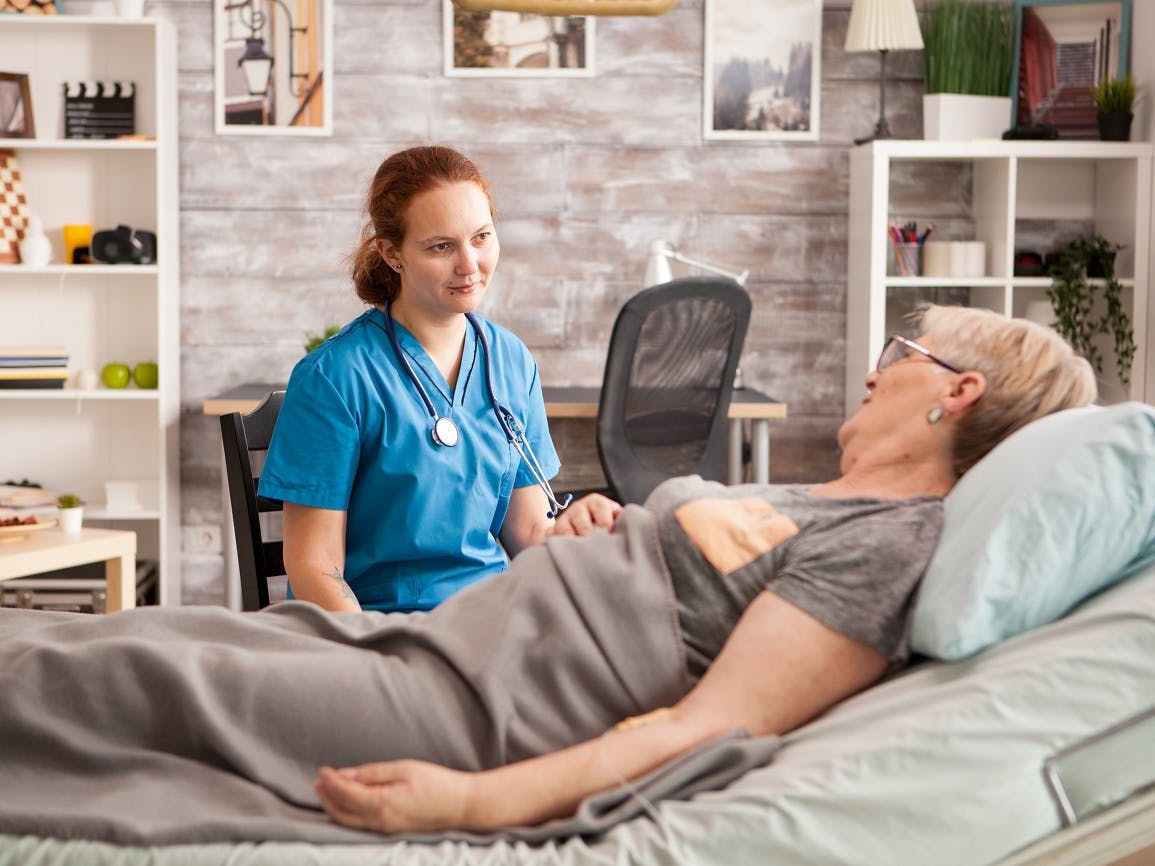 Your doctor may recommend a hospital bed to help treat a variety of conditions. If so, Medicare will likely cover it.
If you have severe pain, trouble breathing, swelling in your legs and feet, or a similar condition, your doctor may order a hospital bed for you to use at home. There are several different types of hospital beds with different features to help you get in and out of bed easier and sleep better.
Your doctor will order the hospital bed that best fits your condition and needs.
Hospital beds can be expensive, but luckily Medicare covers them if they are considered medically necessary and other conditions are met.
Does Medicare cover hospital beds?
Medicare Part B (medical insurance) covers hospital beds when prescribed by your doctor for use in your home. Hospital beds are considered durable medical equipment (DME), which falls under your Part B benefits. However, in order to be covered, the hospital bed may need to meet certain conditions like:
·       You have a documented medical condition that requires a home hospital bed
·       You're under the care of a doctor for your condition and are seen at least once every six months
·       Your doctor must order the bed for home use and include information about your condition and why a hospital bed will help you
Medicare's coverage will allow you to either rent or buy a bed, though this depends on the type of bed and your doctor's order. There are several different types of hospital beds that may be covered, including:
·       Manual hospital beds
·       Adjustable beds
·       Semi-electric hospital beds with adjustable head and feet
·       Beds with side rails
·       Extra-wide bariatric beds
·       Air-fluidized beds
Part B would also cover much of the cost of a medically necessary mattress. Additional hospital bed features may also be covered. However, Medicare will not cover items classified as "convenience features." The program also does not cover fully electric beds.
Medicare Advantage plans (Part C) must offer at least the same benefits as Original Medicare, including coverage for hospital beds as long as they are deemed medically necessary.
When would a hospital bed be medically necessary?
Hospital beds used at home have features that make getting in and out of bed, as well as sleeping, easier or safer. They can also help caregivers who must help a loved one in or out of bed or reposition them to alleviate pressure points. Features can include side rails, gel cushioning, or the motorized ability to raise or lower your head or feet.
Your doctor may order a hospital bed for you to use at home if you:
·       Need regular repositioning to relieve pain or promote body alignment
·       Have a heart condition that requires you to keep your head, heart, or limbs elevated
·       Are at a high risk of falling
·       Need to improve respiratory function while sleeping, such as if you have chronic obstructive pulmonary disease (COPD)
·       Have a condition that requires you to be repositioned while sleeping
·       Have arthritis, osteoporosis, or another chronic pain condition, including pain from some surgeries
If you think you would benefit from having a home hospital bed, talk to your doctor.
Hospital bed costs
Once Medicare beneficiaries pay the Part B deductible ($226 in 2023), their out-of-pocket costs would be 20% of the Medicare-approved amount. Medicare would pay the remaining 80%.
If you have a Medicare Advantage plan, you may owe less for the hospital bed, or the plan may cover the full cost. Check with your plan provider to learn more.
If you have a Medigap plan (Medicare Supplement Insurance), it may cover the 20% coinsurance for DME, leaving you owing nothing.
Hospital bed costs vary depending on the DME company you use, whether you're renting or purchasing the bed, and the type of bed your provider ordered. Adding additional features, such as bed risers or wheels, can increase the cost. On average, hospital beds range from around $500 to several thousand dollars.
Medicare coverage for durable medical equipment
Durable medical equipment is covered by Medicare when it's been prescribed by your provider who has deemed it medically necessary for use in your home. In order to be covered, the DME must be durable and able to withstand repeated use, used for a medical reason, and have an expected lifetime of at least three years. It's also not usually useful to someone who isn't sick or injured.
Note that DME is only covered by Medicare if your doctor and the DME supplier are enrolled in Medicare and accept assignment. This means they agree to provide services at the Medicare-approved rate, which is typically significantly lower than the rates charged to non-Medicare patients.
·       Suppliers who do not accept assignment can charge any price for the equipment, and you'll be required to pay the entire bill at the time of purchase. In some cases, Medicare may reimburse you later, but you'll still owe more than if the supplier did accept assignment
·       Suppliers who are not enrolled are not covered by Medicare, so you'll owe 100% of the cost out-of-pocket
Before renting or buying any DME, ask the supplier if they participate in Medicare and accept assignment. If not, you may want to find a different supplier.
Related: What Equipment Does Medicare Pay For?
How to get durable medical equipment
First, you'll want to talk to your provider about whether DME is right for you, including if it's medically necessary. Then, make sure you find a supplier who is enrolled in Medicare and accepts assignment. Check out Medicare.gov/supplierdirectory to find a DME supplier near you.
Once you find a supplier, your doctor will send in the order for your equipment, the supplier will order it, and you will work with them to pick it up and take it home.
And when it's time to compare your Medicare plan options, give our Find a Plan tool a try. All you need to do is enter your zip code to start reviewing Medicare plans in your area.
Find a Medicare plan that covers hospital beds
It's FREE with no obligation
Speak with a Licensed Insurance Agent
M-F 9:00am-9:00pm | Sat 9:00am-3:00pm EST