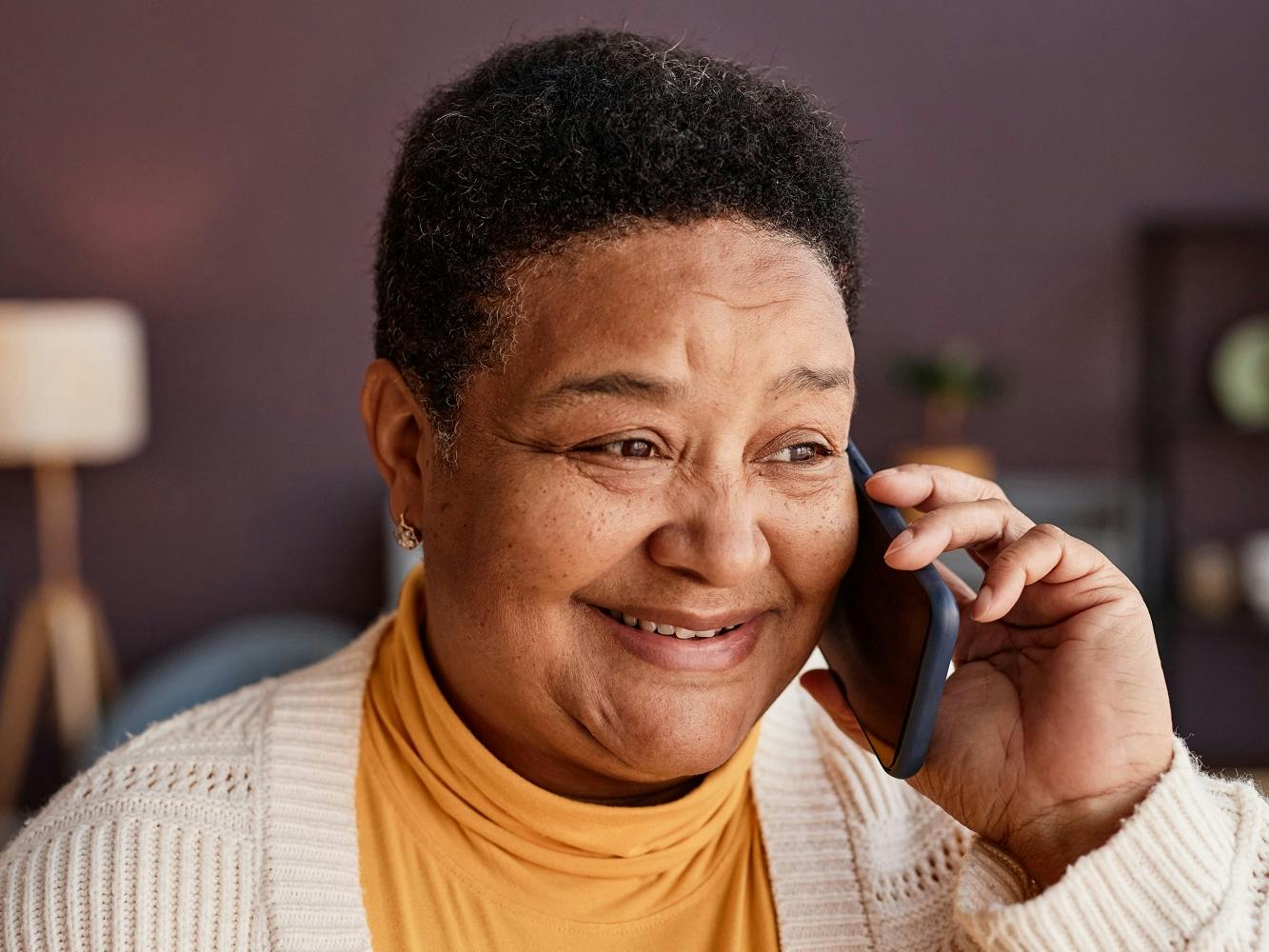 You may be able to save money if you switch cell phone providers. It can seem overwhelming, though. Here's what to keep in mind.
As you get older, it's natural to think about ways to make your money stretch further. One way to do it might be to switch your cell phone plan.
Even if you're happy with your current plan, you may want to research other options. It could help your wallet. A recent Consumer Reports survey found that more than half of people who switched providers in the previous year saw a drop in their monthly bill, as well as better coverage and more data.
A switch could mean a free new phone as well. Many wireless carriers offer one to help sweeten the deal.
But if you've always been with the same carrier, switching can seem intimidating. You might worry about whether you'll be able to get a signal in all the places you like to go. Or whether you'll have to change your phone number, or if the new plan will have enough data.
You might also be confused by all these new phone carriers. You're familiar with AT&T and Verizon, but Mint? Cricket? Straight Talk? The unknown can make a person stay with their old carrier, a decision that can cost you money.
Here are some things to keep in mind to help you find your perfect cellphone plan.
The new cell phone carriers
You've probably seen the Consumer Cellular commercials starring Ted Danson where he compares the company's coverage map to a big-name carrier's and points out the obvious: They're identical.
The reason they're identical is that the new carriers – we'll call them the "little guys" – pay a lump sum to one of the "big guys" for the right to use its network. The little guy then bundles and sells this access to its own customers for less than the big guy charges. As long as you're happy with the coverage of the big guy, you'll be happy with the coverage of the little guy piggybacking on that network.
The downside of using one of the little guys is that they may not have the same level of customer service as the big guys do. And at times of peak demand, the big guys may prioritize their own customers, meaning you might experience slower speed.
Find out how much money you could save with store brands.
How to shop for a cell phone plan
The cell phone plan that works for your neighbor may not be the right one for you. Here are some things to consider.
Figure out how much data you need
Data refers to all of the internet activity you do with your phone, like accessing websites and sending email. When you're at home, or in a place where you can connect to a wi-fi network, you're not using your phone's data allowance. You start using data when you're not connected to a wi-fi network.
Think of data like cars on a toll road. The more data you have, the higher the cost of your phone plan. Unlimited data will cost the most.
If you're very active and travel a lot, you may want to pay additional money for an unlimited plan. This way, you can easily share photos and video chat with your family wherever you are, without worrying about going over your data limit.
But if you're a homebody, then a more modest data plan—like Ting's Flex plan, which is just $10 a month for a plan with no data, or $25 a month for a plan with 5 GB—may be a smarter bet. These plans often offer unlimited nationwide talk and text, as well as perks like free mobile hotspots.
Not sure how much data you typically use each month? Look at your phone bills for the last few months, or call your current provider and ask.
Decide if you want 5G
The term "5G" stands for "fifth generation" and refers to the speed your data can travel – or, to use the car analogy, it's the speed limit on the toll road. 5G usually means faster speeds, more responsiveness, and fewer issues when you're in a crowded area. It also generally means better video connections, which is important when you're talking to your kids or grandkids.
If you're on the go a lot, you may find it worthwhile to spring for 5G. But if you're generally happy with your current phone speeds and video-call quality, you might find some savings sticking with 4G, if that's an option with the new carrier.
Consider a prepaid plan
These tend to be less expensive since you pay in advance for the month of cell phone services. But you'll have to closely monitor your data, since most plans cap it at a couple of gigabytes. (If you go over, you'll have to wait for the next billing cycle for more data, or some plans just dramatically slow down your speed).
Double-check coverage
Use the ZIP code maps found on the carrier's website to make sure they have coverage in your area. See if your neighbors use that carrier to make sure there isn't a dead zone on your block.
Also make sure that you can cancel service and return the phone you purchased through the plan if you discover a coverage issue. Sometimes the return period is as little as 14 days, which may not be enough time to make sure the phone works well for you.
Check out the senior specials
Don't want to switch providers? Call your company and ask them if you're eligible for a cheaper, age-based rate. Many companies offer 55+ plans that are very reasonable. For example, T Mobile's Essentials 55 offers two phone lines that includes unlimited talk, text, and high-speed data for $55 a month, while AT&T offers two lines with unlimited talk, text, and data for $40 a month.
Learn about how to cut the cable cord.
How to change your cell phone plan
If you decide you want to make the move, here's how to do it relatively smoothly.
Review your current contract
If you're ending the contract early, check for early termination fees. If you find that you'll owe money, check to see if the new company will cover it or give you credit for it on your first phone bill. Many carriers will.
Sign up with your new company
Don't cancel your old service before you've started the new one. The good news is that unless you're moving to a new geographic area, you can keep your existing phone number.
Contact your old company
Once you request service from a new carrier, your old company can't refuse to transfer your number, even if you owe them money. Generally, this can be done within one business day, usually within a few hours. But there may be a short period of time when you are without cell service.
What about your phone?
Sometimes a new carrier will offer incentives to sweeten the deal—like a new, discounted phone. You can pay for it up front and keep your monthly bills the same—a good choice if the model you want isn't too expensive. But you can also pay for it over time, usually in 24 or 36 monthly installments. After two years, that fee is gone from your bill (unless you decide to trade it in for a new phone).
Just keep in mind that if you buy the phone from your cell phone carrier, you'll have to stay with them until the phone is paid off. If you leave early, you'll have to pay the balance right away – and, if you got the new phone at a discount because of a promotion, you may be required to pay its full price instead.
Once the phone is paid off, however, your wireless carrier legally has to unlock your phone at no charge so that you can switch to another network.
Could a different Medicare plan save you money?
When you're shopping around for cell phone savings, it might be time to compare the costs and coverage of different Medicare plans. By using a network of providers, many Medicare Advantage plans can save you money. They might also offer coverage for fitness classes and drug store discounts. Check out plans in your area with our easy-to-use Find a Plan tool.
Additional resources
Find a Medicare Plan in your area
It's FREE with no obligation
Speak with a Licensed Insurance Agent
M-F 8:00am-10:00pm | Sat 9:00am-6:00pm EST