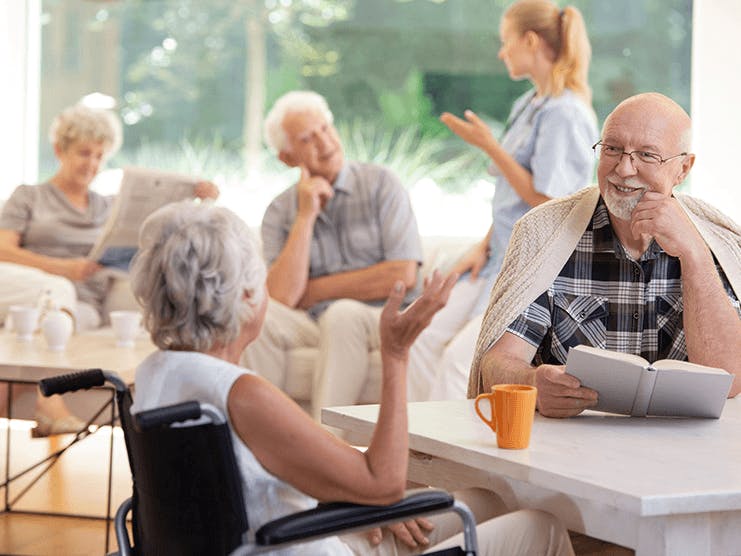 Learn the pros and cons of living in a continuing care retirement community – as well as how much it costs.
While the goal may be to always live at home and be able to care for yourself, sometimes this isn't an option depending on your health conditions, medical needs, and other factors.
What many people may not be aware of is that there are options to help you transition to senior living, accommodating a variety of wants and needs. One of these options is a continuing care retirement community (CCRC), which cares for residents of all ages throughout their lifetime.
With more than 2,000 CCRCs in the U.S., there are many options to consider. It helps to understand what a CCRC is, pros and cons of living in one, how much they cost, and other questions to take into consideration.
Accommodations from a continuing care retirement community vary depending on your needs, from independent living to nursing home care.
What is a continuing care retirement community?
Also called a life care community, a life plan community, a lifetime community, continuing care community or facility, or active adult retirement homes, continuing care retirement communities allow residents to move between types of care needed depending on their health or ability to be independent.
These communities incorporate accommodations for different needs including:
Independent living: Designed specifically for older residents to feel and function like a private residence with the opportunity to make your own decisions and pursue activities you choose.
Assisted living: Designed for people who need various levels of assistance with medical and personal care. Promote independence, but services may include medication management, assistance using the bathroom, dressing, and grooming, housekeeping, transportation services, and others.
Nursing home care: Provide a wide range of health and personal care services for those who don't need to be in a hospital but can't care for themselves or be cared for at home. Focus more on medical care as well as physical, speech, and occupational therapy.
This means a person would be able to spend the rest of their life in the same setting, even as their needs and the level of care they may need changes. Not only can this help eliminate stress, but it also can provide empowerment and the opportunity for building close relationships with other residents and staff.
CCRC situations can often be personalized for your needs and have a variety of features such as:
Different types of living spaces like houses, townhomes, duplexes, and apartments
Dining areas for communal meals
Activity centers
Gyms
Outdoor recreation, such as swimming pools or tennis courts
Social events, such as outings to theaters, museums, or movies
Your personal, medical, and emotional needs will likely change over time, which is why a CCRC may be a great option.
Pros and Cons of living in a continuing care retirement community
Deciding to move out of your home and change your lifestyle is not easy. It will likely take a lot of thought, planning, and research to ensure you find a place you feel most comfortable and that offers the services and care you want and need. There are both pros and cons to CCRCs that should be weighed prior to deciding.
Pros of CCRCs
While exact features may differ depending on the specific location, general pros of CCRCs include:
Planned senior living activities to keep you busy and occupied
Meals and snacks
Transportation
Lawn care and gardening
Garbage and snow removal
Housekeeping
Laundry services
Health monitoring services
Security
Emergency call monitoring
Some utilities
Perhaps one of the best features is that these communities tailor your level of care and services offered depending on your personal situation, such as age, gender, health conditions, medications, level of independence, and other needs. And, if your needs change over time, you don't have to worry about moving from one type of facility to another as your physical and mental health needs change.
Cons of CCRCs
Just as there are advantages to living at a CCRC, there are also some disadvantages:
If you and your spouse or partner have different medical needs, you may not be able to live in the same unit (though you can be nearby and eat and socialize together)
These facilities are expensive. Some require a large entry fee, monthly maintenance fees, as well as other health care coverage and costs
There could be entrance restrictions, such as minimum age requirements
It's important to do research and gather information about each CCRC you're considering prior to signing any contracts. You may find that some communities may not meet your expectations or align with your needs better than others.
How much do continuing care communities cost?
The cost of a CCRC can range depending on the services you'll need, the type of living you'll require, and the extras you want.
To start, these communities typically require an entry fee, with amounts ranging from $10,0000 to $500,000 or more (even up to $1 million) to reserve your spot. You may be asked to pay a monthly maintenance fee, which can range from a few hundred to a few thousand dollars per month. Healthcare coverage and other costs may also have to come out of your pocket.
When exploring a CCRC, be sure to carefully read the contract between you and the CCRC, which will spell out exactly what fees and costs you'll have and how they may change as your needs change. Be sure to pay particular attention to:
Residency costs (rent)
Fees and fee schedules
Health care coverage and costs
Cost for other additional services provided
Insurance requirements and costs
Conditions and cost for transfer within the CCRC to other levels of care
These high costs make CCRCs seem too expensive to consider; however, thinking about all of the care, services, and assistance you may need throughout your life, you may find those costs add up more quickly than paying to live in a CCRC.
What to consider when exploring continuing care communities
Ultimately, it's important to pay attention to particular offerings you may want or need to make sure you're choosing the right place for you. Before committing to a CCRC, be sure to do your research, ask questions, and pay particular attention to things like:
Staff, including hiring practices (like if a background check is completed), staff-to-resident ratio, and training received
Culture, such as if it's formal or casual, if other residents are social or quieter, and if the general vibe matches your personality
Amenities, such as religious services, gyms, libraries, or other offerings that fit your interests
Safety features
Accreditation
Levels of care offered to ensure any physical or mental health illness or challenge you may face in the future can be cared for appropriately
Location, including how far it is from the nearest hospital, your doctor, and other amenities or services like grocery stores
Housing, including which floor plans and options are available, appliances the residences are equipped with, safety features within the home, outdoor space, and privacy
Food, such as what meals are offered, if special diets are accommodated, etc.
Personal services offered, such as housekeeping, laundry services, transportation, etc.
Questions you may want to ask the staff include:
Are you a for-profit or not-for-profit? What is the financial strength of your community?
What is included in the monthly fee? Maintenance fee?
What other charges would I have to pay for?
How do you help residents maintain freedom and independence?
What type of emergency response systems do you have?
How are residents able to offer input and feedback? What do you do what that feedback?
What is the resident satisfaction level here?
Tell me about the process for transitioning from independent living to assisted living and/or nursing home care.
What are the most popular programs in your community? What amenities do you offer?
Can you give me a copy of your residency agreement to review?
What is the payment schedule?
Be sure to visit a CCRC prior to signing any contracts so you can see firsthand what the community is like. You may be able to talk to staff members or other residents to get a good feel for what it's like to live there.
How to find a continuing care retirement community
If you're interested in learning more and finding a CCRC that's right for you:
You can also search for "retirement communities," "retirement living," or "continuing care retirement community" online and look for one in your preferred area.
Find a Medicare Plan in your area
It's FREE with no obligation
Speak with a Licensed Insurance Agent
M-F 8:00am-10:00pm | Sat 9:00am-6:00pm EST