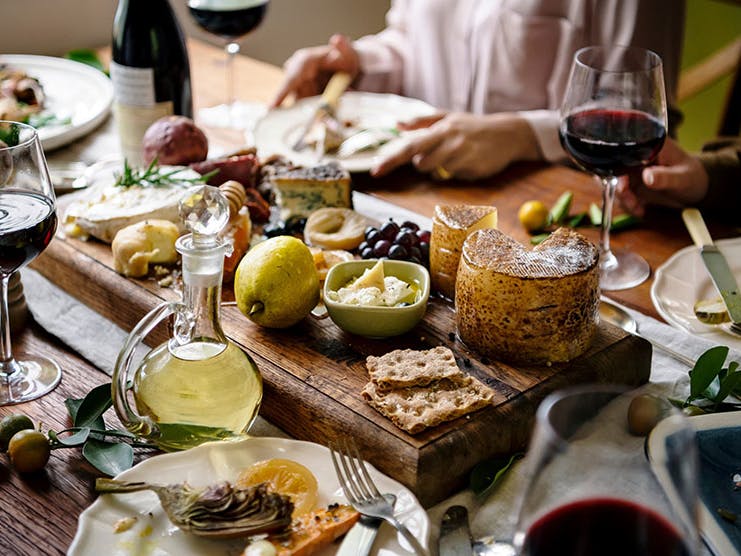 Ah, the good life. Retirement gives you time to explore your surroundings, take up new hobbies, and, if you're a foodie, delve into the world of culinary arts right in your backyard.
But what if your backyard is filled with fast-food restaurants? If you think of food as an adventure more than a basic need, you might want to consider moving to a city with a rip-roaring food scene. Here are three retiree-friendly cities that fit the bill.
Las Vegas, NV
Sin City and its surrounding suburbs are a great place to retire thanks to a warm, dry climate, tax-friendly environment, and wealth of activities.
Housing, food, and utilities are fairly inexpensive when compared with other major cities in the United States. According to New Home Source, you'd need about $40,000 to $50,000 per year to live comfortably in Las Vegas.
And without a state income tax, you'll get to enjoy more of your pension, Social Security, or any other earned income.
The food scene? Almost every celebrity chef in the world has a restaurant in the city, often right on The Strip. There are lots of farmers markets and specialty stores in the city and surrounding area, and it has a thriving coffee culture. The city consistently ranks No. 1 in affordability for WalletHub's annual list of top-ranked foodie cities in the United States.
Need some recommendations?
If you have a hankering for some Italian cuisine, check out Esther's Kitchen. Owned by Las Vegas-native Chef James Trees, the restaurant is known for its beautiful seasonal cuisine and exceptional service. If you're a carnivore and looking for a unique steakhouse, look out for Bazaar Meat, which is located in the SLS Hotel and owned by celebrity chef and do-gooder José Andrés. Feel like tacos? Then look out for Tacos El Gordo, a cafeteria-style restaurant that is a can't-miss food experience in Sin City. (Look for the place with the line out the door!)
Asheville, NC
Tucked away in the Smoky Mountains is the beautiful, artsy city of Asheville, North Carolina. Money.com ranked Asheville as the #7 place in the United States to retire in 2020, thanks to its relatively low cost of living, beautiful natural surroundings, and thriving art scene. Sitting 2,000 feet above sea level, Asheville doesn't get too hot in the summer or too cold in the winter, but you still get to experience all four seasons.
North Carolina is an average-level tax state, with no estate or inheritance taxes. The state also does not tax Social Security or 401(k), IRA, or pension distributions. It also offers property tax breaks for residents 65 years and older who meet certain income requirements.
In both 2020 and 2022, Asheville took top-spot on Yelp's annual survey of the best U.S. cities for foodies. Known for its innovative culinary creations, James Beard Award-winning restaurants, thriving craft breweries, and many food trucks, the North Carolina city seems to have it all when it comes to food. (Get an overview of the culinary scene on the Asheville Food Tour, top rated on TripAdvisor.)
Need some recommendations?
If you're looking for some local Appalachian cuisine, check out the restaurant Rhubard, which is known for its unique seasonal menu and owned by Chef John Fleer (who is also known as the godfather of foothills cuisine). For a funky delicious dining experience, check out Cúrate, a Spanish tapas restaurant that is located in a former 1927 bus depot. And if you're looking for some good ol' Southern food, Tupelo Honey Southern Kitchen & Bar will probably hit the spot, thanks to its creative take on classic comfort dishes. (Don't forget to order the fried green tomatoes.)
Tampa, FL
Florida is known as a haven for retirees, and Tampa consistently ranks among the top cities in the state for retirees. Many people enjoy the amenities of a metropolitan area while still having direct access to those soft white sand beaches.
According to U.S. News and World Report, housing in Tampa costs around the national average. But while you may not save on housing, Florida is one of the most tax-friendly states for people post-retirement. There is no state income tax, which means no tax on Social Security benefits, pensions, IRAs, 401(k)s, and other retirement income. There's also no inheritance or estate tax.
So, what makes Tampa a foodie paradise? Tampa landed in the top ten in WalletHub's 2021 Best Food Cities in America. Beyond Tampa Bay's iconic dish of deviled crab, it is also known for its Cuban sandwiches, Southern-style barbecue, empanadas, and Italian cuisine.
Need some recommendations?
If you're looking for native Floridian fare, look no further than Ulele, a rustic-chic restaurant with a barbacoa grill that serves house-brewed beers. For Italian food, you can't go wrong with La Terrazza Restaurant, which is known for its delicious northern Italian fare and outstanding service. For a lively gastropub experience known for its tasty eats, check out Datz, which is unassuming on the outside but serves up delicious American comfort food on the inside.
Medicare on the move
Whether you hit the food scene in your own hometown or decide to move to a city known for its culinary prowess, you'll want great health coverage wherever you go. An Original Medicare plan will cover you nationwide. Alternatively, a local Advantage Plan will be more geographically restricted, but it may give you more benefits.
ClearMatch can help you wade through your Medicare options — wherever you find yourself during retirement.
Find a Medicare Plan in your area
It's FREE with no obligation
Speak with a Licensed Insurance Agent
M-F 9:00am-9:00pm | Sat 9:00am-3:00pm EST