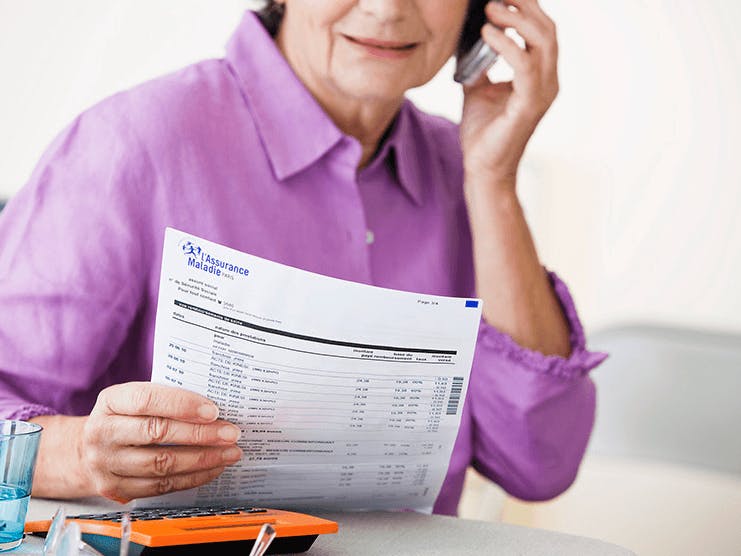 If you have questions about your Medicare coverage, you can call 1-800-MEDICARE (1-800-633-4227) or TTY 1-877-486-2048. Both toll-free numbers are staffed and available 24 hours a day, 7 days a week.
Although someone is available at 1-800-MEDICARE 24/7, you may discover it's faster and easier to find answers to your Medicare questions online. Medicare.gov has a huge library of online resources. Your MyMedicare.gov account is also a great option. If you don't already have one, creating an account is simple. Just click here to get started.
If you have questions specific to your Medicare plan, please call your plan provider instead. This includes Medicare Advantage plans (aka Medicare Part C), Medicare Part D prescription drug plans, and Medicare Supplement plans (aka Medigap).
Get Your Information Ready
Before you call Medicare, you'll need your Medicare number, so make sure you have your red, white, and blue Medicare card ready. If you don't have a card, you can request or print a new one through your MyMedicare.gov account.
Although you'll speak to a live person, you will first hear the automated system ask you for your Medicare number. Just enter the information on your card. If there are any letters in your Medicare number, press the * key. The system will ask you for that information next.
If you are calling to file a claim or an appeal, or to request information about a claim or appeal you've already filed, be sure to have your most recent Medicare Summary Notice (MSN) available.
When Should You Call 1-800-MEDICARE?
There are a number of reasons you may wish to speak to a Medicare representative. You may wish to call Medicare to:
Ask about filing an appeal or request the necessary forms to do so
Determine whether a service, test, or other item is covered
File a complaint about your Medicare drug or health plan
Give Medicare permission to speak to someone else on your behalf
Learn more about Medicare Advantage and prescription drug plans in your area
Learn more about Medicare Supplement Insurance or sign up for a Medigap plan
Request a list of Medicare-approved healthcare providers or durable medical equipment (DME) suppliers
Request a print copy of any Medicare publication
Review quality ratings for Medicare-approved providers, including hospitals, skilled nursing facilities (SNFs), home health agencies, and more
Sign up for a Medicare Part C and/or Medicare Part D plan
Most of the above items can also be completed by visiting the Medicare website.
Can Someone Else Call Medicare For You?
Yes, if you have authorized them to speak with Medicare on your behalf. You must perform this authorization first, as federal law prohibits anyone from Medicare sharing your personal health information with anyone but you.
You may authorize Medicare to speak to someone on your behalf either over the phone or by completing the Authorization to Disclose Personal Health Information form (CMS-10106). You may complete and submit this form electronically by clicking the link. You may also download and complete the form, print it, and then mail it to:
Medicare BCC, Written Authorization Dept., PO Box 1270, Lawrence, KS 66044
If you submit the form by mail, it usually takes a few weeks for Medicare to receive and process your authorization request.
The 1-800-MEDICARE Menu Options
It may be easier to prepare for your Medicare call if you know what your menu options are.
All of the following items are for if you need assistance with Original Medicare (Parts A and B). If you have questions about an Advantage or prescription drug  plan, such as a bill from your healthcare provider, you need to call the insurance company that provides your plan.
Claim status: Press "1" to check the status of a claim or ask about time guidelines.
Coverage and benefits: Press "2" for information about your benefits and coverage under Medicare Part A and Medicare Part B. You can also ask about your options to enroll in either a Part C or Part D plan (Medicare Advantage and prescription drug coverage respectively).
Premiums: Press "3" if you need assistance with your Medicare premiums. Most Medicare beneficiaries do not have to pay a premium for Medicare Part A. However, if you or your spouse do not have the required work history, the premium for Part A is $506 per month in 2023. The standard Medicare Part B premium is $164.90 per month in 2023.
Preventive services: Press "4" to learn more about the preventive healthcare services and screenings covered by Medicare Part B. This includes the Annual Wellness Exam, glaucoma tests, mammograms, prostate exams, and much more.
Deductible: Press "5" for information about Medicare deductibles. The Medicare Part A deductible is $1,600 per benefit period in 2023. You may have multiple benefit periods in a single year. The Medicare Part B deductible is $226 in 2023. This is the more traditional annual deductible. Once you meet it, Medicare covers 80 percent of most covered medical services for the rest of the year.
Miscellaneous: Press "6" for assistance with topic not listed above.
You may also press "0" to be transferred directly to a Medicare agent.
Signing Up for Medicare Over the Phone
You can sign up for Medicare over the phone. However, to do so, you do not call 1-800-MEDICARE. Instead, you call Social Security at 1-800-772-1213 or TTY 1-800-325-0778.
In addition to enrolling in Medicare, you may also call Social Security to:
Determine whether you're eligible for Medicare
Change your contact information, such as phone and address
Request a Medicare card replacement
Apply for Extra Help, the Medicare program that helps cover prescription drug costs
Appeal an Income-Related Monthly Adjustment Amount (IRMAA) decision
You may also perform all of the above tasks on the Social Security website. It's faster, easier, and more convenient, particularly since you can only reach the Social Security Administration (SSA) Monday through Friday from 8AM to 7PM.
Other Ways to Contact Medicare
If you prefer to conduct your business in writing, you may mail questions, completed forms, and other documents to Medicare at:
Medicare Contact Center Operations, PO Box 1270, Lawrence, KS 66044
You may also send a fax toll-free to 1-844-530-3676.
Medicare beneficiaries who have accessibility issues may request information in Braille, large print, data or audio files, relay services, and TTY by calling toll-free at 1-877-486-2048. You may also email altformatrequest@cms.hhs.gov. This email address is only for requesting accessible format assistance. For general information or questions, you must either call Medicare or visit Medicare.gov.
Find a Medicare Plan in your area
It's FREE with no obligation
Speak with a Licensed Insurance Agent
M-F 9:00am-9:00pm | Sat 9:00am-3:00pm EST