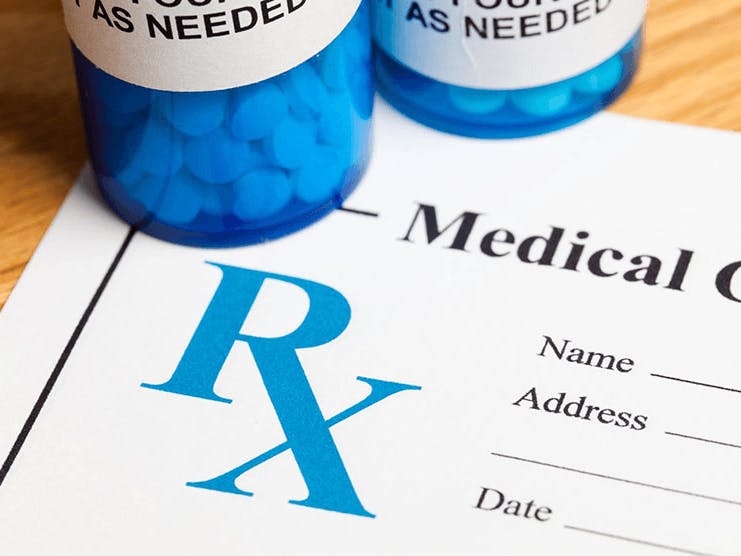 Medicare prescription drug coverage is available through Part D.
Most prescription drugs and prescription drug services are covered under Part D, which provides prescription drug coverage. Or, you can choose to get your prescription drug coverage through a Part C (Medicare Advantage) plan that includes Part D coverage. Additionally, Original Medicare Parts A (hospital insurance) and B (medical insurance) may cover some prescription drug services depending on your circumstance.
In order to get Medicare drug coverage, you have to join a Medicare-approved plan that offers drug coverage. Medicare drug coverage is optional and is offered to everyone with Medicare. However, if you do not get it when you're first eligible and do not have other creditable prescription drug coverage, you'll likely pay a late enrollment penalty if you join a plan later.
Read on to learn more about which parts of Medicare cover prescription drugs, as well as what Part D coverage is, how much it costs, and how to get it.
Which part of Medicare covers prescriptions?
There are two ways to get Part D prescription drug coverage:
1. Medicare Drug Plans
Medicare drug plans, or Part D plans, add prescription drug coverage to Original Medicare (as well as some Medicare Cost Plans, Private Fee-for-Service plans, and Medical Savings Account plans). They are offered by private insurance companies and purchased separate from Original Medicare, but provide the prescription drug coverage and services you need.
In order to enroll in a Part D plan, you must have Medicare Part A and/or Part B.
2. Medicare Advantage Plans
Part C, or Medicare Advantage (MA) plans, are plans offered by private insurance companies that combine Part A, Part B and Part D. These plans offer everything Original Medicare does, as well as additional coverage for things like vision, dental, hearing aids, fitness and wellness programs, and more.
MA plans must cover the drugs that are covered under Part A and Part B (see below). They typically will also cover most other prescription drugs you may need.
Keep in mind that not all MA plans offer Part D prescription drug coverage, so do your research when determining which plan is right for you. In order to join a Medicare Advantage plan, you must have Medicare Part A and Part B.
Does Original Medicare cover any prescription services?
While most of your prescription drug coverage will come from a Part C or Part D plan, Original Medicare Part B does cover a limited number of outpatient prescription drugs (typically under very limited conditions).
In most cases, this coverage is for drugs you wouldn't give to yourself, such as those you receive at the doctor's office or hospital outpatient setting. For example:
● Drugs used with an item of durable medical equipment
● Some antigens
● Injectable osteoporosis drugs
● Erythropoiesis-stimulating agents (for those with End-Stage Renal Disease)
● Blood clotting factors
● Injectable or infused drugs
● Oral End-Stage Renal Disease drugs
● Parenteral and enteral nutrition (IV and tube feeding)
● Intravenous Immune Globulin (IVIG) provided in home
● Shots (flu, pneumococcal, Hepatitis B, and others)
● Transplant/immunosuppressive drugs
● Oral cancer drugs
● Oral anti-nausea drugs
● Self-administered drugs in hospital outpatient settings
In most cases, you'd pay 20% of the Medicare-approved amount for covered Part B prescriptions that you get in a doctor's office or pharmacy, and the Part B deductible applies. A 20% copay would apply to a hospital outpatient setting.
Part A may also cover drugs you need during a Medicare-covered stay in a hospital or skilled nursing facility. If you get hospice care, Part A will also cover drugs you get for symptom control or pain relief.
Medicare Part D plans
Part D plans must cover a large range of prescriptions that people who have Medicare take. They are offered by private insurance companies who decide how much to charge and which prescriptions are covered. In order to be covered by Part D, a drug must be:
● Available only by prescription
● Approved by the Food and Drug Administration (FDA)
● Used and sold in the U.S.
● Used for a medically accepted indication (as defined under the Social Security Act)
● Not covered under Part A or Part B
● Included on the plan's Part D drug list or coverage approved through the exceptions or appeals process
Additionally, every plan must also cover medications under the categories of:
● Antipsychotics
● HIV and AIDS
● Antidepressants
● Anticonvulsants
● Anticancer
● Immunosuppressants
When determining which plan is right for you, three of the items to review are: formulary, generic drugs, and drug tiers.
Part D drug formulary
Both Part D drug plans and Medicare Advantage plans that have prescription drug coverage have a list of what drugs are covered by the plan, outlined in a formulary. The formulary includes both brand-name and generic prescription drugs that are covered by the plan. In most cases, there are at least two drugs in the most commonly prescribed categories and classes to help ensure you get the drugs you need.
Sometimes, you may not find your specific drug within the formulary. However, there may be a similar drug that's available, so talk to your doctor or prescriber about which options are best for you. In some cases, you can ask for an exception.
A plan is able to change the formulary throughout the year as long as it follows specific Medicare guidelines for doing so. Be sure to read anything your plan sends you to make sure you don't have any changes to the coverage of drugs you may be taking.
Generic drugs
Generic drugs are the same as brand-name drugs in:
● Dosage form
● Safety
● Strength
● Route of administration
● Quality
● Performance characteristics
● Intended use
When reviewing a drug plan and the formulary, be sure to review the generic drugs that are covered. In some cases, there may be a generic drug that's the same as the brand-name drug you take, which can help you save costs. Always be sure to talk to your doctor or prescriber before switching to a different drug.
Tiers
Prescription drugs are divided into tiers in drug plan formularies. Typically, the tiers fall like this:
● Tier 1 - generic drugs (lowest copayment)
● Tier 2 - preferred, brand-name prescription drugs (medium copayment)
● Tier 3 - non-preferred, brand-name prescription drugs (higher copayment)
● Tier 4 - specialty drugs (highest copayment)
In many cases, you can work with your doctor or prescriber to get a drug in a lower tier to help keep your prescription costs down.
How to choose a Part D plan
When deciding which plan is right for you, there are a few things to consider and ask yourself.
Do you currently take any specific prescription drugs? If so, you'll want to review the plan's formulary to make sure your prescription drugs are included and covered. (If the drug is not on the formulary, you'd have to pay the full cost out-of-pocket if it's not approved as an exception.) Then, compare the costs of your prescriptions.
What are your current prescription drug costs? If you take several prescriptions, or they are expensive, you'll want to look at drug plans offering coverage in the coverage gap. Then, check with those plans to make sure they cover your drugs in the gap. This will help protect you from large out-of-pocket costs.
Do you want to keep out-of-pocket expenses low? Part D plans can charge differently from plan to plan. Compare premiums, deductibles, copays/coinsurance, and coverage in the coverage gap. If you want to keep costs low, look for plans with no or a low deductible. Also compare monthly premiums.
Do you want to receive all of your coverage from one plan? If so, you may want to consider a Medicare Advantage plan with prescription drug coverage. This ensures you get the hospital and medical coverage you need, as well as extra benefits, lower costs, and prescription drug coverage in the same plan. However, there are some downsides to choosing a MA plan, so be sure to do your research and compare options.
Drugs not covered by Medicare
There are some drugs that Medicare drug plans don't cover under Part D. Other than drugs that would be covered under Part A or Part B, these drugs are not included in Part D coverage:
Drugs for weight loss or gain
Drugs used for treatment of sexual or erectile disfunction
Drugs used for symptomatic relief of cough and colds
Non-prescription drugs
Drugs used for cosmetic purposes or hair growth
Drugs used to promote fertility
Prescription vitamins and minerals, except prenatal vitamins and fluoride preparation products
While some drug plans may offer these as part of supplemental benefits, any amount spent for these drugs isn't counted toward your out-of-pocket limit.
Medicare Part D costs
Deductible
The Part D deductible is the amount you must pay each year for your prescriptions before your Part D plan pays its share. Because you can get Part D coverage through different private insurance companies, deductibles can vary between plans. Some plans may not have a deductible.
However, no Medicare drug plan can have a deductible more than $505 (in 2023).
For some plans, the Part D deductible is only applicable to certain tiers or prescription drugs. For example, only drugs in Tier 3 and above have a deductible, while drugs in Tiers 1 and 2 do not.
Your Part D deductible can also change each year, or even be eliminated, so be sure to review your Annual Notice of Change (ANOC) annually to understand any changes there may be.
Premiums
In 2023, the national average monthly premium is about $32.74. However, the specific costs can vary by plan.
Note that if you have a higher income based on your IRS tax return, you may have to pay an income-related monthly adjustment amount in addition to your plan premium.
Income-Related Monthly Adjustment Amount (IRMAA) 2023
| Filing Individual | Filing Jointly | Filing Separate | Part B Premium | Part D Surcharge |
| --- | --- | --- | --- | --- |
| $97,000 or less | $194,000 or less | $97,000 or less | $164.90 | Your plan premium |
| $97,000+ to $123,000 | $194,000+ to $246,000 | Not Applicable | $230.80 | $12.20 |
| $123,000+ to $153,000 | $246,000+ to $306,000 | Not Applicable | $329.70 | $31.50 |
| $153,000+ to $183,000 | $306,000+ to $366,000 | Not Applicable | $428.60 | $50.70 |
| $183,000+ to $500,000 | $366,000+ to $750,000 | $366,000+ to $403,000 | $527.50 | $70.00 |
| $500,000 and above | $750,000 and above | $403,000 and above | $560.50 | $76.40 |
Copays
Copays and/or coinsurance for prescription drugs can vary by plan, especially depending on what Tier your drug falls into.
How to apply for Medicare Part D
Once you decide how you want to receive your Part D coverage, you must choose a plan. Whether you choose to enroll in a Part D plan or Medicare Advantage plan, you can use our Find a Plan tool to review options in your area. Just enter your zip code to get started.
You may also review plans on the Medicare.gov site or through the insurance provider:
● Enroll on the Medicare Plan Finder
● Enroll on the plan's website
● Complete a paper enrollment form (provided by the plan)
● Call 1-800-MEDICARE (1-800-633-4227)
● Call the plan directly
When you enroll, you'll be asked to provide your Medicare Number and the date your Part A and/or Part B coverage started. You'll find this information on your red, white and blue Medicare card.
Find a Medicare Plan in your area
It's FREE with no obligation
Speak with a Licensed Insurance Agent
M-F 9:00am-9:00pm | Sat 9:00am-3:00pm EST