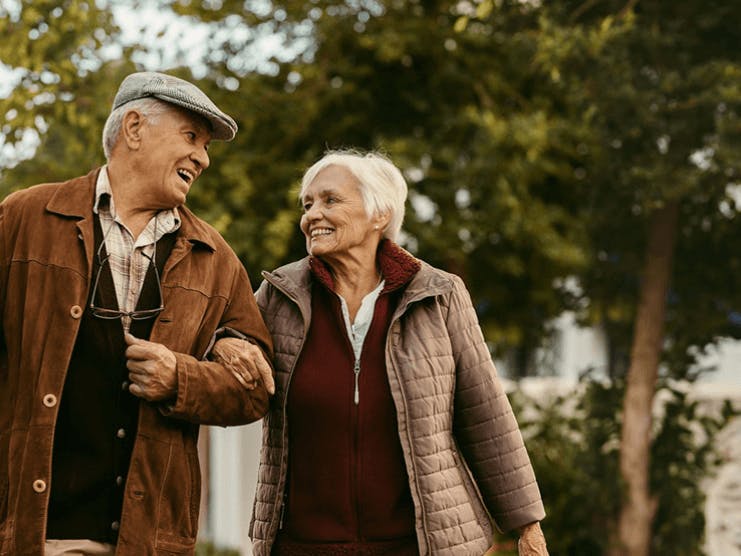 The most common type of Medicare Advantage plan is an HMO, which uses provider networks to help lower healthcare costs.
When it comes to choosing a Medicare Advantage plan, you have a lot of options. One of the first things you have to consider is the type of plan. The most common type of Advantage Plan is an HMO, but is that the right choice for you?
Medicare Advantage plans are offered by private insurance companies and are similar to the insurance plans provided by an employer. Advantage plans offer all the same benefits as Original Medicare Parts A and B, but can often include extra coverage not provided by Original Medicare. Knowing the difference between Medicare Advantage plans can help you choose the best plan for your needs.
The 4 most common types of Medicare Advantage plans
Commonly known as Medicare Advantage, Medicare Part C provides all the coverage you receive with Original Medicare (Parts A and B) in one streamlined, convenient healthcare plan. In addition, around 90% of Advantage plans provide extra benefits, like prescription drug coverage and routine dental care. Listed below are the most common types of MA plans.
Health Maintenance Organization (HMO) plans
Preferred Provider Organization (PPO) plans
Private Fee-for-Service (PFFS) plans
Special Needs Plans (SNPs)
Before you choose a plan, however, it is important to know how provider networks work in conjunction with the Medicare Advantage plan you'll join.
How do provider networks work?
Understanding what provider networks are is key to knowing the differences between the types of Medicare Advantage plans. A provider network is a list of healthcare providers who contract with the insurance company to provide you with medical care and services. This network may include doctors, nurses, hospitals, labs, pharmacies, specialists, and durable medical equipment suppliers. Basically, any entity you might rely on for healthcare services might be part of a provider network.
You may have heard terms like in-network and out-of-network when discussing your options for Medicare Advantage plans. In-network means your medical care is provided by a doctor or other healthcare professional contracted by your insurance company's network of providers. Out-of-network means the provider has not contracted with your insurance company.
Generally, you'll pay less with an in-network medical service provider than someone out-of-network who is not contracted with your insurance company. This is a point to consider as going outside your network for non-emergency care can get very expensive, as you may be responsible for 100% of the cost.
How do HMO plans work?
When you enroll in a Health Maintenance Organization plan, or as it's more commonly known, an HMO, you will be furnished with a provider network of healthcare professionals from whom you'll get all your medical services.
With most HMO plans, you'll choose what is known as a primary care provider or PCP. Your primary care doctor will provide most healthcare services, such as routine doctor visits. He or she also provides referrals to see a specialist and pre-approval for other types of medical treatment.
This means that, if you want your HMO plan to help pay for treatment from a cardiologist, you must first get a referral from your PCP. Also, don't forget to stay within the provider network. At the same time, some services, such as yearly mammogram screenings, are available without the need for a referral. Because of these differences, it's always important to check your plan for details.
But what about prescription drug coverage? Since it's not included with Original Medicare (you need Part D for that), Advantage plans do not legally have to provide it. Most do, though, and are known as Medicare Advantage Prescription Drug plans (MA-PD). While many HMO plans do cover prescription drugs, not all of them carry this benefit, so review coverage carefully before joining. If the Medicare Advantage plan you choose doesn't include prescription drug coverage, you can join a standalone Part D plan.
Whether you choose an MA-PD or standalone prescription drug plan, review the drug formulary carefully to be sure it includes your prescription medications.
In general, all your health services will be covered by your HMO insurance provider network, with a few exceptions, such as medical emergencies and out-of-area urgent care or dialysis. That means these types of services will generally still be covered by your HMO provider. As for cost, one of the reasons that HMOs are so popular is that they are relatively inexpensive, with lower co-pays and premiums than most PPO plans.
What is a Preferred Provider Organization?
Another type of Medicare Advantage plan is a Preferred Provider Organization, more commonly known as a PPO plan. With this type of managed care, you'll have the flexibility to choose any primary or specialty medical provider you'd like to see, including hospitals, regardless of network availability.
In other words, you won't need to choose a PCP like you would with an HMO, and referrals aren't necessary for you to see specialists like an internist or oncologist.
PPO plans also normally provide coverage for your prescription drugs. Review the plan's benefits or simply look for one labeled as an MA-PD if you prefer to bundle your Parts A, B, and D benefits in a single plan.
In terms of cost with a PPO, you will pay less for your medical care if you go to an in-network, or "preferred" provider for your healthcare needs. But unlike an HMO, you can go to an out-of-network provider and still have your care covered, you'll just pay a higher co-pay. You may also find that monthly premiums are higher, given that coverage under a PPO is more comprehensive and offers a larger provider range than many HMO plans.
What's better, an HMO plan or a PPO plan?
Deciding between Medicare Advantage plans depends on your personal preferences for your specific healthcare needs, so there are some questions you'll want to ask yourself when comparing HMO and PPO plans, such as:
Is my doctor or medical group listed in my plan's provider network?
What kind of medical treatment access is most important to me?
Do I want to choose my own specialist or have a PCP advocate for me?
What is the most affordable coverage I can purchase?
Whether you have established care or plan on seeing someone new, you'll want to make sure you have access to the type of medical treatment you're seeking with the plan you choose. If the freedom and flexibility of choosing your own doctor or specialist is important to you, then you'll probably want to opt for a PPO rather than a more restrictive HMO plan, where you must choose an in-network doctor from a list provided for you and referrals are necessary.
HMO plans are generally more affordable than PPO plans, so if you are looking for lower co-pays and premiums, an HMO may be the right plan for you. However, if you don't mind paying a higher cost for the flexibility of being able to see a medical care provider of your choosing, regardless of network, or often need to see a specialist and don't wish to wait for a referral, then a PPO might be best suited for your healthcare needs.
What about Special Needs Plans?
A Medicare Advantage Special Needs Plan, commonly referred to as an SNP, is limited to those who already have Medicare Parts A and B. You must also live within the plan's service area and meet the plan's eligibility requirements, the most common of which is having one or more severe, debilitating, chronic conditions. For example, if you have chronic heart failure, you may qualify for an SNP designed specifically for people with your condition. The plan's benefits will include the specialists and medications you're likely to need to manage your condition.
You may also be a candidate for an SNP if you live in a nursing home or require in-home medical care. Much like an HMO, with an SNP you must see in-network providers and choose a PCP who can refer you to medical professionals tailored to your specific care needs or conditions, unless you're experiencing a medical emergency, such as sudden illness or injury.
Additionally, all your prescription drugs are covered under a Special Needs Plan.
How do Private Fee-for-Service plans work?
The fourth type of Medicare Advantage plan is a Private Fee-for-Service plan, or PFFS. Also offered by private insurance companies, these plans are similar to PPOs in that you don't need to choose a primary care physician. However, the plan may have a provider network and charge more out-of-pocket when you see a non-preferred provider.
PFFS plans don't work the way other Medicare Advantage plans do. For one thing, a provider who accepted your plan last time may not accept it for this visit. This is because PFFS plans negotiate prices for every type of service and providers may accept or decline the plan's terms for a particular service. For example, your healthcare provider may accept a PFFS plan's price for a colonoscopy but reject their rate for the annual wellness visit. This means that, if you choose a PFFS plan, you must be very careful about checking whether your medical providers accept your plan's terms BEFORE scheduling treatment.
As with HMOs and PPOs, most PFFS plans include prescription drug coverage. If the plan you choose does not, don't forget to join a Medicare Part D plan.
Can you join a Medicare Advantage Plan if you have end-stage renal disease?
Even if you are under 65 years of age, you may qualify for Medicare if you have end-stage renal disease (ESRD). But until January of 2021, you may have found it difficult to find a Medicare Advantage plan. Now, though, ESRD patients may choose an Advantage plan if they prefer it over Original Medicare.
If you're living with a condition like ESRD, take extra care when checking the plan's benefits, provider network, and drug formulary. If one is available in your area, you may benefit from an SNP designed for people who have end-stage renal disease.
Do you have Medicare questions? We have answers.
Do you have questions about your Medicare plan options? One of our caring, licensed Medicare agents can answer your questions and help you decide which is the best Medicare plan for your unique needs. Call us toll-free or enter your zip code into our Find a Plan tool to learn more about your Medicare plan options.
Find a Medicare Plan in your area
It's FREE with no obligation
Speak with a Licensed Insurance Agent
M-F 9:00am-9:00pm | Sat 9:00am-3:00pm EST