Relocating is seldom a simple process. With so much to consider – change of address forms, hiring movers, and of course packing – it's no surprise that some of the smaller details slip through the cracks. Just make sure your Medicare coverage isn't one of them. Depending on your current plan, moving can have a big impact. This post walks you through transferring Medicare from state to state.
When to Notify Your Medicare Plan Providers
If you're planning a move and have either a Medicare Advantage (MA) or Part D prescription drug plan, you qualify for a Special Election Period (SEP).
Your SEP lasts longer if you notify your plan before you move instead of after. That's because your timeline for changing plans begins the month before your move date. It continues through the month of your move plus two full months after you move. Waiting to notify your plan until after you move gives you only the month of your move plus the two following months. It looks like this: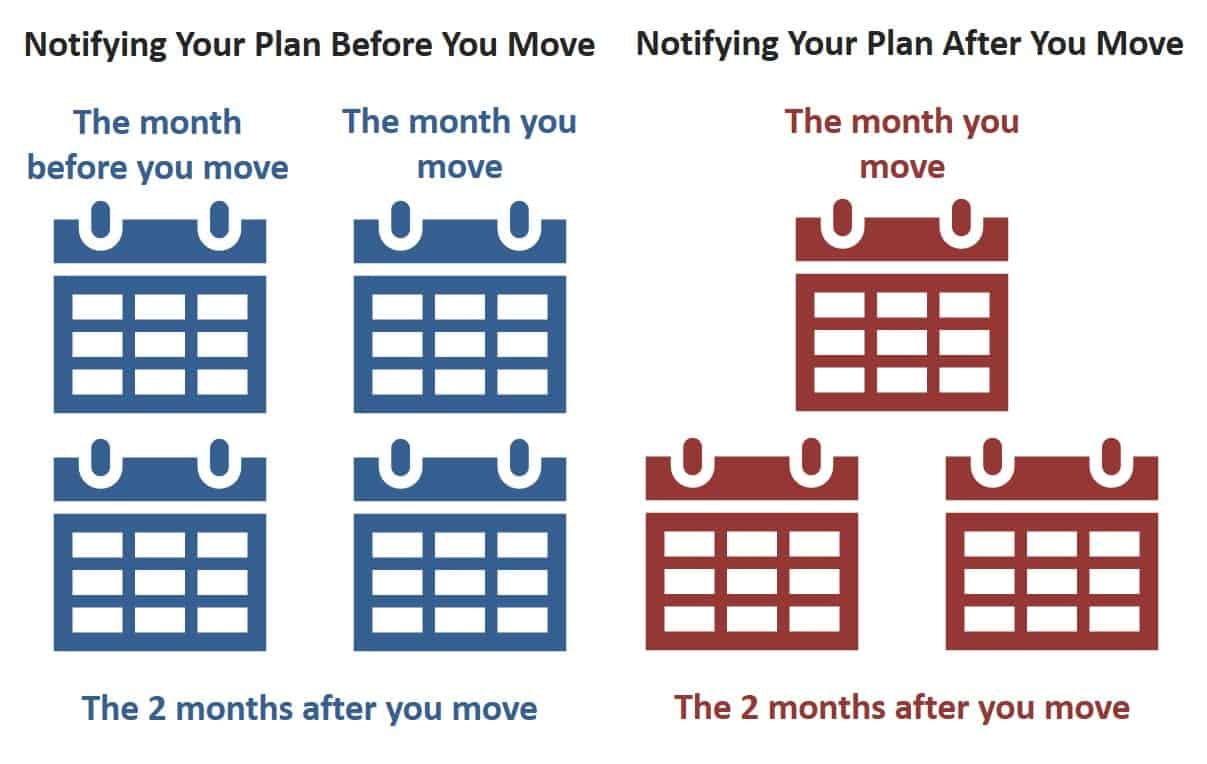 If you know about your move ahead of time, notifying your Medicare provider early gives you a longer Special Enrollment Period. And that means you have more time to compare your plan options.
When you move outside your Medicare Advantage plan's service area, you also have the option to return to Original Medicare.
Changing States with Medigap
Although Advantage plans continue to grow in popularity, around two-thirds of beneficiaries still choose Original Medicare (Parts A and B). Of these, over 13.1 million are enrolled in a Medicare Supplement Insurance plan.
Commonly referred to as Medigap, your supplement plan helps cover a variety of costs not paid for by Original Medicare. As with Medicare Advantage plans, coverage and costs vary according to the plan and provider you choose. However, unlike an MA plan, your Medigap plan follows you wherever you live. But, your premium may change if your zip code changes. This may mean either an increase or a decrease, depending on the overall price of healthcare in your new state.
If the premium increase is significant, you may decide to shop around for a new Medigap plan or provider. Beware, though, that you will likely have to undergo medical underwriting if you apply for a new plan. This involves answering a series of health-related questions. Your answers to these questions may result you paying a higher premium or even being denied coverage altogether.
Notes About Moving with Medigap
You must notify your insurer but do not necessarily need to switch companies, as Medigap plans are standardized across the U.S. For instance, Plan G offers you the same coverage no matter what state you live in. However, if medical care is deemed more expensive in the state you are moving to, your insurer is permitted to increase your Medigap monthly premium.
If you have a Medigap Select plan (one that requires the use of in-network providers), you can change policies if you move out of the plan's area of service. There is a limited amount of time where this is allowable, so get in touch with your insurer to ensure you fully understand all the rules.
Medigap in Massachusetts, Minnesota, or Wisconsin
Three states have their own guidelines around Medigap: Massachusetts, Minnesota, and Wisconsin. If you move to or from one of these states, the structure of your benefits will likely change. Talk to your plan provider for more information.
Moving with Original Medicare
Original Medicare provides the same coverage no matter where you are in the United States. If you have Original Medicare only and move from state to state, there is no need to do anything in order to keep your coverage intact. If you also have a Part D or Medigap plan, please refer to the above sections for instructions.
Since you will not be able to keep the same doctor when you move, you will also need to choose a new primary care physician in your new location. This doctor should also be able to recommend new specialists.
When changing doctors, it is necessary to arrange to have your medical records transferred to your new physician. An easy way to do this is to ask for copies from your old doctor and take them with you to your new home.
Comparing Your Medicare Plan Options
If you're planning to move, it's never too early to start comparing your Medicare plan options. And our online Find a Plan tool makes it easy. Just enter your new zip code and estimated start date. Then, press Continue to start reviewing Medicare Advantage, Part D, and Medigap plans available in your new area. The tool is free to use and won't result in higher premiums.
Update Your Mailing Address with Medicare and Social Security
The next thing you need to do when you move is update your address with Medicare and Social Security. Updating your information is simple (and you should do it any time your address changes, even if you just move next door).
Go to your MyMedicare.gov account to update Medicare information.
For Social Security, go to your my Social Security account.
Do you receive Railroad Retirement Board benefits? Update your information with them by calling 1-877-772-5772, TTY 1-312-751-4701, Monday through Friday from 9:00 AM until 3:30 PM.
If you do not currently have a My Medicare or my Social Security account, you can also create one by visiting the above links.
Updating your information ensures you continue receiving all communications regarding your benefits. Remember, all Medicare communications are via United States mail. Medicare will never call you unless you've specifically requested a call. (Knowing this helps protect you against Medicare scam artists.)
Moving into or out of a Nursing Home
The rules change slightly if you are moving into or out of a nursing home, as you can switch from:
One Medicare Advantage plan to another
One Part D plan to another
Part C to Original Medicare
Original Medicare to Part C
These changes can be made the entire time you live in the nursing home and for up to two months after the month you move out.
Changing Addresses and Medicare Annual Enrollment
The Medicare Annual Enrollment Period (AEP) runs from October 15 through December 7. It gives all Medicare beneficiaries the opportunity to make changes to their Medicare plan. While moving qualifies you for an SEP, if you know you're moving in January, AEP is the perfect time to make changes.
5 Tips for Moving with Medicare
As with most things in life, the key to success is planning. Make sure you don't experience any gaps in your Medicare coverage by following these tips.
1. Notify your plan that you're moving
Whether you have a Medigap, Medicare Advantage, or Part D prescription drug plan, you need to notify your plan that you're moving. This is also a good time to learn whether your plan is available in your new area.
2. Compare your plan options
Use our Find a Plan tool to review plan options in your new area. When comparing Medicare Advantage plans, consider any additional benefits, such as prescription drug coverage or programs like SilverSneakers. Don't forget to look at the drug formulary of every Part D plan to make sure it includes your prescriptions. After all, if it doesn't cover your medications, what's the point?
When comparing costs, look at the full cost of the plan, not just the monthly premium. A rock-bottom premium often hides higher out-of-pocket costs for deductibles and co-pays.
3. Request copies of your medical records
Healthcare in your new location will be much simpler if your medical records are ready for your new providers. Reach out to your current providers at least a month before you move, to give them time to fulfill your request.
4. Update your mailing address
Medicare and Social Security need to know where to reach you, so always update your mailing address when you move, whether across the street or across the country. In addition to the online options listed above, you may update your address via phone. Those toll-free numbers are:
1-800-Medicare (633-4227)
1-800-772-1213 (Social Security)
5. Choose a new primary care physician
Even if you don't have the restrictions of a provider network, it's always a good idea to have a primary care physician. In addition to providing general medical care and preventive screenings, your doctor coordinates care when you need the services of a specialist. Online reviews make it easy to see how other patients rate a doctor's care.
Find a Medicare Plan in your area
It's FREE with no obligation
Speak with a Licensed Insurance Agent
M-F 9:00am-9:00pm | Sat 9:00am-3:00pm EST