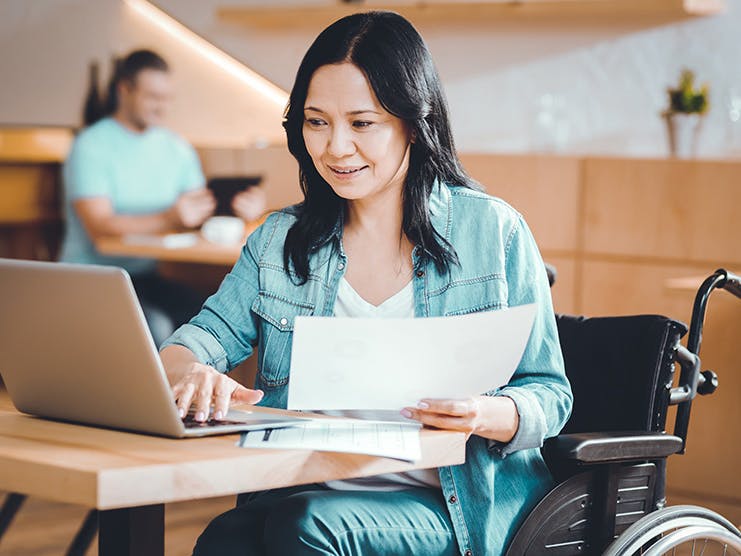 Qualifying for Social Security Disability generally comes down to your condition and how it impacts your ability to earn money.
Social Security is usually known for paying out retirement benefits to retirees. However, it also pays benefits to people who can't work because they have a medical condition that's expected to last at least one year or result in death. These benefits are paid through either Social Security Disability Insurance (SSDI) or Supplemental Security Income (SSI).
If you're applying for SSDI, it's important to know if your condition is considered a disability and the three "hows":
How you qualify
How "disability" is determined
How to apply for benefits
Read on to learn more.
What is considered a disability?
The Social Security Administration (SSA) will only pay for total disability, which is considered qualifying if:
You cannot work and engage in substantial gainful activity (SGA) because of your medical condition
You cannot do work you previously did, or adjust to other work, because of your condition
Your condition has lasted (or is expected to last) at least one year, or result in death
Social Security's definition of a disability is strict, and no benefits are payable for partial or short-term disability.
The Disability Determinations Services (DDS) office in your state completes the initial disability determination decision for the SSA. Doctors and disability specialists in that state agency will speak with your doctors about your condition and consider other factors and medical evidence to determine whether your disability qualifies.
How to qualify for SSDI benefits
In order to qualify for SSDI benefits, you must have worked in jobs covered by Social Security and have a medical condition that meets Social Security's definition of a disability.
In most cases, monthly benefits are paid to those who are unable to work for a year or more due to a disability, and benefits usually continue until you can work again on a regular basis. If you are receiving SSDI benefits when you reach full retirement age, your disability benefits will automatically convert to retirement benefits. The amount will stay the same.
Disability determination
If you have enough work to qualify, the state will use a five-step evaluation process to decide if you're disabled and qualify for benefits:
Are you working? Earnings guidelines are used to evaluate whether your work activity is SGA. In 2023, if your earnings average is more than $1,470 per month, you typically aren't considered to have a qualifying disability.
undefined
Is your condition "severe"? This means your ability to do basic work-related activities must be significantly limited. This can include lifting, standing, walking, sitting, or remembering, and you must be affected for at least 12 months. If your condition does interfere with work activities, the DDS goes to Step 3.
Is your condition in the list of disabling conditions? The SSA maintains a list of medical conditions considered severe enough to prevent a person from doing SGA. If your condition is not on the list, it must be decided if it's as severe as other medical conditions on that list. If so, you'll qualify. If not, go to Step 4.
undefined
Can you do the work you did previously? Here, it's decided if your medical condition prevents you from performing your past work. If not, you don't have a qualifying disability. If so, move to Step 5.
Can you do any other type of work? Even if you can't do the work you did in the past, the DDS will look to see if there's other work you can do despite your impairments. Factors taken into consideration include your condition, age, education, work experience, and other skills. If you can't do that other work, you'll qualify for disability benefits. If you can, your claim will be denied.
Note that there are special rules for people who are blind or have low vision, are the worker's widow or widower, are a child under the age of 18, or are a wounded warrior or veteran.
The DDS will then make a determination based on your case, and you'll receive a letter with that decision. If you're approved, the letter will show the amount of your benefit and when payment will begin. If you're denied, the letter will explain why and give instructions for appealing the determinization of you wish to do so.
Earnings requirements for disability benefits
You must have worked long enough (as defined by Social Security) to qualify for disability benefits. These work credits are based on your annual wages or self-employment income, and you can earn up to four credits per year.
The amount needed for a work credit changes from year to year, but in 2023 you earn one credit for each $1,510 in wages. Once you've earned $6,040, you've earned your four credits for the year.
To qualify for disability benefits, you typically need 40 credits, with 20 of those credits being earned in the last 10 years (ending with the year your disability begins). Younger workers may qualify with fewer credits. In general, this means:
| | |
| --- | --- |
| If you become disabled before… | Then you generally need… |
| Age 28 | 1.5 years of work |
| Age 30 | 2 years |
| Age 34 | 3 years |
| Age 38 | 4 years |
| Age 42 | 5 years |
| Age 44 | 5.5 years |
| Age 46 | 6 years |
| Age 48 | 6.5 years |
| Age 50 | 7 years |
| Age 52 | 7.5 years |
| Age 54 | 8 years |
| Age 56 | 8.5 years |
| Age 58 | 9 years |
| Age 60 | 9.5 years |
How to apply for disability benefits
You should apply for disability benefits as soon as you become disabled, especially because SSDI benefits have a five-month waiting period for most disabilities (other than ALS), meaning you won't receive benefit payments until the sixth full month of disability. The waiting period doesn't begin until the first full month after the date they decide your disability began.
You can apply for benefits:
Online, as long as you are age 18 or older, are not currently receiving benefits, and meet other eligibility requirements
By calling 1-800-772-1213 (TTY 1-800-325-0778) to make an appointment at your local Social Security office, or to set up an appointment for someone to take your claim over the phone. The claims interview lasts about one hour. You can call between 7 a.m. and 7 p.m., Monday through Friday
Note that processing an application for benefits can take three to five months, and you'll need information such as:
Social Security number
Names, addresses, and phone numbers of doctors, case workers, hospitals, clinics, etc. who took care of you, and dates of visits
Names and dosages of medications
Medical records
Lab and test results
Summary of where you worked and the work you did
Copy of most recent W-2 form or federal tax returns
Other than the application for benefits, there are other forms to collect information about your medical condition, forms for doctors who have treated you, and more. The more prepared you can be ahead of time with the right information and documentation, the faster your application can be processed.
Applying for Medicare before 65
Once you're approved for disability benefits, you may also be eligible for Medicare.
If you're already 65 or older when you begin receiving benefits, there's no difference in the way you'd apply for Medicare, and you do not have to wait 24 months to qualify
If you aren't 65 and collect disability benefits, you'll qualify for Medicare after 24 months (unless you have ALS or end-stage renal disease)
If you're 65, you can apply for Medicare online at Social Security, through your local Social Security office, or by calling the SSA.
Or, after you receive disability benefits for 24 months, you're automatically enrolled in Medicare Part A and Part B during month 25.
Read More: How to Apply for Medicare Disability Benefits
We can help you understand your Medicare options
If you're ready to apply for Medicare, or have questions about your eligibility, our licensed agents can help you understand your options. Call us toll-free to get started or enter your zip code in our Find a Plan tool to begin comparing Medicare plans in your area.
Find a Medicare Plan in your area
It's FREE with no obligation
Speak with a Licensed Insurance Agent
M-F 9:00am-9:00pm | Sat 9:00am-3:00pm EST