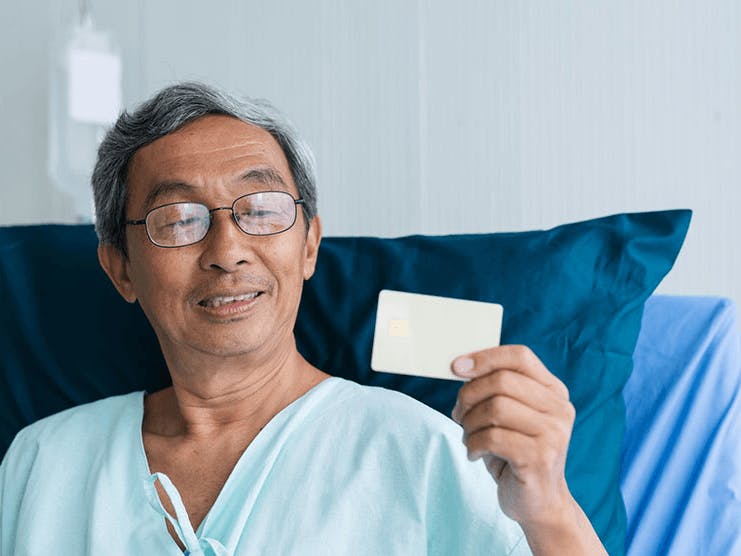 Medicare Part A is often called hospital insurance because it covers inpatient care.
Medicare hospitalization coverage is under Part A, which covers inpatient services received in a hospital or skilled nursing facility (SNF) as well as hospice care. Typically, Medicare covers inpatient services when they're deemed medically necessary by a qualified healthcare provider.
What Does Medicare Part A Cover?
Original Medicare includes two parts, A and B. Medicare Part A, also known as hospital insurance, helps pay for inpatient care received in a:
Critical access hospital (also known as an acute care hospital)
General hospital
Long-term care hospital
Nursing home as an inpatient, assuming it is not for long-term or custodial care
Psychiatric hospital (as an inpatient)
Rehabilitation facility (as an inpatient)
Skilled nursing facility
In addition, Medicare Part A covers inpatient services received when you take part in a qualifying clinical research study.
Services covered by Medicare Part A include a semi-private room, meals, general nursing duties (as opposed to private-duty nursing), and medications administered as part of your treatment. This means that prescription drugs you take regularly, such as blood pressure pills, are not covered under Part A. Medications administered by a healthcare provider, though, are.
Medicare Part A will not pay for personal care items, such as razors and socks, nor a television or phone if the hospital charges separately for those items.
What Does Medicare Part B Cover?
The second half of Original Medicare is Part B, also known as medical insurance. Medicare Part B helps pay for outpatient services, such as doctor appointments, lab work, durable medical equipment (DME), and mental health care.
Medicare Part B also helps pay for doctor services received as a hospital inpatient. Typically, you pay 20 percent of the Medicare-approved amount for these services.
Hospitalization Coverage Under Medicare Advantage
Medicare Part C, better known as Medicare Advantage, provides health insurance plans managed by private companies. These plans must provide the same coverage you get with Original Medicare (except for hospice care, which is still covered by Original Medicare). However, most Part C plans offer additional benefits, such as prescription drug coverage and fitness programs.
Coverage and costs vary according to the plan. For specifics about your Medicare Advantage plan, contact your insurance provider.
Medicare Coverage for Inpatient Hospital Care
Medicare Part A will help pay for inpatient hospital care when all of the following apply:
There is an official doctor's order admitting you to the hospital as an inpatient
The doctor's order says you require inpatient care to treat an illness or injury
The hospital accepts Medicare
In some cases, the hospital's Utilization Review Committee may need to approve your inpatient stay for hospital coverage.
How Much Will You Pay for Inpatient Hospital Care?
The Medicare program uses a cost-sharing model to help control costs and utilization. Your out-of-pocket costs may include monthly premiums, deductibles, and coinsurance or copayments.
Medicare Part A's out-of-pocket costs in 2023 include:
A deductible of $1,600 for each benefit period. A benefit period begins when you're admitted as an inpatient and ends once you go 60 consecutive days without receiving inpatient hospital services or skilled nursing facility care. Under Part A, you can have more than one benefit period per year.
There is no coinsurance for the first 60 days you spend as an inpatient. After that, you'll pay $400 per day for days 61 through 90 and $800 per day for days 91 through your 60 lifetime reserve days. You are responsible for all hospital costs once you use your 60 lifetime reserve days. (If you join a Medicare Supplement plan, also known as Medigap, you get an additional 365 lifetime reserve days.)
Most people do not have to pay the Medicare Part A premium, because they or their spouse paid Medicare taxes for the required 10 years (40 quarters) to qualify for premium-free. If you or your spouse do not have this work history, you will pay up to $506 per month for Part A in 2023.
Medicare Coverage for Skilled Nursing Facility Care
Medicare covers short-term SNF care if you meet the following conditions:
You have Medicare Part A
You had a qualifying hospital stay lasting at least 3 days (this does not include time spent as an outpatient or under observation status)
There are days remaining in your benefit period
You enter the skilled nursing facility within 30 days of your qualifying hospital stay
Your healthcare provider certifies that you require daily skilled nursing care
The skilled nursing facility you use must be certified by Medicare.
How Much Will You Pay for Skilled Nursing Facility Care?
Because your SNF stay must fall within 30 days of your inpatient hospital stay, you won't have a separate deductible as an SNF inpatient. (Remember, the benefit period ends once you go 60 consecutive days without receiving inpatient care.) You do, however, have coinsurance.
Medicare pays 100 percent of costs for the first 20 days
Days 21 through 100 you'll pay coinsurance of $200 per day
You are responsible for 100 percent of costs for days 101 and beyond
Find the full guidelines for skilled nursing care on Medicare.gov here.
Nursing Home Coverage
If your only need is custodial care, Medicare does not cover nursing home care. "Custodial care" is also known as the activities of daily living. These include:
Bathing
Dressing
Eating
Getting in and out of bed or a chair
Using the bathroom
An easy way to know whether it's custodial care or skilled nursing care is to consider whether the person assisting requires special training.
Hospice Coverage
Medicare beneficiaries who qualify for hospice care are assigned a team to help coordinate services and devise a care plan that takes into account the needs of both the patient and their family.
You qualify for hospice care when your doctor certifies that you are terminally ill with a prognosis of 6 months or less. Going into hospice care indicates that you have agreed to forego treatment of your illness to receive palliative care instead. Medicare coverage for hospice care includes:
Pain relief and management of symptoms, including medications
Durable medical equipment needed to help manage pain and symptoms
Home health aide services
Medical, nursing, and social services, including spiritual and grief counseling for both patient and family
You may receive hospice care in either your home or an outside facility, such as a nursing home. There is no cost to you for hospice care. However, there may be a $5 copayment for prescription medications. If you receive inpatient respite care, you may have a 5 percent coinsurance.
Find a Medicare Plan in your area
It's FREE with no obligation
Speak with a Licensed Insurance Agent
M-F 9:00am-9:00pm | Sat 9:00am-3:00pm EST