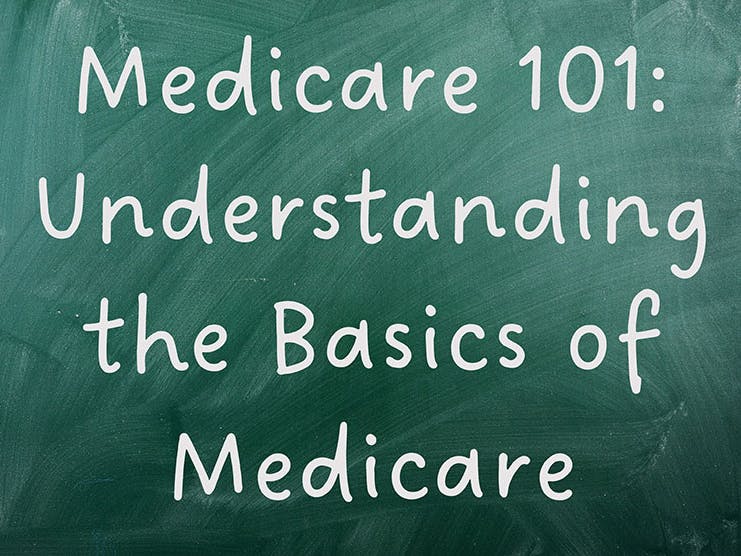 Welcome to Medicare 101, where we cover the basics of the Medicare program.
If you're new to the world of Medicare, you may feel confused and overwhelmed by the numerous plan options, which tend to look like alphabet soup. That's okay; most people feel overwhelmed looking at so much information.
This page describes the basics of Medicare, including what each part covers, your options, and when you can enroll.
What Is Medicare?
Medicare is a government-sponsored health insurance program for people aged 65 or older. People under age 65 may also qualify if they meet certain health conditions, such as End-Stage Renal Disease.
Although Medicare pays the majority of costs for covered services, beneficiaries are responsible for monthly premiums, deductibles, co-insurance, and co-payments.
There are four parts to Medicare: A, B, C, and D. There is also Medicare Supplement Insurance, commonly known as Medigap.
What Is Original Medicare?
Original Medicare consists of Part A (hospital insurance) and Part B (medical insurance).
Medicare Part A covers inpatient hospital care as well as skilled nursing facility care, home health care, and hospice care. If you are receiving Social Security or Railroad Retirement Benefits (RRB) for three months before you turn 65, you are automatically enrolled in Part A. Everyone else must sign up through Social Security.
For most people, Part A is premium-free. If either you or your spouse did not work and pay Medicare taxes for at least 10 years, though, you may have to pay a monthly premium.
Medicare Part B covers most medical care provided on an outpatient basis. This includes doctor visits to diagnose and treat illnesses as well as numerous preventive services, such as annual wellness visits and some cancer screenings. As with Part A, if you are not receiving Social Security or RRB when you turn 65, you must enroll in Part B.
Unless you meet certain income requirements, you have a monthly premium for your Medicare Part B services. This applies even to those who choose Medicare Advantage (MA) plans instead of Original Medicare.
What Is Medicare Part D?
We skip a letter in the alphabet to discuss Medicare Part D, which is prescription drug coverage provided by private insurers. All Medicare beneficiaries are required to enroll in Part D if they (1) do not have creditable drug coverage elsewhere and (2) do not wish to pay a late penalty. These plans help cover prescription expenses for Original Medicare recipients as well as those who choose an MA plan that does not include prescription drug coverage.
Most Part D plans have a monthly premium in addition to co-pays and possibly a yearly deductible. Details vary by plan and insurer.
What Is Medicare Part C?
Medicare Part C is commonly known as Medicare Advantage. These plans most closely resemble employer-sponsored health plans and are offered by private, Medicare-approved insurers. The most common choices are Health Maintenance Organizations (HMOs) and Preferred Provider Organizations (PPOs). However, you may also choose Private Fee for Service and Medical Savings Account plans.
MA plans must provide coverage equal to Part B, but most offer additional services as well. Many Medicare Advantage plans include prescription drug coverage, and some also cover vision, hearing, and dental care. Costs and coverage vary by insurer and plan. Our Find a Plan page helps you compare plans in your area.
What Is Medigap?
Medicare Supplement Insurance helps pay some of the costs not covered by Medicare. There are 10 different plans, each one standardized. That means that every Plan A, B, C, etc. offers identical benefits, no matter which insurance company you choose or where you live.
Anyone who is enrolled in Original Medicare and over the age of 65 is eligible for Medigap. Your Medigap open enrollment period lasts for six months and starts as soon as you enroll in Part B.
You can only sign up for Medigap if you have Original Medicare. It is highly recommended that you enroll in Medigap as soon as you become eligible. This period is the only time you are guaranteed a Medigap policy, even if you have pre-existing health conditions. You also don't have to pay extra.
What Is the Initial Enrollment Period?
Your Initial Enrollment Period (IEP) lasts seven months. It begins three months before your 65th birthday and ends three months after your birth month. For example, if you turn 65 on April 12, your IEP begins on January 1 and ends on July 31.
If you fail to enroll during your IEP, you may sign up during the General Enrollment Period. This occurs every year from January 1 through March 31, with coverage beginning on July 1.
What Is the Open Enrollment Period?
The Annual Enrollment Period happens every year from October 15 through December 7. During this time, you can switch from Original Medicare to Part C. Or, you can switch from Medicare Advantage back to Parts A and B, or choose a new MA plan. You may also sign up for a Part D plan or change your current Part D plan.
Coverage begins on January 1 for changes made during Annual Enrollment.
Medicare Special Enrollment Periods
Medicare allows beneficiaries to sign up outside of standard enrollment periods if they meet certain criteria. The most common reason people wait to register is because they have coverage through an employer or through their spouse's employer. You may also need to change your MA or Part D plan if you experience certain "life" events, such as moving outside of your plan area, entering or leaving a nursing home, qualifying for Extra Help, or because your plan changed and no longer services people in your area.
There are dozens of special circumstances that may qualify you for a Special Enrollment Period. Please refer to the Medicare.gov site for the complete list.
Find a Medicare Plan in your area
It's FREE with no obligation
Speak with a Licensed Insurance Agent
M-F 9:00am-9:00pm | Sat 9:00am-3:00pm EST