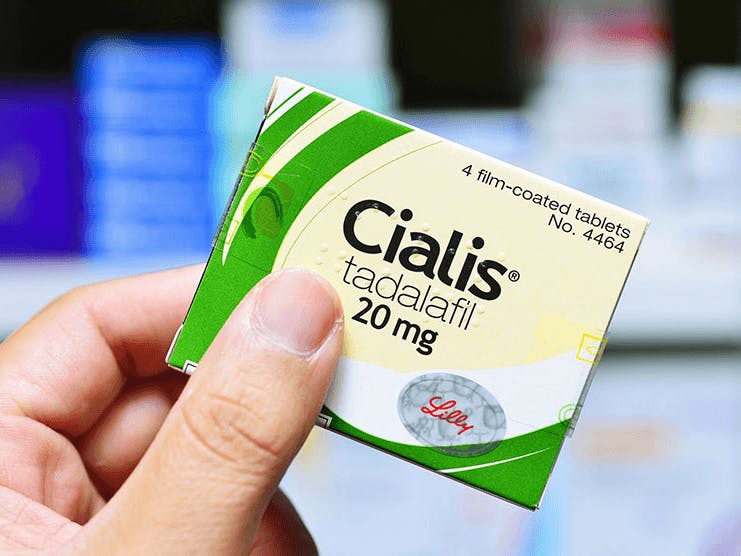 Few Medicare Part D plans cover ED pills, but you may have options to help you afford these medications.
Cialis is one of the most common medications used to treat erectile dysfunction. It is also used occasionally for other conditions and will be often compared to other similar medications like Viagra.
Although Medicare health insurance doesn't usually provide coverage for prescription drugs, there are still ways to get covered. We'll run through everything you could need to know about Cialis coverage under Medicare, as well as a few available options outside of the Medicare system.
What Is Cialis?
Cialis is the brand name for a medication known as tadalafil. This medication is primarily used to treat erectile dysfunction, although it may also be used to treat benign prostatic hyperplasia (BPH). Your doctor will need to prescribe Cialis for you, depending on your specific condition.
Cialis and other common erectile dysfunction drugs such as sildenafil and Levitra were approved by the Food and Drug Administration (FDA) between 1998 and 2005. There are some common side effects associated with these medications, and you should always seek medical advice from your healthcare provider before taking any medications.
In general, Medicare doesn't provide much if any coverage for prescription drugs. However, there are still ways to get Cialis or a similar medication covered.
Coverage with Original Medicare
Original Medicare collectively refers to Part A and Part B of Medicare. Original Medicare does not provide any coverage for self-administered prescription drugs. For this reason, most Medicare beneficiaries have an additional form of insurance to cover drugs.
Medicare Part A Coverage for Cialis
Part A of Medicare covers inpatient care. This refers to things like hospital care as well as skilled nursing facility care. If you need to take a prescription drug during an inpatient stay, it will likely be covered as part of your stay.
However, the vast majority of the usage of Cialis is not medically necessary. This means that it isn't directly related to the treatment of a medical issue. There are basically no possible situations where Cialis will be covered by Part A.
Part B Coverage for Cialis
Part B covers outpatient, medically necessary services. This will mean things like ordinary doctor visits, tests, and medical equipment. Medicare Part B, like Part A, doesn't cover prescription drug coverage.
If you visit your doctor for tests or consultation at which they prescribe you Cialis or another similar medication, then the doctor visit will likely be covered. However, the medication itself will not be.
Medicare Advantage Plans and Cialis Coverage
Medicare Advantage is also referred to as Part C of Medicare. Rather than covering a specific type of healthcare, Part C insurance plans offer the same type of coverage as Original Medicare but through private insurance companies. For this reason, you can't have Part C and Original Medicare at the same time.
Although Medicare Advantage plans are required to cover at least the amount that Original Medicare covers, they may also cover more. Some plans offer prescription drug coverage, which means it is possible to get Cialis coverage.
Coverage for Cialis or other medications used for erectile dysfunction isn't common under Medicare Advantage, but it is possible. Because all plans are different, you'll have to look at your specific plan to see if it offers Cialis coverage.
Do Medicare Part D Plans Cover Cialis?
Medicare Part D is dedicated exclusively to Medicare prescription drug plans. Like Part C, Part D is offered by private insurance companies. This means that the coverage will vary and each plan will have its own list of covered drugs.
Coverage for Cialis is not particularly common, but it will be available under some plans. If you are comparing plans, make sure to also look for generic Cialis (tadalafil) or other similar medications that your physician has approved for you.
When you compare plans, the key thing to look at is the plan's formulary. A formulary is a list of drugs that a given plan covers. The drugs in question will be on tiers that have different coverage levels and different copayments. Generic drugs will usually cost less than name-brand drugs.
Can Medicare Supplement Plans Help?
Medicare Supplement plans, also known as Medigap plans, are private plans that help pay for your out-of-pocket costs. This includes things like your deductible, coinsurance, and copay costs under Original Medicare. There are many of these plans available, and each one offers different amounts of coverage.
Although Medigap plans can be very helpful to many, they do not offer any form of prescription drug coverage. So, while they are still good to investigate, they won't provide any direct help when looking for Cialis coverage.
How Much Does Cialis Cost?
As you can see, Cialis coverage isn't too common. For this reason, many people end up wanting to pay for it directly with no insurance.
Cialis is a brand-name drug but is also available in a generic version as tadalafil. The cost for the brand name version of any drug will always be higher than the generic.
In the case of Cialis, the brand name version can cost around $13 per pill. The generic version will cost substantially less, at around $2 per pill. This can vary widely depending on many factors, and some individuals may end up having to pay more than double this cost for the name-brand version of Cialis under certain circumstances.
Discounts and Coupons for Cialis
When considering medications that are often not covered by insurance, you should always make an effort to look for discounts. These will usually be available through multiple channels, especially when the medication in question is popular.
Discounts will be available from a variety of sources. This includes the manufacturer of the medication, your individual pharmacy, and other sources. A popular source of discounts is the website GoodRx. GoodRx is a free service that can help you locate coupons and discounts for various medications, including Cialis.
Does Medicare Cover Viagra?
Although this article focuses on Cialis, many enrollees also wonder about Viagra coverage. Viagra is the brand name for sildenafil and is used for many of the same uses as Cialis.
Although Viagra may be more popular than Cialis, the coverage options will be fairly similar. There may be some Part D plans that cover one medication but not the other, but most will cover neither.
If your healthcare provider has told you that you can take the generic version of Viagra, you can seek a plan that offers this coverage as well to expand your options.
Coverage for Pulmonary Arterial Hypertension
Although Cialis and related drugs are usually used for erectile dysfunction, there is also a version of sildenafil that is used to treat Pulmonary Arterial Hypertension. The brand name for this medication is Revatio, but you may be able to receive a brand-name version as well.
Although this is the same medication as Viagra, it is more likely to be covered by Medicare Prescription Drug Plans.
So, What Should I Expect?
Unfortunately, most people will not be able to get Medicare coverage for Cialis or any other medication that treats erectile dysfunction. Although some can get covered through Part D plans or Medicare Advantage, this will be the exception and not the norm.
Thankfully, other options are available for helping you pay for your medication. You should always compare the cost at various pharmacies and look extensively for coupons and discounts before purchasing any medication that isn't covered by your insurance. Savings can be substantial.
Find a Medicare Plan in your area
It's FREE with no obligation
Speak with a Licensed Insurance Agent
M-F 9:00am-9:00pm | Sat 9:00am-3:00pm EST