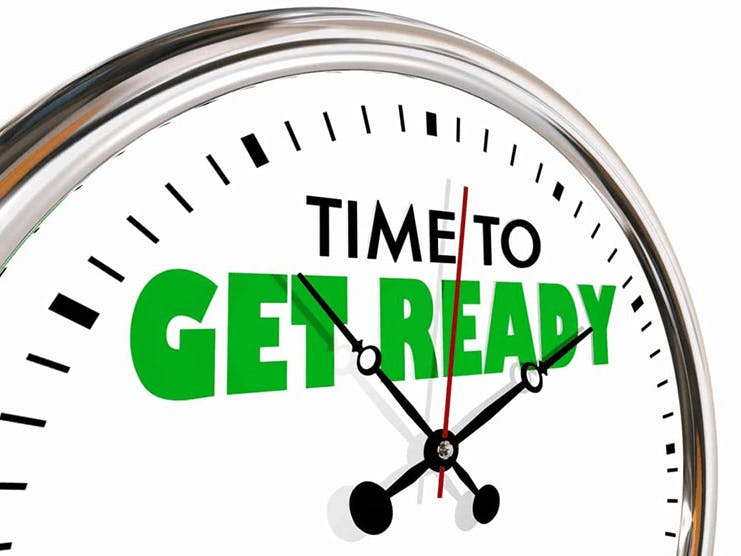 When it comes to easy Medicare enrollment, preparation is the key.
Like most government programs, Medicare is complex, which means it's often confusing. But there's another little fact that confuses lots of people: Unless you began collecting Social Security benefits at least 4 months before turning 65, nobody tells you that it's time to enroll. Failure to sign up on time could leave you with coverage gaps and lifelong late fees.
In this post, we tell you how to prep for Medicare. Following these nine tips helps ensure you get the best coverage for your unique needs and budget.
1. Start early
We recommend you start learning all you can about Medicare around 6 months before you turn 65. There's a lot to learn, but if you take it in small bites, it's easier to digest.
Getting Medicare wrong can have lifelong repercussions. Failure to enroll on time could result in lapses in coverage and late fees you pay for the rest of your life. And when it comes to Medicare, ignorance is not an excuse – even though nobody from Medicare will ever reach out to you that it's time to enroll.
The only exception is if you began receiving Social Security retirement benefits at least 4 months before your 65th birthday. In this case, you are automatically enrolled in Medicare and will be notified by the Social Security Administration (SSA).
2. Learn the ABCs (and D) of Medicare
There are four parts to Medicare:
Original Medicare includes Part A (hospital insurance) and Part B (medical insurance). Medicare Part A covers inpatient care received in a hospital or skilled nursing facility (SNF). Medicare Part B covers outpatient services received in a doctor's office, laboratory, or clinic as well as durable medical equipment (DME).
Medicare Part C is more commonly known as Medicare Advantage (MA). These plans must offer the same benefits as Original Medicare, although most offer additional services, such as prescription drug coverage and routine vision care. Private insurance companies sell MA plans.
Medicare Part D provides prescription drug coverage to Medicare beneficiaries. Most MA plans include prescription drug coverage (sometimes referred to as an MA-PD plan). You may buy a standalone Part D plan if you have Original Medicare or an Advantage plan that doesn't include prescription drug coverage. Part D plans are also sold by private insurance companies.
3. Talk to your benefits administrator
If you have coverage through an employer (yours or your spouse's) talk to your benefits administrator to understand your options and how your coverage works with Medicare.
You may delay Medicare enrollment if you have creditable coverage when you turn 65. For most of us, this means a group health plan through an employer. However, to qualify as "creditable," you must meet certain criteria. Namely:
The company must employ at least 20 people
You must be actively employed
If coverage is through your spouse's employer, then he or she must be actively employed. Retiree insurance and COBRA do not qualify as creditable coverage, as you are not actively working. However, you may choose to keep these plans as secondary coverage, with Medicare acting as the primary payer.
4. Understand the costs of Medicare
Medicare uses a cost sharing model that includes monthly premiums, deductibles, coinsurance, and copayments.
How much does Medicare Part A cost?
Most people paid Medicare taxes for the required 40 quarters to qualify for premium-free Part A. If you didn't work and pay taxes for 10 years, you may qualify under your spouse's work history.
If you paid Medicare taxes for 30 to 39 quarters, your monthly premium for Part A is $278. For everyone else, the Medicare Part A premium is $506 in 2023.
The Part A deductible is a little harder to understand. Instead of paying annually, as with most health insurance, you pay the Part A deductible every benefit period. A benefit period begins the day you're admitted to the hospital. It ends once you go 60 days without receiving inpatient care. The Part A deductible in 2023 is $1,600.
You also have coinsurance under Part A. What you pay depends on how many days you spend as an inpatient during a single benefit period.
Days 1 through 60 have a coinsurance of $0
Days 61 through 90 have a coinsurance of $400 per day
Starting with day 91, you pay $800 per day until you meet your lifetime reserve day maximum of 60 days
You get an extra 365 lifetime reserve days if you have a Medicare Supplement Insurance plan (commonly known as Medigap)
If you exceed your lifetime reserve days, you pay 100 percent of hospital costs for days 91 and beyond for each benefit period.
How much does Medicare Part B cost?
The standard premium for Medicare Part B is $164.90 in 2023. Most people who collect Social Security benefits pay a lower rate. If your income exceeds $97,000 per year (filing single) or $194,000 per year (married filing jointly), your premium may be higher.
Medicare Part B also has a yearly deductible of $226. Once you meet your deductible, Medicare covers 80 percent of most outpatient services. For some preventive care, such as the Medicare Wellness Exam, Medicare pays 100 percent of the cost.
How much does Medicare Part C cost?
Out-of-pocket costs for Medicare Advantage plans vary according to the plan and provider you choose. There are a number of MA plans with a $0 monthly premium. However, even if your plan isn't free, you still have to pay the Part B premium.
When comparing Medicare Advantage plans, look beyond the monthly premium to the full cost of the plan. This includes copayments and deductibles. Consider also any extra benefits. For example, if the plan covers prescriptions or routine vision care, you'll probably pay less than you would for Medicare Part D plus an ancillary vision insurance policy.
If considering an MA-PD plan, make sure the drug formulary includes your prescriptions. A plan that doesn't cover your medications is essentially pointless.
How much does Medicare Part D cost?
Like Medicare Advantage, Part D plans vary in cost and coverage, since they're provided by private insurers. As with an MA-PD plan, you need to make sure the drug formulary covers your prescriptions. Also look at the pharmacy network and options like mail order prescription refills.
How much does Medigap cost?
Medicare Supplement plans help cover some of your out-of-pocket costs under Original Medicare. As with Parts C and D, these plans are provided by private insurance companies. Costs vary according to the plan and provider you choose.
Medigap plans come with a monthly premium. Some also have a yearly deductible, which is the amount you must pay out-of-pocket before your plan starts paying.
Please note that you cannot have both Medicare Advantage and a Medigap plan. One of the choices you face is whether you'd be better off with Original Medicare plus Medigap and Part D plans or simply an Advantage plan.
5. Discover whether you qualify for help paying for Medicare
If you meet income and resource requirements, you may qualify for help paying your Medicare costs.
Medicare Savings Programs help cover the costs of Original Medicare. Find the full list and requirements here.
Programs of All-inclusive Care for the Elderly (PACE) are available to members aged 55+ who require care similar to what you'd receive in a nursing home.
Extra Help helps people with limited income and resources pay their prescription drug costs.
Finally, if you qualify for both Medicare and Medicaid, you are what is known as dual eligible. Since Medicaid is a state-run program, guidelines vary widely according to where you live. See your state's Medicaid office online for income requirements. You may also apply for Medicaid online.
6. Compare your coverage options
Look at the full cost of your Medicare plan options as well as the benefits and services covered by each. Our Find a Plan tool makes comparing your Medicare plan options easy. Just enter your location and any medications you take to review plans in your area.
Answer these questions:
Is there a provider network? If so, does it include your providers?
Will your doctor accept the Medicare plan?
Does the plan require a referral to see a specialist?
What happens if you need healthcare in another state?
How much will you pay for prescription drugs?
Does the drug formulary include your prescriptions?
Is your favorite pharmacy included in the plan's network?
Can you use a mail order pharmacy?
Finally, look at the plan's rating under the Medicare 5 Star Rating System. Plans are rated on literally dozens of metrics, from member satisfaction to health outcomes.
7. Enroll in Medicare 3 months before your 65th birthday
Now that you know the ABCs and D of Medicare, mark your calendar for you Initial Enrollment Period (IEP).
Your IEP begins 3 months before the month you turn 65 and ends 3 months after your birth month. So, if your birthday is June 10, your IEP begins March 1 and ends September 30.
Signing up for Medicare during your Initial Enrollment Period ensures you don't have a coverage lapse or get stuck paying lifelong late fees. Even if you have creditable coverage when you become eligible for Medicare, you should still sign up for Medicare Part A. It costs nothing (assuming you qualify for premium-free Part A) and could save you money.
The only time we recommend not enrolling in Part A as soon as you become eligible is if you want to continue contributions to a health savings account (HSA). This is because you cannot contribute to an HSA if you're actively enrolled in any part of Medicare. You can, however, withdraw funds from an HSA.
8. Keep an eye out for Medicare communications
All communication from Medicare is via U.S. mail. You should receive your new Medicare card a few weeks after you enroll (you can print one online through your MyMedicare.gov account).
Please note that all Medicare communications are via the U.S. Postal Service. The only time anyone from Medicare would call you is if you requested a phone call. If you ever receive an unsolicited call from Medicare, hang up and call 1-800-MEDICARE (633-4227) or TTY 877-486-2048. Tell the representative about the call and follow their instructions regarding next steps.
Since all communications are via U.S. mail, it's important to make sure your mailing address is correct with both Medicare and the Social Security Administration.
All communications from Social Security are also via U.S. mail. Nobody from SSA or Medicare will ever call you demanding personal information or money.
9. Prepare for the Annual Enrollment Period
Medicare beneficiaries may make changes to their health insurance during the Annual Enrollment Period (AEP). You must be currently enrolled in Medicare to take advantage of the AEP. It occurs every year starting on October 15 and lasts through December 7.
During AEP, you can sign up for a new Part D plan or make the change from Original Medicare to an Advantage plan. Or, you may leave an MA plan to return to Original Medicare or switch to another Advantage plan.
To help you prepare for Annual Enrollment, your Medicare plan sends you two documents every September.
The Annual Notice of Change (ANOC) details any changes coming to your plan next year. This includes changes to the provider network, medications entering or leaving the drug formulary, out-of-pocket costs, and more.
The Evidence of Coverage (EOC) lists your plan's benefits and costs for the following year.
These two documents help you make the most of Annual Enrollment.
When deciding on coverage needs for the following year, make a list of providers and medications. Also, consider how happy you are with your current coverage. If you wouldn't recommend your plan to a friend, it may be time to make a change.
Find a Medicare Plan in your area
It's FREE with no obligation
Speak with a Licensed Insurance Agent
M-F 9:00am-9:00pm | Sat 9:00am-3:00pm EST