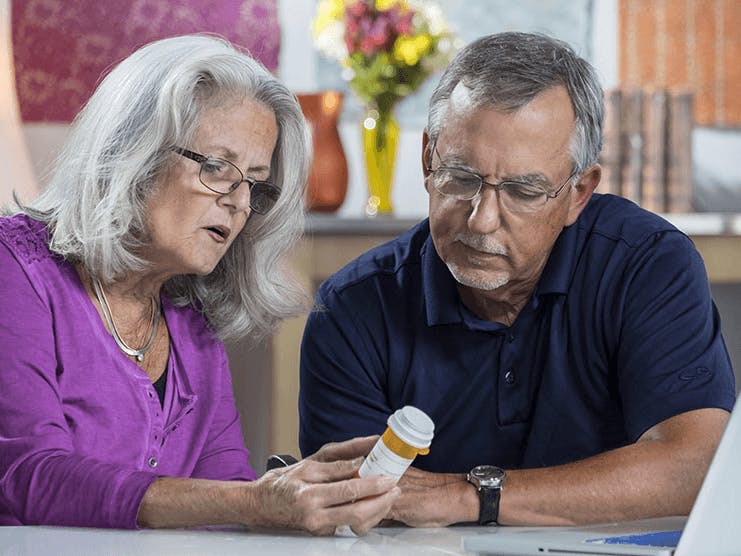 You have two options for prescription drug coverage with Medicare: A standalone Part D plan or a Medicare Advantage Prescription Drug plan.
To enroll in Part D prescription drug coverage, you must join a Medicare-approved plan that offers prescription drug coverage. You can do this in one of two ways - enrolling in a Medicare stand-alone drug plan or through a Medicare Advantage plan - and during certain times of the year.
Part D drug coverage helps you pay for prescription drugs. Even though Medicare Part D coverage is optional, if you don't get it when you're first eligible and you don't have other creditable drug coverage (such as from an employer), you'll likely have to pay a late enrollment penalty.
It's important to understand how and when to enroll in Medicare Part D, when you're eligible to enroll, and what coverage you need, so you can make the right decision for you and avoid a penalty.
How to apply for Medicare Part D
There are two ways you can get Medicare Part D coverage:
Medicare drug plans
These plans, offered by private insurers, will add Part D drug coverage to Original Medicare, some Medicare Cost Plans, some Private Fee-for-Service plans, and Medical Savings Account plans.
In order to enroll in a separate drug plan, you must have Medicare Part A (hospital insurance) and/or Medicare Part B (medical insurance) and live within the plan's service area.
Once you choose to enroll in a drug plan, you can review your options with our Find a Plan tool. Just enter your zip code and prescription medications to start reviewing plans in your area. You can also enroll:
On the plan's website
By completing a paper enrollment form
By calling the plan directly
By calling Medicare
Medicare Advantage (MA) plan (Part C)
With an MA plan, you'll get Part A, Part B and Part D coverage in one plan. MA plans offer the same coverage for services and supplies that Original Medicare does, as well as additional coverage such as dental, vision and hearing.
Not all MA plans offer drug coverage, so be sure to do your research before selecting a plan. However, note that you cannot have both an MA plan with drug coverage and a stand-alone Part D plan. If you are enrolled in an MA plan that offers drug coverage, and join a separate drug plan, you will be disenrolled from your MA plan and returned to Original Medicare. Talk to your plan for more information.
To enroll in an MA plan, you can:
Call the new plan and enroll over the phone
Enroll on the plan's website
Call Medicare
Complete a paper enrollment form
When choosing a plan, make sure to choose from plans available in your service area. Compare costs, including the deductible, premiums, copayments/coinsurance. Also review the plan's formulary to make sure any drugs you currently take are covered.
Medicare Part D effective date
Once you enroll, you will receive information within 10 calendar days confirming your enrollment. Look for:
An acknowledgement of your completed application, along with details of the plan's costs and benefits; or,
A request for more information to complete your application; or,
A notice saying your application has been denied, and why.
Your coverage will then start on the first day of the month after you enroll. Or, if you switch plans during the annual enrollment, coverage in your new plan starts on January 1.
What information do I need to enroll?
When you enroll, no matter if it's online, over the phone, or with a paper enrollment form, there is some information you'll need to provide the plan. This includes (but is not limited to):
Address: This is the address you use on your tax form and driver's license, even if you live in another state for part of the year. Your primary home must be within the plan's service area.
Other coverage: You'll have to share whether you have or had other drug coverage to make sure Medicare can coordinate other benefits with Part D, and the pharmacist knows what to charge you or which insurance to bill. It also lets the plan know if you've been without creditable coverage for longer than allowed, meaning you'd have to pay a late enrollment penalty.
Payment: You must decide whether you want the plan to bill you directly, have the premiums deducted automatically from your Social Security check, or arrange for an electronic funds transfer from your bank account.
Can I be turned down for coverage?
In most cases, you are guaranteed coverage. However, there are a few exceptions, including if you:
Are not eligible for Medicare
Don't live in the plan's service area
Try to enroll outside of an eligible enrollment period
What if I already have other drug coverage?
In some cases, you may be enrolled in Medicare but have drug coverage from another source, such as an employer or union, TRICARE, the Department of Veterans Affairs, or a Medicare Supplement (Medigap) policy.
If this is the case, compare your current coverage to Medicare drug coverage. Understand what drugs are and aren't covered by each plan, and the out-of-pocket costs associated with each. Talk to your plan before you make any changes to your current coverage.
What is Extra Help?
The Extra Help program helps people with limited income pay for Medicare Part D costs, such as premiums, deductibles, and coinsurance. You must provide your plan with information to help them check if you should receive Extra Help and at what level. Typically, you must be receiving Medicare, have limited resources and income, and reside within the U.S.
If you qualify, you'll pay no more than $3.95 for generic drugs and $9.85 for brand-name covered drugs (in 2023).
Medicare Part D enrollment periods
There are a few times per year when you can sign up for either a Medicare drug plan (Part D) or Medicare Advantage plan (Part C). During these times, you can also make changes to your existing coverage.
Initial Enrollment Period
When you're newly eligible for Medicare because you just turned 65, you're able to enroll in the three months before the month you turn 65, the month you turn 65, and the three months after you turn 65.
When you're newly eligible for Medicare because you have a disability, you're able to enroll 24 months after you get your Social Security or Railroad Retirement Board (RRB) benefits. Your enrollment period is the three months before your 25th month of receiving benefits, the 25th month of getting disability benefits, and the three months after the 25th month of getting disability benefits.
If you're already eligible for Medicare due to a disability and turn 65, you're able to sign up for an MA plan or Part D plan, switch from your current plan to another, or drop an MA plan or drug coverage completely. You can do this in the three months before the month you turn 65, the month you turn 65, and the three months after you turn 65.
Special Enrollment Period
You're able to make changes to either your MA plan or Part D converge if certain events happen in your life, such as moving or gaining/losing other insurance coverage. This time is called a Special Enrollment Period (SEP).
Depending on your situation, you can switch, change or drop MA or Part D coverage. Contact Medicare or the plan to learn if your situation qualifies for an SEP, but some examples may include (but are not limited to):
If you moved to a new address that isn't in your plan's service area.
You moved back into the U.S. after living outside the country.
You left coverage from your employer or union.
Medicare terminates your plan's contract.
You qualify for Extra Help.
You're eligible for both Medicare and Medicaid.
Other enrollment periods
Open Enrollment Period for Medicare Advantage and Medicare prescription drug coverage takes place from October 15 through December 7. During this time, you can make a number of changes in your Medicare coverage including enrolling in a Medicare Advantage plan or Part D plan, switching from one plan to another, or dropping coverage.
Medicare Advantage Open Enrollment Period takes place from January 1 through March 31. During this time, you can switch from one MA plan to another (with or without drug coverage, or drop your MA plan and return to Original Medicare. You'll also be able to join a Part D plan.
Part D late enrollment penalty
If you do not enroll in Part D on time, you may owe a late enrollment penalty. This includes if you enroll after your Initial Enrollment Period is over, or if there's a period of 63 or more days in a row when you don't have prescription drug coverage. You will be required to pay this penalty for as long as you have Medicare drug coverage.
Medicare calculates the penalty by multiplying 1 percent of the "national base beneficiary premium" times the number of full, uncovered months you didn't have Part D coverage. In 2023 it is $32.74. Premiums are rounded to the nearest $0.10.
For example, if you go for 12 months without prescription drug coverage, your penalty will be 12 percent (1 percent per month) of $32.74, or $3.9288. Rounding to the nearest $0.10, you will pay an additional $3.90 on your plan's monthly premium.
When you join a Medicare drug plan, the plan will let you know if you owe a penalty and what your premium will be. As long as you have a drug plan, you will not have to pay the penalty.
How to change a Medicare Part D plan
You can join, switch or drop a Medicare Part C or Part D plan during:
Your Initial Enrollment Period
Open Enrollment Period
Medicare Advantage Open Enrollment Period
Contact your existing plan to learn the steps to take to drop coverage, and contact your new plan to enroll. Be sure to do so during a qualified enrollment period, or you may face a late enrollment penalty or risk not having coverage.
What do Medicare Part D drug plans cover?
A Part D plan covers a variety of prescription drugs that people with Medicare take or may need. Typically, you'll receive a separate insurance card to be used at in-network pharmacies and medical suppliers for covered drugs and supplies.
Each Part D plan has a formulary, or a list of covered drugs, to help you know whether or not your prescriptions will be covered. The formulary lists both generic and brand-name drugs and coverage. The drugs are listed in commonly prescribed categories and classes, and are updated on a regular basis.
If your specific prescription drugs are not listed, in some cases a similar drug should be available. Talk with your doctor or pharmacist to learn if drugs on the plan's formulary will work for you.
What are tiers?
Each plan also places drugs into different levels called tiers, and drugs in each tier have different costs. For example, a drug in a lower tier will generally cost you less than a drug in a higher tier. While tiers can be different based on plan, they typically follow the following:
Tier 1: most generic prescription drugs. This tier typically has the lowest copay.
Tier 2: preferred, brand-name prescription drugs. This tier has a medium copay.
Tier 3: non-preferred, brand-name prescription drugs. This tier has a higher copay.
Tier 4: high-cost prescription drugs.
Find a Medicare Plan in your area
It's FREE with no obligation
Speak with a Licensed Insurance Agent
M-F 9:00am-9:00pm | Sat 9:00am-3:00pm EST