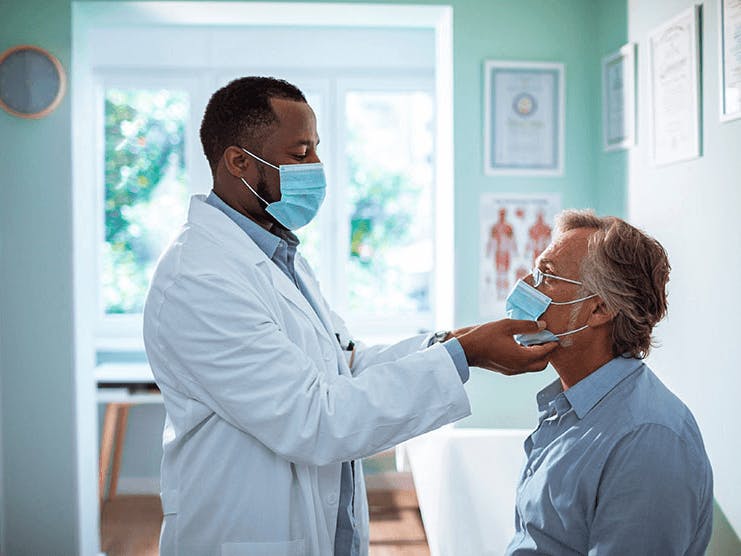 Try these tips today and you can avoid unexpected expenses related to routine or planned care.
When it comes to routine and planned treatments, you get to choose when and where to go. Doing some prep work now can help you spend as little as possible on medical care—and take advantage of free services you didn't know about.

"Many people don't get the care they need, and it wouldn't cost them anything," says Katy Votava, Ph.D., R.N., author of Making the Most of Medicare: A Guide for Baby Boomers. "Many more preventive care benefits are covered than ever before."

For example, some Medicare plans have significantly expanded coverage based on customer feedback and COVID-related developments like the telehealth boom. Most of these plans offer $0 copays for tier 1 and tier 2 drugs ordered through their home delivery pharmacy. Other programs offer $0 copays for tier 1 drugs at thousands of local pharmacies. Many wellness visits and other types of preventive care are covered, too. And depending on your plan, you might have some coverage for glasses, hearing aids, and dental work.

Here's how to find out what's covered in your Medicare plan—and what you can do to improve your bottom line:
1. Learn the ABCs of your SBC
The letters SBC stand for Summary of Benefits and Coverage, which is a quick explanation of what's covered by your insurance plan. It's usually about four pages of information. If you can't find yours, call your insurance company and ask them to resend it. This document will include:
Where/how to find network providers and prescription drug information
Contact information for your insurance company
An overview of what's covered—in handy chart form—and a brief explanation of what's not covered
If the thought of deciphering this gives you a headache, ask a trusted loved one to help. Or you can schedule an appointment with a ClearMatch Medicare agent.

Bonus tip: Even if you're still managing your own healthcare, Votava advises filing a release form with your insurance company that names someone who can speak on your behalf if you suddenly become ill. Each insurer has their own form, she says, as do pharmacies. All you have to do is ask for it.
2. Schedule an annual wellness visit
Many people think an annual wellness visit (AWV) is the same as an annual physical exam, but it's not. Yearly physicals focus on managing existing health problems, while annual wellness visits focus on preventing future ones.

AWVs are a free service with all Medicare plans, and they can save you some money. A 2019 study found that people who had this kind of appointment enjoyed a 5.7% drop in healthcare costs in the 11 months that followed.

During or after your wellness visit, you should receive:
An up-to-date list of your medical providers and medications
A list of all the preventive screenings and exams that are recommended
A personalized wellness plan that includes information on how to improve lifestyle factors like sleep, nutrition, fitness, and mental health
3. Do a network check on all your providers
"I can't say enough about choosing providers in your network," says Votava. "When you go out of network, you often get minimal to no coverage." Thanks to the internet, it's easy to find network providers in your area: Simply go to your insurer's website and type in your zip code and any other information (like preferred gender, specialty, etc.).

If you're a snowbird, Votava advises making sure you have a list of network providers in both places where you live. Many plans offer access to the nation's largest Medicare Advantage network, which makes it easier to find participating providers if you travel. If you can't find one or don't have that kind of plan, you may be able to schedule telehealth visits instead. Check your SBC to see what your plan offers.

If you're scheduling a surgery, ask your doctor if the anesthesiologist is also in-network, suggests Votava. That's not always the case, and it can be pricey. Also make sure you stay in-network for services like occupational or physical therapy, lab work, or screenings.
4. Save money on medicines
A 2019 West Health–Gallup poll found that 7.5 million older adults were unable to pay for prescribed medicines, and 80% of those medications were for a very or somewhat serious health condition.

If your plan doesn't cover the medication you need, don't go without. Start by talking with your doctor or pharmacist: A generic or alternative drug may be available. Your doctor can also help you request an exception.

Still no luck? You might consider checking the drug company's website for a coupon or assistance program. Or, you can download an app that finds the best price without insurance. Votava has a word of caution, though: These costs won't be submitted to or be recorded by Medicare. If you get price breaks when you spend a certain amount of Medicare dollars, know that these outside expenditures won't count toward that total.
5. Follow your doctor's orders
"It may be particularly tempting now, during a pandemic, to not get routine care," says Votava. "But now is the time to keep up with it, so you don't end up with a big emergency that you could have prevented. Invest in your health. It pays you back so many dividends."

This is true both literally and physically. Case in point: For people with diabetes, complications such as heart disease and stroke account for up to 64% of a diabetic person's lifetime medical costs. Controlling blood sugar levels—or preventing full-blown diabetes if you have prediabetes now—can help you avoid those expenses and have a better quality of life.

Beyond just seeing your healthcare team, it's important to heed their advice.
Make sure you understand everything that has been prescribed or recommended. If you don't, ask for clarification.
Make any necessary appointments with the dentist, eye doctor, and audiologist, as well as any other specialists.
If you are managing a chronic condition, make sure you understand all the ins and outs of your treatment plan, and follow them to the letter.
If there's something keeping you from following your care plan, let your healthcare provider know ASAP so they can offer a modification.
There are lots of barriers that can keep us from following through. Directions that seem doable in the doctor's office may prove more difficult in real life. For example, if you have diabetes and follow a diet that is kosher or halal, you might need help from a dietitian to adapt your diet.

Remember: By letting your healthcare team know what you need to succeed, you're helping them be more successful in their jobs—which is why they got into this field in the first place.

Find a Medicare Plan in your area
It's FREE with no obligation
Speak with a Licensed Insurance Agent
M-F 9:00am-9:00pm | Sat 9:00am-3:00pm EST