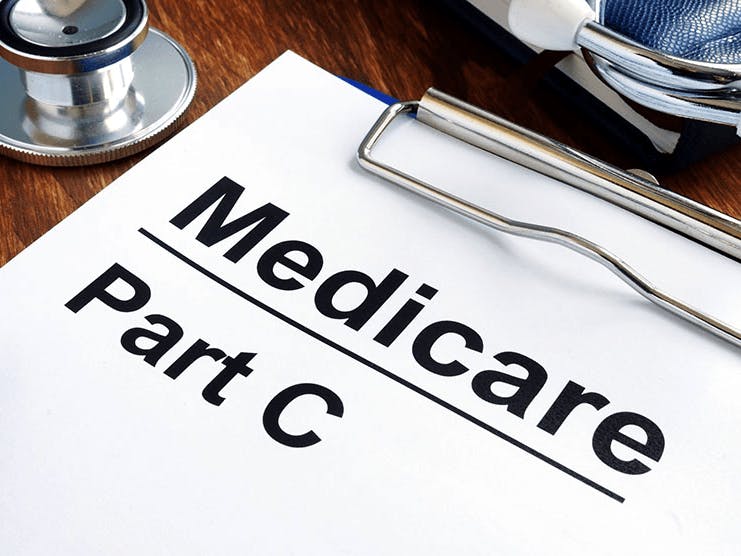 Medicare Part C is better known as Medicare Advantage. Plan costs vary widely.
Because Part C plans vary in price, it can be difficult to get a good understanding of how much you can expect to pay per month. This will vary for each person, so no article can give you a definitive answer to this question when it comes to your specific situation. However, we'll discuss what you should know about Part C medical insurance costs, so you can go into your search well informed
What is Part C?
Before getting into Part C costs, it's important to understand what Part C is. Part C, also known as Medicare Advantage, is a way of getting your Medicare benefits through a health insurance plan from a private insurance company. Unlike other parts of Medicare, Part C doesn't refer to a specific type of care. Medicare Part A covers inpatient care, and Part B covers outpatient care, but Part C will cover both of these, as well as prescription drugs in some cases.
Although Medicare Part C plans are heavily regulated by the government, they will essentially function the same way that other private insurance plans do. You will have a provider network, the plan can change each year, and the cost will vary depending on coverage and other conditions.
All Part C plans have to cover at least the same things that Original Medicare (Parts A and B) cover. This means that Part C plans will cover inpatient services like hospital stays and hospice care, but also outpatient services like doctor visits and medical equipment. If a specific service is covered under Original Medicare, it will be covered by Part C plans as well.
This coverage can be limited by provider networks. On the other hand, most Medicare Advantage plans will offer more than Original Medicare does. This can include things like dental and vision plans, as well as specialized care for specific health conditions, fitness plans, and more.
While the cost breakdown will vary, most Part C plans will have the same type of costs as Original Medicare. You will have a monthly premium, as well as an annual deductible, coinsurance, and/or copayment.
Enrolling in Part C
You can enroll in Part C plans during your Initial Enrollment Period when you turn 65, or during the Open Enrollment Period. This lasts from October 15 to December 7 of each year and will allow you to make changes to your plan.
Which specific costs will I have to pay?
As we mentioned, all Medicare Advantage plans will have a premium and a deductible, as well as either a coinsurance, copay or both. However, the cost breakdown can get more complicated when you consider provider networks.
We'll get into provider networks in more detail later, but for now, it's just important to remember that Part C plans have them. If you go to an out-of-network healthcare provider, then you may have a higher cost-share to pay. This means that you may have to keep track of more cost information and that your monthly costs can vary if you sometimes go to an out-of-network doctor.
It's useful to note here that some Medicare Advantage plans have no premiums at all. While this may sound weird, these plans work because they have very high deductibles and other fees. The idea behind these plans is that they work for people who seldom visit their doctor. However, when they do visit their doctor, the costs are much higher than an ordinary plan. These plans don't work for most people, but they are useful to keep on the table.
What types of plans are there?
Although private insurance plans are typically either an HMO or a PPO, Part C actually has more options than this. Depending on which type of plan you have, your costs can be lower or higher. There are also more complex possibilities, like lower premiums but an overall higher yearly cost. Let's take a look at these options one by one.
HMO (Health Maintenance Organization) plans usually have lower premiums, but a smaller network. The idea is that your options for fully covered health care are limited, but as a result, you pay less. In general, out-of-pocket fees will be similar to other types of plans. Your plan may have a high deductible, which translates to lower premiums. Although premiums are usually lower for HMO plans, this isn't always the case.
PPO (Preferred Physician Organization) plans usually have somewhat higher premiums, but give you more flexibility. Although there will still be a provider network, you will be able to visit physicians and healthcare providers that aren't part of that network. This will usually cost more but still be covered to a large degree. PPO plans are good for those who want a bit more flexibility. Although they will typically cost more than HMO plans, in many cases the difference isn't huge.
SNP (Special Needs Plans) are plans that are restricted to only individuals with certain conditions. These can be health conditions, such as Alzheimer's, or specific situations and living conditions, like skilled nursing facility patients.
SNPs will have coverage options that are uniquely tailored to a given condition, so they can be very useful for people who have conditions that aren't usually covered by Original Medicare. The price of SNPs can vary widely, but in some cases, expensive plans can still be worthwhile if other plans don't provide any coverage.
MSA (Medicare Savings Account) plans are similar to general Health Savings Plans that are available on the broader market. The basic idea behind Medicare Savings Accounts is to combine two things: a high-deductible insurance plan, and a savings account.
The high-deductible for your plan will vary from plan to plan, and the coverage after you meet your deductible can vary as well. The savings account funds will be used towards your health care fees before you meet your deductible. Once you meet the deductible, then your coverage from the health plan will begin.
Medicare Savings Accounts can be a bit more complicated than the other options. While the option may be good for some, make sure that you have a good understanding of what you are getting into before you commit to one of these plans.
Prescription drug costs
For most people, prescription drugs will be covered by Medicare Part D. Part D prescription drug plans are available to those who have Original Medicare, as well as beneficiaries with Medicare Advantage whose plan doesn't cover prescription drugs.
Although Part D provides dedicated prescription drug plans, many Part C plans will also cover prescription drug plans. This can make shopping for a plan a bit complex. It may be cheaper to buy an integrated Part C plan that has prescription drug coverage, but some people may benefit more from a different Part C plan coupled with a Part D plan. You cannot have a Part D plan at the same time as a Part C plan that covers prescription drugs.
Naturally, Part C plans that offer drug coverage will be more expensive, on average, than those that don't. This will usually translate to higher premiums, as well as possibly higher deductibles and copayments for prescription drugs. Although this cost will be higher overall, it can still end up being cheaper annually than getting these plans independently, or vice versa! It all depends on the plan details.
Medicare Part C costs: Looking at some averages
You should now have a fairly good understanding of what kinds of costs you can expect if you have a Part C plan, as well as which plans will tend to be more expensive.
Part C plan premiums will usually be significantly cheaper than what you would pay for Part B on a monthly basis. Although plans can cost upwards of $300 monthly, most plans will have premiums ranging from $25 to $50. This can seem unusually cheap, and in some sense, it is, as it's less than half of the Medicare Part B premium in 2023.
Although this cost can seem enticing, it's important to remember the cost of the plan overall. These plans will usually have higher deductibles and cost-sharing requirements than Original Medicare does, which can result in a higher annual cost, even though the monthly cost is lower on paper. The average annual deductible for Part C plans is around $600, more than double the Part B deductible.
Remember, these numbers are just averages, and the plans that you find could have much higher premiums or lower deductibles. Additionally, it could be that low-premium plans are not a good fit for your healthcare needs.
The key takeaways on Part C monthly cost
Part C has many benefits, and for some, that includes cost. However, remember that the cost of Part C plans is more than just the premium. Although low premiums can seem enticing, you may end up paying this cost elsewhere in the plan. Part C should be on the table for anybody who has Medicare, simply because there are so many options to choose from. And, low-premium plans may be a great fit for you. But, remember to analyze the plan cost holistically, and to always look past the premiums.
Our Find a Plan tool makes it easy to compare the full cost of Medicare plans. Just enter your zip code to start reviewing Medicare Advantage plans in your area.
Find a Medicare Plan in your area
It's FREE with no obligation
Speak with a Licensed Insurance Agent
M-F 9:00am-9:00pm | Sat 9:00am-3:00pm EST