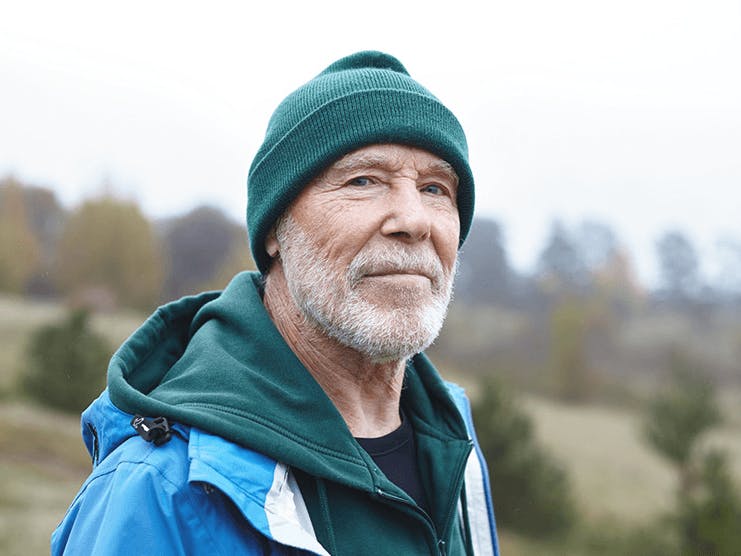 The Medicare program covers around 80% of healthcare costs for people age 65 or older and those with qualifying disabilities.
Although the essentials remain the same, the Medicare program changes at least a little every year. Cost sharing changes are the most common, but new legislation also brings adjustments to coverage. This post answers common questions like how does Medicare work with other insurance, what it costs, and how the program started.
Medicare insurance definition: What is Medicare?
Medicare is a government program that provides health insurance to people who are aged 65 or older. It also provides coverage for people under age 65 if they have a disability, End-Stage Renal Disease (ESRD), or amyotrophic lateral sclerosis (ALS, or Lou Gehrig's disease).
The Medicare system is broken into parts, with each part covering a different healthcare need. Original Medicare includes Parts A and B. To help cover the cost of prescription medication, Medicare Part D launched in 2006.
Medicare Part A
Also known as hospital insurance, Medicare Part A covers services received as an inpatient at a hospital or skilled nursing facility. It also covers hospice care and some home healthcare services (after a qualifying hospital stay).
Medicare Part B
Also known as medical insurance, Medicare Part B covers medically necessary outpatient services and supplies as well as care designed to prevent or detect illness. This includes:
Doctor services to diagnose and treat a medical condition
Preventive services, such as vaccinations against flu and pneumonia
Preventive screenings, such as mammograms and prostate exams
Clinical research
Ambulance services
Durable medical equipment, or DME
Mental health services, including inpatient, outpatient, and partial hospitalization
There is also limited coverage for outpatient prescription drugs. This typically means medications you rely on a healthcare provider to administer, such as injections, and drugs infused via DME.
Medicare Part D
Medicare Part D helps cover the cost of prescription drugs. A perfect example of Medicare changes as the result of legislation, Medicare Part D is part of the Medicare Prescription Drug, Improvement, and Modernization Act of 2003, more commonly known as MMA.
You can add a Part D plan to Original Medicare as well as any Medicare Advantage (MA) plan that does not include prescription drug coverage.
Ways to supplement your Medicare coverage
There are two ways to supplement your Medicare coverage: Medicare Advantage and Medicare Supplement Insurance, more commonly known as Medigap.
Medicare Advantage plans resemble the group health plans available through many employers. Private insurance companies sell Advantage plans, with costs and benefits varying according to the plan and provider. All MA plans must offer at least the same coverage you get with Original Medicare. However, most offer additional benefits, such as prescription drug coverage, routine vision and dental services, and fitness plans like Silver Sneakers.
President Clinton signed Medicare+Choice in 1997. In 2003, the name changed to Medicare Advantage.
Medigap plans are also sold by private insurance companies, with each insurer setting its own price. However, the benefits of each plan are standardized, so that Plan A is the same no matter where you live or who your provider is.
The Omnibus Reconciliation Act of 1980 brought us Medigap as we know it today.
Why was Medicare established?
The fight for healthcare goes all the way back to 1912 and President Teddy Roosevelt, who ran on a campaign of national health insurance. Presidents Truman and Kennedy both fought for some form of national health insurance as well. Kennedy pushed for a national program to benefit seniors in response to a study that revealed 56 percent of Americans over 65 did not have health insurance.
Legislation signed by President Johnson in 1965 demonstrated the importance of Medicare, with American seniors finally receiving coverage in 1966. The first two beneficiaries were former President Harry Truman and his wife, Bess.
How does Medicare work with other insurance?
Many people have health insurance when they turn 65, through either their job or their spouse's. If you have other insurance, federal law dictates whether Medicare is your primary or secondary insurance carrier. Federal law also sets the guidelines as to what constitutes creditable coverage.
What's the difference between primary and secondary insurance?
Your primary insurance pays first for all claims, with your secondary insurer paying any remaining amount. If your employer-sponsored plan qualifies as creditable coverage, you can use it as your primary insurance. This means you may delay Medicare enrollment without facing late fees. Or, you can sign up for Medicare and use it as your secondary insurance, leaving you with little to no out-of-pocket costs.
Whether that's a good idea depends entirely on your unique circumstances. For example, if you have heavy out-of-pocket costs through your primary insurance, paying the monthly premium for Medicare Part B may be worth it.
Some people choose to sign up for Medicare Part A even if they have insurance when they turn 65, since most people qualify for premium-free Part A. We nearly always recommend doing this. The only exception is if you contribute to a health savings account (HSA), since these contributions bar you from enrolling in any part of Medicare. If your spouse contributes to the HSA but you don't, then you can enroll in Part A.
What is creditable coverage?
Creditable coverage describes any plan that pays roughly what Medicare does for the same services. An employer-sponsored group health plan is considered creditable if it (1) offers the same level of coverage that Medicare does and (2) the company employs at least 20 people.
Most other types of insurance do not qualify as creditable coverage. This includes:
ChampVA
COBRA
Retiree insurance
TRICARE
All of the above also applies if you qualify for the plan under your spouse's employment.
Please see our post, What Is Medicare Creditable Coverage?, for more information.
How much does Medicare cost in 2023?
Although the Medicare program covers the vast majority of costs for covered services, beneficiaries do have some out-of-pocket expenses. These include:
Monthly premiums
Deductibles
Co-insurance
Co-payments
Your costs for Medicare Part D, Medicare Advantage, and Medigap plans vary according to the plan and provider you choose.
Medicare Part A costs in 2023
Out-of-pocket costs for Medicare Part A may include the monthly premium, deductible, and co-insurance.
Most people paid Medicare payroll taxes for the required 40 quarters (10 years) to qualify for premium-free Part A. If you or your spouse did not meet that requirement, your 2023 Medicare Part A premium is either $506 (less than 30 quarters) or $278 (between 30 and 39 quarters).
The 2023 Medicare Part A deductible is $1,600 per benefit period. A benefit period begins the day you are admitted as an inpatient and ends after you go 60 consecutive days without receiving inpatient care. That means you may have several benefit periods in a single year, and therefore several deductibles.
Co-insurance for Medicare Part A in 2023 for each benefit period is:
Days 1-60: $0
Days 61-90: $400 per day
Days 91 through your lifetime reserve days: $800 per day
You get 60 lifetime reserve days (unless you have a Medigap plan, in which case you get 365).
Finally, your cost for staying in a skilled nursing facility is $0 for the first 100 days (per benefit period). You then pay $200 per day through day 100, and 100 percent of the costs after day 100.
Medicare Part B costs in 2023
Medicare Part B costs are a little easier to understand. The standard premium for Medicare Part B is $164.90 in 2023. If your annual income is greater than $97,000 (filing single) or $194,000 (married filing jointly), your premium may be higher.
The 2023 Medicare Part B deductible is $226. You pay all out-of-pocket costs for covered services until you meet your annual deductible. After that, you're only responsible for the co-insurance, which is usually 20 percent of the Medicare-approved amount (assuming your provider accepts assignment).
Who is covered by Medicare?
Medicare covers Americans aged 65 and older. You may also qualify if you are a permanent resident who has lived in the United States for at least 5 years.
You can also get Medicare if you qualified for Social Security disability benefits for 24 months. If you have ALS, you don't have to wait 24 months. Instead, you qualify the first month you qualify for disability. In addition, people with ESRD can get Medicare before they turn 65.
Do I have to have Medicare?
No, you don't have to sign up for Medicare. But, if you don't enroll in Medicare when you become eligible, and then try to enroll later, you face significant penalties if you don't qualify for a Special Enrollment Period (SEP).
Many people delay signing up because they already have coverage through their job. If said coverage is considered creditable, then they qualify for an SEP and can enroll in Medicare later without incurring late fees.
If you delay enrollment and do not qualify for an SEP, penalties can be pretty stiff – especially if a lot of time has gone by.
The Part A late penalty is 10 percent of your monthly premium for twice the number of years you delayed enrollment. So, a 12-month delay means you pay for 2 years, 24 months is 4 years, and so on. Of course, most people get premium-free Part A, so they don't need to worry about a penalty.
Medicare Part B's late fee is 10 percent of your monthly premium for each 12-month period you delayed enrollment. So, 1 full year is 10 percent, 2 years is 20 percent, 3 years is 30 percent, and so on. You pay this penalty for the entire time you have Medicare.
The reason for the penalties is to encourage people to enroll in Medicare when they first become eligible. The program relies on the participation of healthier, younger people to help control costs.
The Part D late penalty in 2023
The calculation for Medicare Part D's late penalty is very different. It's levied any time you go 63 days or more without prescription drug coverage. And, like Part B, you pay this penalty for the entire time you have Medicare.
Medicare bases the late fee calculation on the national base beneficiary premium, which is $32.74 in 2023. You pay 1 percent of this amount for every month you went without prescription drug coverage, and then round that number to the nearest dime. The calculation looks like this:

The penalty changes every year, because the national base beneficiary premium changes every year.
Do you have to be a citizen to get Medicare?
To qualify for Medicare, you need to be either a U.S. citizen or a legal, permanent resident who has lived in the United States for at least 5 years.
What are Medicare-eligible providers?
Medicare eligible providers are those who accept assignment, meaning they agree to provide covered services at the price approved by Medicare. This includes:
Physicians
Physician assistants
Clinical nurse specialists
Nurse practitioners
Clinical psychologists
Clinical social workers
Occupational therapists
Physical therapists
Speech language pathologists
It may also include companies that provide durable medical equipment, lab work, and any other entity you rely on for healthcare.
Where Can You Find More Information on Medicare?
The internet offers a plethora of information about Medicare.
Medicare.gov provides detailed information on Medicare, including when you can sign up, Medicare Part D, Medigap plans, and much more.
ClearMatch™ Medicare has a full library of online resources to help you understand how each part of Medicare works as well as your coverage and costs.
SSA.gov is the official website for Social Security and it's where you go to sign up for Medicare. It also has information on applying for Extra Help, retirement calculators, FAQs, and more.
For more information on the Medicare plans available in your area, use our Find a Plan tool. It's both free and simple. Just enter your location information, and any medications you take to review Medicare plans in your area.
Find a Medicare Plan in your area
It's FREE with no obligation
Speak with a Licensed Insurance Agent
M-F 9:00am-9:00pm | Sat 9:00am-3:00pm EST